British
The secrets of Jaguar's winter testing
We head to Lapland to 'help' Jaguar sign-off the new F-Pace. Is there more to it than drifty fun?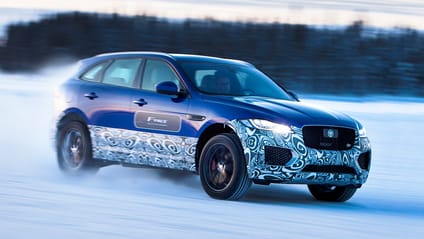 Wake up. Slide around for a few hours in a fast car, with little fear of hitting anything, until the sun sets. Eat some delicious reindeer and drink some premium-strength lager beneath the aurora borealis. Bed.

That, in my head, is how a typical day in the life of a car engineer in Lapland pans out. That's because, in my head, being a cold-weather engineer is one of the very best jobs in the world.

"It's a driver's dream to come here," confirms Jaguar's Phil Talboys, ensuring my bubble isn't burst just yet. "You go on the lake and come off feeling like Ari Vatanen every time!"

Photography: Dom Romney & Chris Brown

This feature was originally published in the March 2016 issue of Top Gear magazine.

Advertisement - Page continues below

Phil helps run Jaguar Land Rover's Revi test facility within the car testing heartland of Arjeplog, an area he's coined "the Nürburgring of winter testing". And it's where I find myself now, on a frozen lake 66°N, wearing just about all the clothes I packed (it's -24°C) and with Jaguar's new F-Pace in front of me.

The company's first SUV has entered what's informally dubbed its "polishing stage", and I'm accompanying engineer Glen Longbottom to help perform some of the final checks on its assistance systems. A very serious summary of what, from the outside, looks like skidding around all day.

We begin on JLR's larger drift circle to test the various levels of the F-Pace's drivetrain set-up and electronic intervention. As well as Dynamic mode, the F-Pace can come with an Adaptive Surface Response mode, which constantly tweaks itself to cope with how much grip is below. It's impressive, too, apportioning power very successfully even over sheet ice and making driving on treacherous terrain feel safe and fairly stress-free.

But Glen quickly has me cycling up to Dynamic, and he's very keen to turn the stability control off too. While the F-Pace's technology is inspired by the boys next door at Land Rover, its set-up is much closer to that of an AWD F-Type, and notably rear-biased.

"We had a Porsche Macan here for benchmarking last winter," Glen tells me. "You can tell it was developed on a handling circuit, but the versatility for most buyers and the novice driver isn't there."

While I've never flung a Macan around a drift circle, I can confirm the F-Pace flatters someone not abundant in frozen-lake skills. Overcoming understeer with an unsympathetic throttle blip is easy, and maintaining the resulting drift is joyous.

Relevant to F-Pace buyers? Not immediately, but its marketing-friendly links to the F-Type don't feel far-fetched, and that's important. And so is a set-up that attracts a different sort of customer to Land Rover, thus avoiding the cannibalising of family sales.

Advertisement - Page continues below

Photographer Dom Romney – dressed in even more layers than I am – is pretty enamoured by the low, gloriously orange sun, and is egging me on to keep throwing up snowy rooster tails. But the sun is with us for just four hours; in deepest winter, it rises around 10am, and sinks about 2pm.

We want to sample everything else Revi has to offer, so we head to its on-land route. This wends and weaves its way through the most stereotypically Scandinavian forest, filled with the impeccably snow-dusted trees you see on Christmas cards.

The track itself is the same layout as the Idiada test facility Jaguar uses in Spain; set-ups developed for high grip there are sent 2,500 miles north for downloading onto cars up here, to see if they still work in low grip. It's a slower, less frantic facility than the drift circle, and as I complete laps in each of the F-Pace's different electronic programmes, it's a chance to ask Glen just what it's like working here for weeks at a time.

"I haven't seen Valentine's Day in over three years!" he remarks. "But it's quite strange. The locals tend to move in with family or to a second home, renting their houses here out to engineers. So we can end up sleeping in kid's bedrooms."

There aren't enough hotel rooms for the influx of engineers the car industry sends up here – the town's population as much as doubles from its circa 2,000 normality – and it's a simple way for locals to earn up to a quarter of their home's value in just one season. In fact, the 30 years since the car world first landed in Arjeplog have seen the natives adapt entirely to their new industry.

Local knowledge helps build and maintain the ice circuits, checking their depth and overcoming unseasonably thin ice by drilling holes in it. It sounds counter-intuitive, but the water below rises up, thickening the layer once it's frozen.

Such expertise helped create JLR's latest test track, which has just opened today, so Glen whisks me off, declaring me the fifth person to have driven it. Shaped using GPS, its layout exactly resembles the leaping cat of Jaguar's badge.

It's a mix of fast sweeping corners (around the hind legs), really tight, technical stuff (navigating the jaw) and a long (very literal) back straight to get a bit of speed up. Conceived as a marketing exercise, it could become a permanent feature, so challenging is it to drive.

The F-Pace is glorious fun around it, though in my dozen or so laps I never manage to avoid ham-fisted understeer in what I imagine is called Tongue Hairpin.

We're in the 375bhp supercharged petrol F-Pace – it uses the same engine as the F-Type V6 S – and its sharp throttle response is ideal when you're trying to transition through the leaper's tortuous sequences of corners. The track is very narrow in places, but the F-Pace never feels like a ginormous, cumbersome off-roader. Which bodes well for threading one through Kensington traffic.

By the time we're finished, it's nearing 3pm, and darkness has properly set in. Dom may no longer be able to take pictures, but it's far from clocking-off time if you're an engineer up here.

"We fit big light bars to the roofs of the cars so we can continue working after the sun's set," Phil tells me. "Time is precious, so the guys often work seven days a week."

Arjeplog has one pub, one restaurant and a bunch of hotels. There's socialising between rival carmakers, but it's not – according to Phil, anyway – one long party when darkness prematurely arrives.

Advertisement - Page continues below

"It's much more work than play. You can't drink lots of beer because you need to be fresh for work in the morning. And we don't see the Northern Lights as much as you might think!"

Does that make it difficult to tempt engineers out here to work for weeks in the freezing cold darkness? "It's a bit harder in January when the daylight is low. But they all love driving when they get here. I've been coming here seven years, and it's still the dream. Driving sideways never gets boring!"

I've only been here a day, but I find it impossible to doubt him.