Classic
20 lovely things from the London Classic Car Show
The second London Classic Car Show is on at the moment. Here are 20 highlights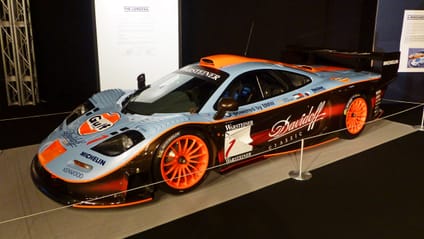 The next few days sees the London Classic Car Show take place. In, um, London.

More specifically, it's been held at the Excel Arena, near City Airport. It's bigger than last year's inaugural show, and with new features, including the chance to speak to greats like Sir Stirling Moss and Ari Vatanen.

If you like cars more than people, then there are plenty of those, too. The show is holding its own 'six nations', with Britain, Italy, France, Germany, Japan and the USA battling it out to be crowned the greatest carmaking country.

They are doing this via a gaggle of lovely cars, some of which will be driving indoors along the show's 'Grand Avenue', and some of which you can see in the pictures that follow. Get clicking, and let us know your favourites - and which country you think makes the best cars - below.

We start with Britain, and this glorious McLaren F1 Longtail racer. It's part of a display dedicated to the history of the former fastest car in the world, with all manner of F1s - both road and race cars - on display, and great stories and props from its development.

Advertisement - Page continues below

Peugeot 405 T16

Over to France now, and this exceedingly wonderful Peugeot 405 T16. This one competed in the Paris-Dakar, while Ari Vatanen famously took another to Pikes Peak victory in record time.

Ferrari F40

The F40 you surely know: twin-turbo V8, unmistakable shape, one of the lairiest, scariest driving experiences ever. But have you ever seen one in racing blue? And more importantly, do you like it?

Advertisement - Page continues below

Porsche 911 2.7 RS

Some people regard the 2.7 RS as the greatest 911 ever. Perhaps the greatest classic ever. Are they correct?

Aston Martin One-77

Launched in 2009, the One-77 is not classic in age. But with a mere 77 made, a million quid price tag and one of the most powerful roadgoing V12s ever at its core, it is assured classic status.

Lancia 037

There is a display dedicated to the raucous cars of Group B rallying. And here is one of those cars, Lancia's gorgeously brutal 037.

Nissan Skyline GT-R

Before the current, supercar-slaying GT-R, came a Skyline GT-R. And before that, came several other Skylines - including this original. It launched at a time when there were no internet comments sections for it to dominate, and yet it's regarded an icon nonetheless.

Advertisement - Page continues below

Ford Model T

It's the Classic Car Show, and this is a proper classic. The car that introduced mass production, it's the Ford Model T. Reckon there'll be a Focus on display in 100 years time?

Fiat 500

Another car that knows a thing or two about mass production, it's Fiat's original - and utterly tiny 500. If you aren't immediately cooing and saying 'aww', you have no heart.

Advertisement - Page continues below

Audi Quattro

Another Group B rally hero, this time the mighty Audi Quattro. It made four-wheel drive cool back in the 1980s, by filling forests with five-cylinder wonder and monstering its way to two WRC titles.

Eagle E-Type

There are many lovely, lovely cars at the Classic Car Show. But few are quite as beautiful as an Eagle-fettled Jaguar E-Type.

Lamborghini Diablo

'Beautiful' probably isn't the word that best sums up a Lamborghini Diablo. But you still would, wouldn't you?

Toyota Sports 800

It's the spiritual predecessor to Toyota's cute little S-FR, the equally adorable Sports 800 from the sixties. As its name suggests, the engine is well below a litre in size, producing a weeny 44bhp. Enough for a 100mph top speed, though.

Jaguar XJ13

Another beautiful Jaguar, this time a recreation of the sublime XJ13. If you're lucky, you might hear it starting up should you visit. Warning: you may leave deaf.

Ferrari 599 GTO

This one isn't being started up, but we've a hunch it would sound tremendous. It is the Ferrari F12tdf's predecessor, the barmy but brilliant 599 GTO.

BMW M1

It's not the most powerful supercar ever made, but it is one of the more finely proportioned. The BMW M1 is superb. What chance a modern-day version we can actually buy, Munich?

Lotus 102

The 102 was the only Lotus F1 car to use a V12 engine. This particular example finished fifth at the Hungarian Grand Prix. And given it's for sale, you can own it. The price? You have to be rich enough to be able to ask...

Dodge Charger

If America is to be crowned the greatest carmaking country, it will likely do it with noise and muscle. Most of the noise, and quite a lot of the muscle, lies under the long bodywork of this Charger.

Ferrari 212 EL Vignale

Okay, so it's another Ferrari. But this one is pretty special. Rather than head straight to a mollycoddled collection, it was raced at the 1951 Carrera Panamericana, finishing second with future F1 world champion Alberto Ascari at the wheel. Cool, right?

Land Rover Defender

We end with a brand new car. It's wearing its 65-plate, see. If one car produced in 2016 can call itself a classic without blushing, though, then it's the recently departed Defender.