Classic
For around £22k, you can get a V12-engined Alpina 7 Series
That's the same price as a 1.0-litre Ford Focus. Prepare thine own heart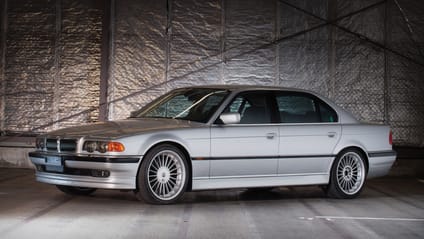 Shut up and take my money already.

Get in line, friend. Here we have an old BMW tuned by Alpina. It comes from the World's Greatest Ever Car Auction – as verified by Mr Chris Harris – which in normal terms is described as The Youngtimer Collection.

Advertisement - Page continues below

Wait, isn't that the auction selling off pristine 80s and 90s classic German cars?

That is indeed the one. We've featured a few cars from that collection – spread across four of RM Sotheby's auctions – while Chris had a good old wander around the garage. But this particular machine elicited strange, warm, fuzzy feelings upon first impressions.

Fair enough – it's a V12 7 Series tuned by Alpina.

Yes. This one was built in the year 2000. Alpina took the hand-built 5.7-litre V12, and enlarged it to 6.0-litres. 

This resulted in 424bhp and 443lb ft of torque. This is a very adequate and respectable amount of horsepower and torque. One does not require much more.

Advertisement - Page continues below

Didn't I already tell you to shut up and just take my money?

Wait! There's more! This one's properly rare, because it's one of only 23 'Langversion' cars. Which, as you might accurately guess, means it's a long-wheelbase car. 

There's also bespoke springs and dampers, a mere 50k km on the clock, a pristine interior, and those classic Alpina wheels (albeit with one bolt cover missing).

I'm not going to tell you again.

OK promise, this is it. This particular B12 is the only 'Langversion' finished in silver, started its life in Japan, and then Belgium, before the current owner picked it up. 

It's an old 7 Series. Which is cool. It's been tuned by Alpina, who are cool. And it's got a socking great V12 in it. With no reserve, RM Sotheby's expects this to go from around £22k (€25k) upwards at its Essen sale next month, which is the same price as a Zetec-trimmed 1.0-litre Ford Focus.

You decide.