Classic
Elvis Presley's BMW 507 has been restored and it looks amazing
Gallery: step-by-step guide to BMW's restoration of an icon for an icon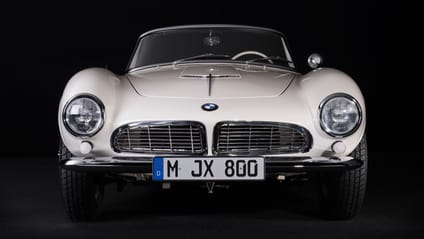 Ratty, isn't it? Also, the wrong colour and missing an engine and gearbox, this BMW 507 has emerged after nearly 50 years, stuck in a shed, awaiting its moment in the sun. Its previous owner? One Elvis Aaron Presley.

BMW has finally tracked down The King's very own BMW, used while he was a GI stationed in Germany. And over the course of two years, it has meticulously restored this gorgeous classic back to its full original health, ready for a public display on 18 August at Concours d'Elegance in Pebble Beach, California.

The story behind it however, is quite fascinating, as is the restoration. So ready your blue suede shoes (sorry), and click forth...

Advertisement - Page continues below

Let's start at the beginning. It rolled out of the factory gates on 13 September 1957, and just a few days later was displayed at the Frankfurt Motor Show. The very next month, a certain Mr Hans Stuck presented the car at the London Motor Show, and then drove it to Belgium - where he presented it to King Baudouin - before finally heading off to the Turin Motor Show.

In the summer of 1958, Stuck's BMW 507 won a beauty competition for cars in Wiesbaden, before having a role in the film Hula-Hopp Conny.

Later in 1958, it ended up at a dealer in Frankfurt - after an engine upgrade and a new gearbox was fitted - where it caught the attention of a 23-year old US soldier. Said soldier took it for a test drive, fell in love, and bought it immediately.

So, the registered keeper of BMW 507 chassis number 70079 was Elvis Aaron Presley.

Advertisement - Page continues below

It came out of the factory in white, but you'll spot the pics of its abandonment are all in red. This is because Elvis drove the 507 from his home in Bad Nauheim and the US Army base in Friedburg, and he would frequently get mobbed by his adoring female fans. They would scrawl messages across the white paintwork in red lipstick.

Quite embarassing, no doubt, if you're a young soldier. So Presley had the car resprayed in red. Problem solved.

Once his military duties had ended, Elvis traded in his red 507 to a Chrysler dealer in New York, who in turn sold it to radio moderator Tommy Charles for $4,500. Tommy used the 507 for his racing career, but did one thing which ruined the BMW's authenticity: he binned the 3.2-litre V8, and instead fitted a Chevy unit. It was so much bigger, the front frame carrier had to be cut.

Then the gearbox, rear axle and instruments were all replaced. He ended up winning a race in Daytona Beach with this FrankenBMW - and raced in many more - before selling the car in 1963.

Two more people took ownership before the 507 moved to California, acquired by space engineer Jack Castor. He used it as a daily driver for a bit, before sticking it into storage ahead of a planned restoration. He even started pulling together parts for this planned rebuild... but never got the time to sort it.

A journalist investigating Presley's old 507 eventually put Castor in contact with BMW's classic department, and after a few years, the car was sold car back to BMW, who would then restore it just how Castor imagined...

The first week of its restoration involved completely stripping and dismantling the entire thing, removing the paint from the floor assembly in an acid bath, and from the body in an alkaline bath. The engine had already gone, while whatever was left of the interior was put to one side.

Advertisement - Page continues below

BMW had to remanufacture new bits because even its own stock of 507 parts was limited. The instrument panel for example, was newly cast, the leather upholstery was matched via old photos, and the seats were reconstructed (though BMW reused the subframes after the rust had been removed). The door handles and window winders were also redone using 3D printing. 

BMW completely rebuilt that 3.2-litre V8 engine using spare parts. It was reconditioned back to its original spec (but not given an engine number, obviously), while the engineers had to rebuild a front frame carrier, which of course was removed all those years ago to accomodate the Chevy block.

Advertisement - Page continues below

Ah yes, the paint. BMW resprayed it back to the original 'Feather White', but resprayed it in the methods that corresponded "to the technology in use some 60 years ago". Talk about keeping it period.

Apparently, "this enabled the excessive colour brilliance to be avoided which is considered desirable nowadays but is inappropriate for classic cars," BMW explains. Basically, it now looks fantastic, as you're about to find out...

There it is, in all of its restored glory.

"Right from the start," explains BMW, "[Jack Castor] wanted to restore the roadster to the original condition it was supplied in back in 1958."

BMW completed the late Castor's wish then, to the finest possible outcome. He sadly passed away at the age of 77 in November 2014, without ever having seen it finished.

"We will therefore remember him at Pebble Beach," BMW continues. We think he'd have been chuffed with this restoration.

Quite a step change inside, isn't it?

The engine, now All Shook Up, as it were.

So, denizens of California and beyond, The King and Jack Castor's BMW 507 will be on display at Pebble Beach on the 18th. If you pay it a visit, we bet you Can't Help Falling in Love with it.