Classic
Five of the best: cars with boxer engines
Reckon heavyweight champ Anthony Joshua should get himself one of these classics?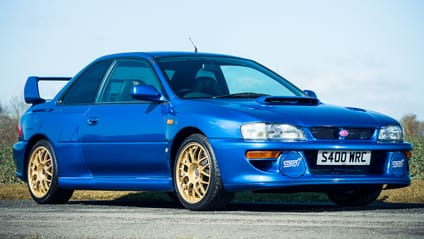 A boxer-engined car for a boxer. I see what you did there.

Advertisement - Page continues below

The sight of a 6ft 6in, 17st human colossus in a tiny, 1.5-litre front-wheel-drive Alfa Romeo is worth it alone.

Though AJ would probably have a riot hustling this little thing around. Playful handling, cute, simple styling and all the nightmares of early Alfa Romeo ownership rolled into one legendary moniker.

You know it makes sense. Though that flat-two engine with AJ on board may not have enough power to get off the driveway. Still, it's got James Bond cachet, is a riot to drive and is a genuine motoring classic.

Don't laugh.

Advertisement - Page continues below

A bit more like it. As mentioned, AJ's fight with Klitschko echoed those hallowed heavyweight fights from the 1990s, so why not go for a proper 1990s Italian exotic? We've picked a 512M here, simply because it was the final version of the Testarossa.

The boxer-engine in question was a 5.0-litre flat 12 producing 446bhp, enough to allow a 0-62mph sprint of 4.7secs and a top speed of 196mph.

Porsche 911 (997) GT3 RS 4.0

Pretty much any Porsche sports car you care to mention would be acceptable, but for sake of argument, we've plumped for the 997-generation, using the famous Mezger flat-six engine that appeared in GT3-badged cars.

Principally because it was the last road-going appearance for that Mezger engine, and Hans Mezger is a bit of a TG hero; what that man did with Porsche engines will echo through time for decades to come.

It's a 4.0-litre engine with shedloads of motorsport in its DNA. It has 493 naturally aspirated horses and 339lb ft of torque. Used in the GT3 RS, it'll do 0-62mph in 3.9secs and tops out at 193mph.

But this isn't a numbers engine. It's something else entirely.

To be perfectly honest, say 'boxer-engine' and your mind will instantly go to the Subaru Impreza STI. We've picked a particular highlight for AJ here – 1998's gloriously unhinged 22B.

It was, in essence, a road-going version of the 1997 Impreza WRC car, with a 2.2-litre flat four engine with 276bhp, a close-ratio gearbox and a quicker steering rack.

Then came the Peter Stevens-designed body, which carried over bits from the WRC car: swollen wheelarches, an aluminium bonnet and that giant, one-off, adjustable rear wing. Again, as per the competition cars, the 22B featured the same Bilstein suspension and Brembo brakes.

Only 400 were built. And don't forget, former boxer Prince Naseem Hamed owned a 22B – number 307, no less – so it's got fighting provenance.

Any others you reckon would be a fit for AJ?