Classic
The last ever Lamborghini Diablo SV is up for sale
Original, last-of-the-line SV is up for auction, and you so need it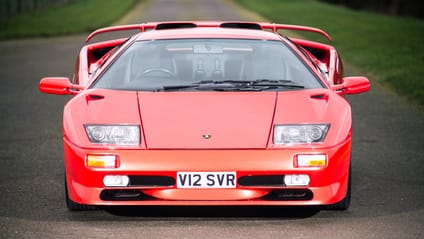 Rewind to 1999, and before Volkswagen took over Lamborghini proper, the company rolled out an SV version of the Diablo. This is that car, believed to be the last ever Lamborghini Diablo SV built.

Hailing all the way from Sant'Agata, Italy, then, comes a pearl-red, slighty orange V12-engined Diablo SV, and it's being offered up for auction. In Birmingham. At the NEC.

Advertisement - Page continues below

It's part of Silverstone Auctions' sale at the Practical Classics Restoration and Classic Car Show next month, and is thought to be the last car to leave the factory before VW took over, as well as being the last Diablo SV imported into the UK, too.

Bearing the plate 'V12 SVR', the car was finished on 21 December 1999, and has since covered just 32,000 miles. That one-off paintjob is allied to a grey/black leather and Alcantara interior, while you still get the original Lamborghini tool roll – complete with the tyre inflator – and a custom made, fleece-lined car cover.

Oh, you also get a 5.7-litre V12 with 530bhp – up from the original car's 490bhp - though because this is the facelifted Diablo, gone are the classic pop-up lights, replaced by fixed clear lenses.

Still, there is much wing, many vents, and one of the most iconic shapes Lamborghini has built. Just two years ago, the Diablo was trated to a full suspension and chassis restoration – including a full-geometry setup – at a cost of £10,000, and comes with a recent MOT.

Advertisement - Page continues below

How much for this excellence, you cry? It's expected to sell for between £150,000 to £170,000 when it goes under the hammer on 6 March.