Classic
Rob Dickinson: the Singer boss's life in cars
What does the man behind those reimagined Porsches have in his own garage?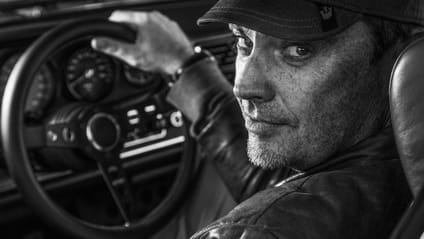 I was born in Norwich, and grew up by the cliffs. I knew there was a big world out there, and I saw rock 'n' roll as my way out. My cousin [Iron Maiden singer Bruce] had made the career choice semi-acceptable to the family.

My other passion from the age of five was cars, and the two things ran in parallel. I vividly remember chugging along in our VW Beetle the moment my father first pointed out a Porsche 911 to me as it overtook us. It was a pivotal moment, and the fascination for that car just never went away.

I studied car design in Coventry, and worked for Peter Stevens at Lotus, with Julian Thomson and Simon Cox – rock stars of contemporary car design. I had a good time, but I was hooked on the music, and the next 15 years was all about that. But I always had a total fascination with cars, and I think I might have lost that if I'd gone into car design. They always provided an escape valve. 

Advertisement - Page continues below

I passed my test in the early Eighties in my dad's 1971 Opel Ascona estate – bronze metallic with cream vinyl interior. Great car, rear-wheel drive, brilliant on wet roundabouts, and I could get my drum kit in the back of it. The first car I bought was a beige Ford Fiesta. My favourite car during the band years was a Peugeot 106 XSi.

After that, I went into 911s. I bought a 1987 911 in 1996, and it's been Porsches ever since. I had that for a year, then foolishly part-exchanged it for a one-third complete restoration of a 1973 911 2.4 S. I took it on with zero idea of how much that was going to cost me, and borrowed the money off my parents to do it.

There are only 12 right-hand-drive 2.4 Ses still around in the UK so it's rarer than a 2.7 Carrera RS, and it meant I felt a deep obligation to bring it back to its original specification.

Advertisement - Page continues below

When I arrived in LA in 2003 to make a solo record, I thought 'I'm going to sell all I have in England', including a Porsche 356 I'd picked up, to sink everything into creating my dream 911, the ultimate hybrid of all the lightweight, racing 911s I loved, mashed up as a cafe racer hot rod. 

We call that first car the Brown Bomber, and it's currently sitting in the Petersen Museum in LA. Back then, I was living in Hollywood, I had the coolest car in the entire city, and fancied myself as Steve McQueen, and would drive it up onto Mulholland Drive every Sunday. I was constantly stopped by people wanting to buy it.

That's when I thought, 'Why can't we take an old 911 and present it as the definitive air-cooled 911? The best-looking, the best driving, the best spec, built like a Rolex…' That was in 2006. I did two things in my life that were highly risky and perhaps out of character, but I did them anyway. The first was when I gave up everything because I believed in the band. I knew it would lead to good things.

I felt the same way when I started spending money trying to get Singer off the ground in 2008. We do have a road map of sorts for the next phase, but I'm trying not to over-think it. I've never been more fulfilled in my life, and I get out of bed in the morning thrilled to be alive.