Classic
Ten reasons to buy this gorgeous Shelby Cobra
The CSX 2000 is the first of its kind. If you've got $10m spare, it could be yours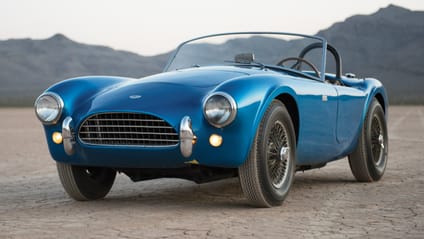 In August, the incredibly special Shelby Cobra pictured above will go under the hammer at RM Sotheby's annual auction in Monterey, California. Why is it so special? Because it's the first one Carroll Shelby ever built.

Described as "the most important modern American car – period," by the auctioneers, the Cobra was constructed in 1962 and was an instant hit. Powered by a V8 engine that had been crammed into an AC Ace chassis, the car produced great performance figures with the elegant styling to match.

According to RM Sotheby's Shelby Myers: "When it comes to American sports cars, CSX 2000 is without peers. Its historical significance and impact on the global sports car scene cannot be overstated.

"It is, without exception, the single most important and history-rewriting sports car ever offered at auction, after over 50 years of ownership and without ever leaving the care of its founding father."

Not convinced? Then allow us to delve into its past...

Advertisement - Page continues below

It was the only Cobra in the world for the first seven months of its life

Built in 1962 in a small garage in Santa Fe Springs, the Cobra was the only member of its species for several months while Carroll Shelby put it through a rigorous period of testing and development. So not only was it the first of its kind, it also put in the hard miles which helped refine the fleet that followed. A pioneer in every sense of the word.

They used to change the paint constantly

As well as undertaking in-house tests, the CSX 2000 was given to members of the motoring press so they could test-drive Carroll Shelby's new car. Not wanting to let on that full-scale production hadn't yet started, the Texan had the car repainted frequently to fool people into thinking that he had several Cobras at his disposal. In reality, he only had one. Sneaky.

Advertisement - Page continues below

It looks like this

What better reason to place a bid than the styling? And to think, this was Shelby's first attempt...

The seats are, um, 'worn in'

To the untrained eye the seats appear to be in need of some attention. Not so. Much like a pair of ripped jeans, the broken stitching only adds to the cool, vintage appearance. Carroll Shelby understood this, and told his staff they faced the sack if they dared to reupholster the leather. No one has touched it in 54 years.

It has a V8 engine

Shelby somehow managed to squeeze Ford's new lightweight, high-revving V8 engine into the petite front end back in 1962. Success in this area was what transformed the CSX 2000 into the icon we know and love today. It doesn't sound bad either.

It can do* 0-60mph in 4.2 seconds

Well, it could when Road & Track tested it in 1962. We're not sure that the same level of performance will be available in 2016, although with a good service there's no reason why it shouldn't still be a sprightly car to drive.

Advertisement - Page continues below

It has* a top speed of 153mph

Again, this is a figure from when the car was originally tested back in '62. From a standing start, the CSX 2000 could also do a quarter-mile drag race in 13.8 seconds.

Without it, there'd be no GT40

"In the automotive world, CSX 2000 was the shot heard 'round the world; it revolutionised not only American racing, but the greater auto industry as a whole," says Shelby Myers. "Had Carroll Shelby never decided to squeeze that high performance V8 into its engine bay, there would be no Cobra and certainly no Shelby American, nor GT40, nor the others that followed. The automotive landscape and sports cars as we know them would be very different."

Advertisement - Page continues below

It has only belonged to Carroll Shelby

No multi-owner history to be found here: Carroll Shelby owned the CSX 2000 from the moment it was built until his death four years ago. Before he departed he made arrangements for the car to be passed on to the trust that now runs his business, leading to this summer's sale.

It will only cost $10 million

Okay, so the price is relative. But it is an auction after all, so while RM Sotheby's expect the car to fetch more than $10 million, it could go for less than that. Though perhaps don't expect to win with the change you've found down the back of the sofa...