Classic
These 11 amazing cars are for sale. Pick a favourite
Gooding & Co's auction includes a BMW M1 and a R5 Turbo. You want them all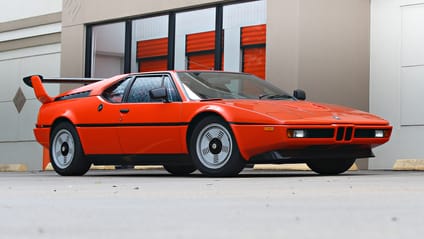 Auctions can be scary places if you don't know what you're doing. Incomprehensible auctioneers rapping speedy hammer prices, reacting to bidders that are hard to see. Lord knows how they do it.

But auction catalogues are another thing entirely, allowing you to browse some of the coolest cars in the world and figure out how much they really cost without accidentally buying something. And the joy of the internet means that you can idly flick through the lots at all the massive global sales, and dream of the gems they contain.

One such event is Gooding & Co's Scottsdale auction in Arizona. With a variety of interesting stuff for sale, the auction stretches from a random Renault 5 Turbo II (somewhat of a rarity in the USA)­ to a rodded 1932 Ford three-window, via vintage Astons and Porsche RSR racing 911s. Here are a few of our favourites. Have a click thorugh the gallery, and tell us yours...

Advertisement - Page continues below

1984 Renault 5 RS Turbo - $90 - $110k (no reserve)

One of the few R5s ever imported into the US, this one lives in a collection in California. It looks almost too perfect to actually drive in wet, salty UK. Especially for £70k.

1956 Mercedes Benz 300C Station Wagon - $375 - $425k

A handsome, one-off Benz with bodywork by respected coachbuilder Binz. Restored, 3.0-litre straight six. Four-on-the-floor and a proper quirky bit of kit.

Advertisement - Page continues below

1967 Toyota 2000GT - $750 - $950k

Getting on for a million dollars for a Toyota? Yep, but this is one of two imported to Mozambique - of all places - during production. It's got the original 2.0-litre straight six, and looks to be a good bet. Drool.

1950 Ferrari 166 MM/195 S Berlinetta Le Mans - $5.75 - $6.5million

This one will get you into Pebble Beach concours and the Mille Miglia. Possibly slightly too perfect for our tastes - a touch of patina wouldn't go amiss - but one of only six Touring Berlinettas built on the 166 MM chassis. Some cracking history, too. Just drips style.

1957 Fiat 600 Mirafiori - $150-$200k

You want weird, Gooding Scottsdale has weird. This is one of five 600s made for factory tours by Fiat back in the late '50s. The roof is removable plexiglass, and the push-me-pull-you custom bodywork is powered by the standard 767cc four-cylinder engine. That's 29bhp of pure Italian grunt.

1980 BMW M1 - $575- $600k

Hard not to be tempted by an M1. Thirty-six years old now, but still looking sharp in Inka orange with a genuine ProCar rear wing, this has the 3.5-litre straight-six that birthed the first car to bear the M legend. Period correct five-speed manual and Becker Mexico radio cassette, too.

Advertisement - Page continues below

1947 Alfa Romeo 6C 2500 Super Sport Coupe - $600-$900k

Such an elegant car, this '47 Alfa has coachwork by the famous Touring company, but not many other details, apart from the fact it was displayed at the 2011 Villa d'Este concours. A little bit more rare-groove than a contemporary Ferrari, and ultimately much cooler.

Jerry Seinfeld's 1974 Porsche 911 Carrera 3.0 IROC RSR - $1.2 - $1.5 million

Prices of RSRs are through the roof, and American comedian Jerry Seinfeld's IROC (International Race Of Champions) car is no exception.

Advertisement - Page continues below

1962 Facel-Vega Facel II - $275 - $325k

Such a pretty, odd-looking Sixties car, the French Facel II came with a proper big 383 V8 and three-speed Torqueflight 'box for top-notch crusieability. This one has apparently been owned by the same family since new, and looks good enough to put straight on a show stand.

1983 Toyota FJ40 Land Cruiser - $100 - $125k

A what now? An '80s Land Cruiser for upwards of a hundred grand? It may be fully restored and one of only two fitted with the High Altitude package from the 350 imported in '83, but this kind of estimate shows how sought after these workhorse Toyotas have become. Still brutally pretty though.

1969 Ferrari Dino 206 GT - $700- $800k

Scaglietti-bodied Dino is just perfect. Heavy money  - these were £60k in the UK a couple of decades ago - but the same owner for the last 34 years. And it's been looked after: the 2.0-litre V6 looks mint, and if the rumours of another baby Dino on the way are to prove accurate, prices for the original might rise even further.