Classic
These are the coolest racing cars of all time
From F1 to Group B, and Le Mans to Can Am, meet history's sub-zeroest racers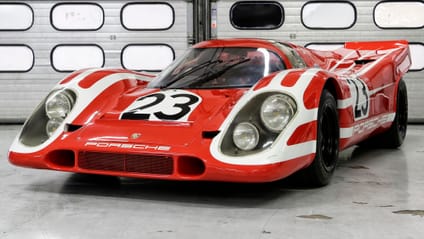 "Racing is a great mania to which one must sacrifice everything, without reticence, without hesitation." As an expression of why motorsport is cool, this quote from Enzo Ferrari gets to the nub of the matter.

It's passion. Dedication. The raw heat of competition. It's about men and it's about their machines. And we love their machines – they are the prism through which we see the sport, the focal point of our passion and excitement. It's the sense of purpose they convey, the purity of design and, yes, possibly the liveries, too.

Or, at a baser level, it's all about the speed and noise. And speed and noise rule. Whether it's a Porsche 956 flat in fifth on the Mulsanne, a Peugeot 205 T16 crackling and popping its way through a forest, a slithering Maserati 250F, straight-six rasping in perfect tune with the throttle,or a BMW E30 M3 leaping kerbs at the Nürburgring, these things speak to us.

They make us want to cheer at the sheer perfection of the moment, the artistry of the driver, the motion of the car. This is what racing cars do for us: they make us glad to be alive, to ache to be there, to have that experience. We all want to be Ayrton, don't we?

What follows, then, is an utterly unordered run-down of the coolest cars ever to grace the world of motorsport. What did we miss?

Advertisement - Page continues below

Ayrton Senna. McLaren MP4/4. Arguably the most iconic pairing in the history of F1. In 1988, at the height of the Prost/Senna rivalry, the car won 15 out of 16 races.

Group B. Words to tremble the bobble on any rally fan's hat. Cars got no cooler than the Peugeot 205 T16, and drivers no more committed than four-time WRC champ Juha Kankkunen.

Advertisement - Page continues below

The Canadian-American Challenge Cup did have rules, but those rules still permitted a 5.4-litre flat-12 with twin turbos; 1,100bhp in 850kg, the Porsche 917/30 swept all before it in 1973, winning six of the eight rounds.

One of the prettiest Formula One cars ever, Maserati's straight-six-powered 250F claimed two world championships in the hands of Juan Manuel Fangio. Stirling Moss claimed it was the best front-engined car he ever drove.

Tough to get your head around the fact the Stratos was designed as a rally car from the outset – it was, in fact, the first ever purpose-designed rally car. And styled by none other than Bertone's legendary Marcello Gandini.

Advertisement - Page continues below

A symbol of what genuine original thinking can do, the Six Wheeler was competitive in 1976. It was never outlawed, but its speed was compromised as Goodyear failed to keep developing the 10-inch front tyres.

Only the coolest cars get a nickname. OK, Moby Dick might not have been kindly meant, but at Le Mans in 1978 this was faster than all the prototype racers, recording a 228mph maximum.

Advertisement - Page continues below

1987: seven touring car championships, two hillclimb championships, two rally championships and outright victory at Rally Corsica. Small, tough and probably the world's most adaptable racing car.

A blown headlamp bulb. That is allegedly the only fault incurred by Mazda's Le Mans-winning 787B in 1991. The triple-rotary engine was detuned from 900bhp to 700bhp for 24hr longevity, but the noise...

Lola was the minnow, taking on the likes of Ferrari and Porsche in late-Sixties endurance racing. Not only were they competitive, but with a big-block V8 in a belly-scraping chassis, they made a sound to die for.

We get excited about stance now, but has anything ever sat better on its wheels than this? Post Group B rallying, this is what Audi turned its technology to: 720bhp through all four 14-inch-wide tyres.

A pretty, pretty grand prix car with a very transatlantic gestation. Designed by a Brit, it used a British engine, but was built in America and raced by American Dan Gurney. It won a GP at Spa in 1967.

Auto Union Type C Hillclimb

Twin rear wheels are where it's at, or at least they were in the late Thirties when Auto Union's GP masterpiece turned its hand to hillclimbing. Hans Stuck was all but unbeatable in the mid-engined Type C.

The car in which Jochen Rindt became the world's first posthumous world champion in 1970. The 72 was so far ahead of its time that Lotus used the same car for five years. And yes, the JPS livery is now 45 years old.

The 959 was designed around Group B race and rally regs, so when that series was killed it made sense for Porsche to do something else with its hi-tech test car. The answer was Dakar. In 1986, it got a 1–2 finish. Job done.

It looked like a vacuum cleaner, because it was a vacuum cleaner. Skirts and twin fans meant the 2J was fastest by two seconds per lap at the opening round of the 1970 Can-Am series. Outlawed soon after.

Audi gave us the quattro and revolutionised rallying. Four years later it metamorphosed into something utterly outrageous with carbon Kevlar bodywork and over 500bhp. 0–62mph was recorded at 3.1 seconds.

Ferrari 250 GT SWB Breadvan

What's cooler than a Ferrari GTO? A GTO estate, clearly. No, not really. The 'Breadvan' was the result of a privateer wanting to beat Ferrari itself. And at Le Mans in 1962, it was, doing so until it retired with driveshaft failure.

The Nürburgring record is not a cool thing. But the fact it's held by this car, driven by Stefan Bellof during qualifying for the 1983 1,000km race, is cool. Explain? No explanation needed. The 956 makes it cool.

It's widely believed that if it came up for auction, 722 would be the most expensive car ever sold. That's not why it's here, though. It's here because of its victory at the 1955 Mille Miglia in the hands of Stirling Moss and Denis Jenkinson, who enhanced the German engineering with British nous – Jenks's inventive pace notes were vital. The car itself is a thing of unutterable beauty.