Classic
The ultimate Goodwood Revival track day
We travel back to the Sixties for a Revival-inspired driving day on the Goodwood track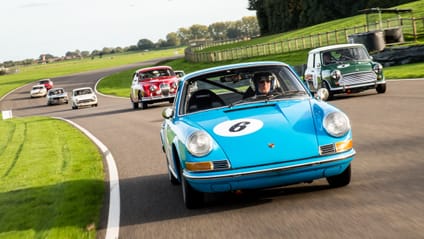 Forget the acres of tweed, seamed stockings and silly hats, the Goodwood revival is all about the racing. The opportunity to watch pre-1966 cars and motorbikes - most of which are hugely rare and obscenely expensive - banging wheels, carries you back to a time when racing cars used to slide, squirm and smoke alarmingly, and often end up in a fiery, crumpled heap somewhere.

Today we (hopefully) won't be experiencing the latter, but we do have a chance to try a throng of Sixties race cars on the very track that Lord March's vintage garden party circulates each Summer. The occasion? An opportunity for the media to sample Goodwood's revival-inspired track day – a new corporate experience launched in May this year. To give you an idea of the clientele, the first customers were Coutts Bank, and there have been another 15 groups since.

The format is simple: an intro to the cars on the grid by Goodwood's chief instructor David Brise, ably supported by several actors trying to sell you knock off watches or knicker elastic, and delivering telegrams on period post bikes. Intro over, you hop in and out of whatever cars happen to free and bash around the track for three laps with an instructor pointing you in the right direction, and pointing out the peculiarities of each car. Pip pip.

Advertisement - Page continues below

Mini Cooper Mk2

If you're wondering what the difference between a Mk1 and a Mk2 is, it's limited to the grille and rear windscreen. As a result, you may here beardy types moaning that the Mk1 was better because it was stiffer due to wider C-pillars, but really that's a load of old tosh.

What we have here, despite its size, is a bit of an animal. The 1310cc engine is fed by one massive SU carburetor, and has limited poke by modern standards, but the point is you can make that up in the corners. While in the heavier stuff (Ford Falcon we're looking at you) you seem to be braking more often than not, with the Mini it's a dab of the middle pedal then back flat on the gas, thus keeping the weight over the rear axle. Lift mid corner and it will wag its tail like a particularly enthusiastic spaniel. A very noisy, very stiffly sprung spaniel.

MGB Hardtop

Easy to walk past the MGB, nose aloft, because there's nothing particularly exotic or exciting about it. Easy to forget, too, that in 1964 these won their class at Le Mans. Slightly anonymous, but definitely not slow.

This particular car, complete with a fibre glass hard top, has done a lot of racing, and has the battle scars to prove it. It also has a rather lovely 1,800cc B-series engine that loves to rev. Add to that a limited slip differential on the live rear axle, and the fact that it's actually remarkably stiff and light, and you have a hugely confidence-inspiring race car. It might not be the fastest thing here, but I was lapping it quicker than anything out straight out the box. Neutral, balanced, a (rather surprising) peach.

Advertisement - Page continues below

Alfa GT Veloce

Now we're talking… I mean, just look at it. A shape that was around from the early 60s, although this is a 1969 car. An achingly-beautiful machine, although the really racy ones were badged GTA, and came with wider bodies, 1,750cc engines, and single inboard headlights, fact fans. The GTV features a two-litre twin cam, so gets a fraction more torque, whilst retaining a similar highly strung character. An open diff at the back means it's a bit of a handful in the wet, I'm told, but no matter – we have sunshine today.

Stepping out of the MG into this, the difference is stark – the Alfa is just so much lighter, raspier, sharper. As with everything around this fast-flowing track, you still need to fight the urge to manhandle it too much. Smoother, less brakes and less throttle equals a higher average speed. Changing gear however, is a new skill entirely. Quite why Alfa decided to put fifth gear so far away it's basically in your passengers' crotch, I'll never quite know.

BMW 1800 Ti/SA

If the 1800 Ti was the fast 5 Series of its day, then the Ti/SA was the track-only M5 GTS. The SA stands for 'Sonder Ausstatung' or special version and only 200 were built – one of which won the 1965 Spa 24hr. Despite this being an exact replica, complete with FIA papers, there's still some serious pedigree here. Brise tells me the 1,773cc four-cylinder originally did nothing until about 4,000rpm, then gave everything up to around 8,500rpm – a proper screamer. This one's been decammed a bit to make it more manageable in the wet (and less crashable for those, like me, without a class win at Le Mans to their name).

Even the gearbox is exotic – a five-speed dog-leg manual with ratios so closely stacked fifth feels like third. I discover this as I slam into the limiter in fifth early on the back straight. Unfortunately, all the cars here are rev limited in an attempt to preserve their ageing parts. In some, like the MG, it's not a huge deal, in other shorter-geared specials like this, it strangles the fun somewhat. Still, standing on the pitwall and listening to others tear past in this thing is a memory that will live long. And to think it still has another 2000rpm to give.

Porsche 912

Looks wonderful doesn't it? Dainty in a way modern 911s can't match… probably because it is. This shape of 911 came straight after the four-cylinder 1,600cc 356, and introduced a flat-six 2.0-litre. However, there was a market for people that didn't want that amount of grunt, so they made a 911 with the 356 engine and called it 912. If you've just bought a 718 Boxster or Cayman I suspect you're grinning uncontrollably right now.   

Of course, this isn't any old 912, the engine has been completely rebuilt and there's full race suspension, Billsteins all round. It also doesn't technically fit within the pre '66 Revival remit as it's a '68 car, but according to Brise it's identical to the early '65 cars, and was the only one they could find that wasn't rotten.

The good bits first – the steering is wonderful, communicative in a way even the best modern racks can only dream of, and for such skinny rubber compared to today, it feels totally planted on the track. That's partly because there's not enough power to unstick the tyres, so you drive well within the chassis' capabilities. Not the greatest engine though. On the day it refused to idle and felt horribly lumpy at low revs. Some fettling to be done then, but I'm willing to forgive given these are still good value at roughly half the price of its six-cylinder sister car.

Jaguar Mk2

The oldest car here – a 1960 3.4 Mk2 Jaguar - is also the least likely candidate for racing duties, but in the late 50s, early 60s, they were all the rage. Drivers were turning up in these with all the walnut and leather still attached, a rollcage and shaped seats screwed in, and going at it hammer and tongs. It wasn't until the mid to late Sixties it dawned on them that less weight meant more speed.

You have to love the swathes of wood, leather seats still in the back and cigar lighter (note specifically cigar, not cigarette lighter) still plugged in. And compared to the uncouth race-bred engines in many of the others, the creamy straight six is a thing of rare refinement and class. Sounds crisp, too, when you give it some revs... Unlike the steering, which requires armfuls of lock before any meaningful acknowledgement from the front end. A fish out of water, but still a magnificent beast. 

Advertisement - Page continues below

Ford Falcon

The Jag Mk2 is a heavy car that really doesn't belong on a race track, but next to the Ford Falcon, it's a complete fairy. Hard to believe that some American racing cars of the period, like the 7.0 V8 Galaxie, were even bigger.

Brise claims it's a full race set up under the skin, apart from one area – the three-speed Cruise-O-Matic transmission attached to the 5.0 V8. Apparently, the original plan was to convert it to a manual, but the feedback was so good, the variety it added to the line-up so clear, that they decided to stick with the slush box. If you're feeling frisky you can use the Hurst shifter to swap sequentially between the gears… but where's the fun in that? Far better to sit back, listen to the engine rumble towards its outrageous crescendo and roll around the track like a cruise liner trying to navigate a busy port.

Lucky that the key to Goodwood circuit is silky inputs and patience, because the Falcon will not be hurried under any circumstances. Consider me seduced, in subtly different ways, by each and every car here.