Classic
VW Transporter: this is your life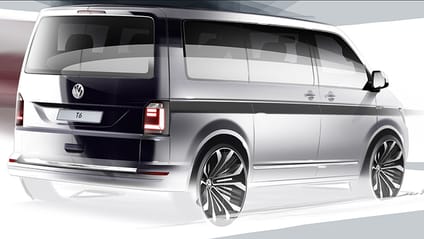 Volkswagen has today confirmed the sixth-generation version of its Transporter van, via the sketch you see above. It may be pictured here with windows and extra rows of seats, but we'll be the first to admit it looks, well, rather vanny.

That didn't stop a small wave of excitement rippling through the TG.com office when the picture dropped, though. See, we all have experiences of VW's van, whose five generations span 65 years. Only the Landie Defender can rival such longevity.

There have been myriad versions of VW's T-series, and all manner of options, including a 4Motion all-wheel drive option in recent years. But the three best-known flavours are the minibus (more recently called Caravelle), the campervan (or California) and the good old panel van.

Most iconic are the early, rear-engined generations, the T1 kicking production off in 1950 and now seen as particularly iconic (and scarily valuable) in 21-window Microbus form. You'll need BMW M4 money for the best ones out there...

The similarly styled T2 took over in 1967, and while the more angularly styled T3 arrived in 1979 to officially replace it, T2 production continued in South American countries, and only ceased in Brazil at the end of 2013. Some new-old T2s can even be found knocking about on UK shores, where they're sold as a more affordable alternative to the unstoppably appreciating classic campers.

The T4 introduced the current Transporter's shape in the early 1990s, the T5 and now T6 continuing its silhouette with updated styling flourishes. As in the car industry, an evolutionary approach to model replacement is testament to some fairly enviable heritage. Think Porsche 911 or Mini. And that heritage is something VW's van - the bestselling light commercial vehicle of the lot - has in spades.

So here's a gratuitous delve into the family album. Scroll above to skim through the five previous generations of Transporter in all manner of flavours, and tell us which one of the lot you like the best below...

Advertisement - Page continues below

T5 VW California meets its T1 ancestor.

The original camper. Dog-admonishing children were on the options list.

Advertisement - Page continues below

The T1, produced from 1950 to 1967, hosted camping before colour was invented.

VW's T-Series has always been a favourite with the surfer dude fraternity...

The VW T1 Transporter also came in pick-up form...

...as well as a good old classic panel van.

Advertisement - Page continues below

Here's a bunch of first-gen, T1 Transporters being assembled.

The current T5 van, here in 2014 spec, meets its 1950s T1 ancestor.

Advertisement - Page continues below

The third-generation T3, produced from 1979 to 1992, here in lovely basic panel van spec...

...and here as a campervan. The dog looks admonishment-free.

The fourth-generation T4 van was manufactured from 1990 to 2003. Here it shows off its motorsport prowess.

Introduced in 2003, the fifth-generation T5 is still in production. Range includes distinctly pimped Sportline models.

A gaggle of Californias. From left to right: T5, T3, T4.

Fancy sleeping up top? From left to right: T5, T4, T3.

TG's very own T5 California begins the long road to Le Mans with some considerably less practical chums in tow.

Volkswagen T2: 1967-1980 (or 1967-2013 if you include South American production...)

Volkswagen T5: 2003-present

2011's Volkswagen Bulli concept. Will shades of this make it to the T6?