Classic
Welcome to Colombia's weird Willys festival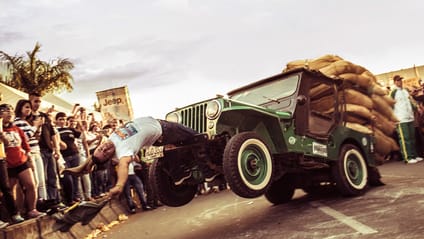 His name is Pesebre. In Spanish, it means 'nativity scene', but as noms de guerre go, it's spectacularly inappropriate. Pesebre, you see, is Colombia's number one exponent of pique, or wheelie. Not just any old wheelie, though. Pesebre drives a 1952 Willys Jeep, freighted with sackfuls of coffee beans for extra traction over the rear axle, so that its nose goes improbably skywards. Using little more than a metal pole jammed onto the clutch pedal and a trick diff lock, the Jeep can then rotate 360º in its own axis.

This is impressive. Pesebre, moustachioed and with the swarthy ruggedness of a gunslinger in a Sergio Leone spaghetti western, looks as cool as only a man wheelieing and rotating a 61-year old Jeep possibly could. But it gets better. Once he's got momentum, Pesebre climbs out of the driver's door, teeters across the bonnet and dangles himself fully stretched off the nose of the still-spinning vehicle. Several thousand Colombians go nuts. Some of them are about two inches from the top of his head, as the Jeep circulates faster and faster.

Pictures: Mark Fagelson

This feature first appeared in Top Gear magazine

Advertisement - Page continues below

Pesebre's precision is perfect. Klaxons and horns blare and beep, and the crowd chant his name. The man who's supposedly driving the damn thing is this close to getting run over by his own car, taunting it like some madcap matador. Then he hauls himself up, leaps off, and stands beside it, hat in one hand and waving a shirt above his head with the other.

Now I'm really worried, not least because I've been in the passenger seat for the duration wondering exactly how long my lunchtime bandeja paisa - pork and beans - is going to stay down. Someone high-fives me as I blur past for the umpteenth time. Then Pesebre climbs back in, calm as you like, and says, "Bueno diversión!" Clearly, there's no health and safety regimen in Colombia.

Welcome to Yipao. We're in Armenia, a small, vibrant city in the heart of the Quindío region. A lung-squeezing 5,000ft above sea level, it's framed to the north by the Andes, and all around by kilometre after kilometre of coffee plantations. Coffee, of course, is one of the main drivers of the Colombian economy, but Quindío is a lushly variegated area. It's not far from the rainforest here, and vegetation covers the landscape like a lush carpet as far as the eye can see. It teems with chirruping wildlife. Needless to say, this is a spectacularly beautiful country, second only to its bigger neighbour Brazil in terms of biodiversity. Technically speaking, it's actually megadiverse.


Head north across the mountains and you'll get to Medellín, one of Colombia's other main cities. You might have heard of it. Medellín was home to Pablo Escobar, the most notorious drug baron of them all. According to his brother Roberto, at the peak of its powers in the Eighties, Escobar's cartel smuggled 15 tonnes of cocaine per day into the US.

Advertisement - Page continues below

The axis of the drugs trade has lately moved south to Peru, and Colombia is safer than it used to be. But where the coca plant grows, there will always be cocaine, trafficking and men who will commit unimaginably violent acts to control the flow of a commodity the West seemingly can't get enough of. Cocaine and coffee: that's Colombia. The British foreign office advises tourists simply not to go there.

Standing in Plaza de Bolívar, Armenia's main square, an industrial tumble dryer is currently posing the most clear and present danger. Two men are hoisting this large grey obelisk into position on the back of a Willys Jeep. Nothing too unusual there, except that the dryer is perched on top of a fridge-freezer, which is wedged cheek-by-jowl alongside a huge television, next to a dishwasher, and the whole caboodle appears to be held in place by little more than Sellotape and string.

A microwave oven and orthopaedic mattress sit on the concrete below waiting to join them. You can almost hear the Jeep's venerable springs sigh slightly at the prospect. A young woman sticks some balloons onto the front wings, and blows a kiss to the bloke who's literally on top of it all.

Elsewhere, someone appears to have vomited the contents of their house onto a Jeep. A tottering, vertiginous pile of Colombian bric-a-brac, there's a sideboard, an old record player, a TV, pot-plants, kitchen utensils, a guitar, a bicycle, a rabbit, a small dog on a chair and, at the summit, a picture of Jesus. Surely only divine intervention can stop this lot from collapsing all over the place. Another Jeep is absolutely covered in plantains, an indigenous sort of banana fruit I'd never heard of, but that's apparently available in Waitrose.

Not like this, it's not. A blue Willys is laden with coffee sacks, arse suspended barely a few inches off the ground. A red one heaves under the weight of cassavas and something called zapallo, which looks like an ugly pumpkin. A sculpture by the great Arenas Betancourt presides over the scene, a monument, I'm told, to hard work. What on Earth is going on?

It's bonkers, certainly, but not quite as random as it seems. Yipao is a brilliant mash-up of Colombian culture, commerce and social history. Following World War II, thousands of surplus army Jeeps ended up in Central and South America, where the local peasantry gratefully received them. In Colombia, they turned out to be just the ticket for transporting coffee beans up and down the mountains, as hardy as the donkeys that had been doing the job but slightly more powerful.

They were also good for moving people over difficult terrain, and can still be seen to this day scampering across the land with as many as 20 passengers hanging off the side. A normal taxi doesn't cut it out here. In fact, the Willys Jeep, and its descendants, has become so integral to the Quindío region that a couple of locals decided to hold a festival to celebrate the Jeep's iconography. They split the vehicles into six categories - agriculture, moving house, artistic, traditional, non-traditional and coffee - to encourage competition. That was 25 years ago.

Tomorrow's festivities are expected to attract up to 130 Jeeps, and all the attendant media hoo-hah. Along with the examples we've already seen in the Plaza, there will be vastly more silliness, including the legendary pique. And Pesebre, whose name is whispered in such hushed tones, it's as if his very existence is a rumour.

Advertisement - Page continues below

Tonight, though, we drink. As well as preparing for Yipao, Armenia and the entire country is gearing up for a vital World Cup qualifier, which pits Colombia against Chile in the mother of all Latin American grudge matches. Colombian beer isn't very strong, but the local liquor packs more of a punch, and spirits are predictably high. (Colombia will be three-nil down at half-time, but manage to bang in three goals in a wild second half, securing their spot in the finals. In 1994, Andrés Escobar was gunned down in Medellín because he scored an own goal in a World Cup game. The team can rest easy this time.)

The main parade kicks off at lunchtime on Saturday. TopGear finds itself sitting on a raised dais, along with local dignitaries. Armenia's mayor is a glamorous and statuesque lady, who waves to the crowd beneficently. "Yipao is iconic," she tells us, to a soundtrack of brassy Forties Colombian Cumbia music. "It's folkloric. Coffee is our industry, and the parade has its roots in our peasant work. We are the most happy people in the world, and we try to put colour into everything."

No kidding. After 20 minutes, the parade ceases being a spectacle and becomes surreal. El Gran Gatsby, a Jeep covered in books, goes by. One has a makeshift raft on the roof. There is a pole-dancing Jeep. Another is draped in chapoleras, the name given to the girls who pick the coffee beans. Apparently, the flavour of the coffee depends on how delicately the bean is taken off the coffee plant, something women are vastly more skilful at than men. Natalia, from a local Jeep dealer, gives me a running commentary. "The most common sight is the coffee one. That's normal. Even now, when they move house the people here use their Jeeps rather than a removal company. And because there is no public transport system in the mountains, Jeeps are an informal taxi service. Believe me, I have seen everything."

The pique started when the coffee growers loaded so many sacks of coffee beans onto their Jeeps that the inevitable happened. But even on two wheels, the little Jeeps still moved. After that, somebody was bound to start showing off, and now pique is a highly competitive Colombian specialty. As the climax to Yipao, half a dozen of these dudes are doing their thing. But Pesebre is clearly The Man. Being led through the parade to meet him is like going backstage at Wembley for an audience with Keith Richards. Every few hundred yards or so, he does the spin, wheeling out the equivalent of a guitar solo. How he's learned how to do this without killing himself, I have no idea. I'm not sure he does, either.

Advertisement - Page continues below

"It's just practice," he tells me via a translator. "Obviously, a heavy load over the rear axle helps, but I have my own secret techniques. It's about generating friction and balancing the accelerating and braking." He will say no more on the matter. In fact, he doesn't say much about anything. But he admits it's much less random than it looks. Both his wife and son are currently learning how to pique, which must make life chez Pesebre rather entertaining.

"I calculate everything. The distances involved, the space I have, the speed I need to go at," he says. "It's an ancestral learning. It's a great tradition. Getting out of the car is the most difficult part. Let me say, there are lots of beginners doing this. [pause] But only four professionals."

That evening, Pesebre wins an award for his pique. He is the star matador. The rabbit, dog and guitar Jeep wins the traditional category. The Plaza de Bolívar is party central. And long into the night, the hills are alive with the sound of Colombians swaying off the side of beaten-up Jeeps.