Classic
This is what the most expensive Jaguar E-Type ever looks like
Achingly beautiful, lightweight racing Jag sells for nearly £6m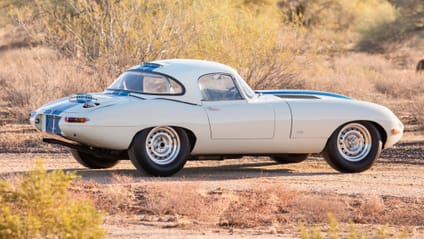 And you thought the Eagle Speedster was pricey. 

That said, this particular Jaguar E-Type is rather special – it's one of just 12 so-called 'Lightweight' models, which were created both as engineering testbeds and all-out racers. 

Advertisement - Page continues below

So what were the differences? Well, instead of steel body panels, like a regular E-Type, the Lightweight used aluminium alloys. The straight-six engine was changed as well, with the heavy steel block replaced in favour of a lightweight aluminium unit. The aluminium 3.8 was tuned to make 300bhp, up from a claimed 265bhp in the original.

So, the weight was down to just 960kg, and there was 300bhp on tap from a glorious Jag straight six. Yes, it's every bit as desirable as it sounds.

Advertisement - Page continues below

And the bidders at Bonhams Scottsdale auction agreed, sending the price for the rare Jaguar into stratospheric territory. Of course, it's not a patch on the racing Ferraris of the day, but your name needs to start with 'The Sultan of' to even look at those things these days. 

As the gavel fell, a bidder on the other end of a telephone laid out 7.37 million American dollars – nearly £6m – to claim a slice of British racing history.

Now, the E-Type Lightweight didn't achieve the massive success of the big names – y'know, anything with '250' in the name – but they were known as England's 'GTO Killers' for a reason, with great results at the hands of Bruce McLaren and Bob Jane. In fact, Mr Jane drove this exact E-Type Lightweight to victory in the Australian GT championship in 1963, cementing its desirability in the minds of collectors. 

In some good news for those not on a first-name basis with Theo Paphitis, Jaguar has also built another six so-called 'continuation models' over the past few years, with 340bhp, which it says completes the original intended run of 18. 

Advertisement - Page continues below

When they were new, they sold for £1.2m apiece, likely making them a cheaper secondhand purchase than the one that's 100 per cent original and bathed in racing glory. If you can prise one out of the hands of the six hand-picked Jag customers who got them, that is. 

But would you lay out £6m on an original lightweight E-Type? Or would you head over to Eagle and get them to build you a Spyder GT or Low Drag GT for about a tenth of the price?