Concept
This 1999 Opel concept would have been the ultimate dad car
Opel was planning to stick a huge V8 engine in the Omega, until fate intervened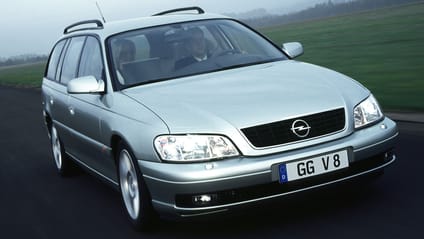 What is this entirely ordinary looking thing?

We know, right? Doesn't look like much of a concept car, does it. And yet under the somewhat demure exterior lurks a vision of the then near future at once both delightfully forward thinking and crazily anachronistic. That exterior, is of course the Opel Omega, or rather the Vauxhall Omega if you're on the British isles, and you would have been able to spot it at the 1999 Frankfurt motor show.

Advertisement - Page continues below

Wasn't the Omega a police car?

The Vauxhall Omega is probably most fondly remembered for its role pounding in the miles up and down the UK motorway network. Even now, a driver of a certain age would dart into the left lane and slow to 68mph if a white Omega happened to be creeping up in the rearview mirror. Of course, that was back in the days when we used to have police on the streets, Wagon Wheels were bigger and everything was better, etc, etc. 

I think my friend's dad might have driven one…

Basically everyone had a friend at some point in the Nineties whose dad drove an Omega. It was the dream drive for a mid-level exec who wasn't quite important enough to warrant a BMW or a Jaguar. It was even sold as the Cadillac Catera between 1996 and 2001, so you might even have had an American friend whose dad drove one. 

It was styled by US designer Wayne Cherry, who worked for Opel in the Eighties and shaped an entire generation of cars you remember from back in the day – the Astra, Calibra, Corsa and Tigra among many others. Then he popped off to America and sorted out a load of cars for General Motors. What a guy. 

Advertisement - Page continues below

So what was special about this Omega concept?

Well, this 1999 concept was officially known as the Opel Omega V8.com, back in those heady days when sticking dot-com on the end of anything automatically made it cool and futuristic because Facebook hadn't been invented yet and they still called it the world wide web on the television. Or even worse – the information superhighway. The Omega would have managed a tidy cruise down that particular route, however – it was set up to be a mobile internet hotspot, so passengers could check their emails or "listen to music downloaded from the Web on a so-called MP3 player". Sexy talk. 

What was it like inside?

It was super luxurious inside thanks to a wheelbase that had been stretched by 130mm for extra rear legroom. Each of the three passengers in the four-seater got 9.5in LCD screens for checking their emails and looking at one of the 12 websites they had back in 1999. A futuristic touch was the inclusion of cameras inside the car so that you could indulge in a spot of video conferencing. Not sure that would have caught on, to be honest. 

What was under the bonnet?

Now this was the most exciting part – the V8.com was so-called because Opel had managed to shoehorn a small block 5.7-litre V8 engine from the General Motors storage bin. The pushrod unit was rated at over 300bhp and could be found in the Chevrolet Corvette of the time. Would this have been the best estate car of all time? No, no it wouldn't. But the most extravagantly fun? Almost certainly. 

So why didn't the Omega V8.com go into production?

The V8.com was only supposed to be a bit of a tech wheeze, but Opel did have grand plans for that engine – it came back to the Geneva show mere months later in March 2000 with a production ready version of the Omega fitted out with that 5.7-litre V8 unit. It was supposed to be a true fire-breathing, autobahn-munching beast. Sadly, Opel got 32 units into a pre-production run and discovered that it was the autobahns munching the Omega. The car got abruptly canned when they decided it wasn't vollgasfest, which literally means 'full throttle safe', but can also be translated as 'was prone to blowing up the engine on roads with unrestricted speed limits'. Schade. 

Advertisement - Page continues below

And what if I wanted to get myself a V8 Vauxhall?

Well, you still had a chance, even if the Omega wasn't going to get the fun engine. Vauxhall brought over the Monaro coupe from Australian sister company Holden back in 2004 – that car had the distinct air of an Omega coupe, and it used the 5.7-litre engine from General Motors to devastating effect. Also devastating was the fuel consumption, and the handling wasn't quite up to snuff. But 5.7-litre V8.