Concept
This 90s Citroen concept makes us want to cruise the Riviera
The 1998 C3 Air concept was designed to make the most of places with no rain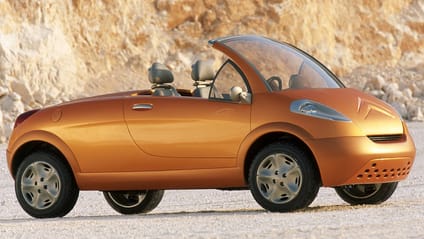 Crikey, what is this?

This is the Citroen C3 Air concept, which was revealed at the Paris motor show in 1998. The lack of roof is intentional, even if it does look they didn't manage to finish it in time for the show. Not sure whether the name is an intentional joke though – no aircon here, just a lack of roof.

Advertisement - Page continues below

Well it certainly looks Air-y…

Nice joke, see what you did there. Citroen was in full teasing-the-new-C3 mode, even though the car wouldn't be launched for another three or four years. The company was stuck with a load of quite old cars, so it needed to prove that it was young and hip and stylish and all that.

What was the C3 Air concept for?

It's probably best not to ask such pertinent questions. Especially ones that appear not to have been asked at the time. Citroen clearly wanted to gauge what the reception would be for a small convertible based on its upcoming hatchback, but it also seemed set on recapturing some of its lost quirkiness. Take note, for example, of the 1999 Xsara Picasso, which was designed so you couldn't tell the front and back ends apart. And who doesn't love a cheeky convertible?

Advertisement - Page continues below

What was it like inside?

We're not sure if there technically is an inside on a car so exposed to the elements, but the C3 Air concept was a masterclass in pared back simplicity. There was no instrument panel to speak of, just a rotating blob at the back of the dash near the base of the windscreen with a fuel, temperature and speed gauge and that was it. No infotainment to speak of, all passengers could play with was the rotary ventilation control near the gearstick. 

Any crazy concept car touches?

The whole car was a bit crazy, what with its massively cab-forward stance and blob-like proportions. It had giant deflector windows at the front, presumably to stop your carefully blowdried bouffant from volumising on the way back to the villa, seats that folded in the back to create a pickup-style loadspace and jaunty roof pillars that could be configured in a number of different ways to create different styles of cabriolet. 

Did the C3 Air concept go into production?

Looking like this? No it did not. A broadly similar but conceptually worse version went into production a year after the C3 hatchback in 2003, badged Pluriel. That car was based on a further concept that was revealed in 1999 – clearly someone at Citroen HQ had been pleased with the C3 Air concept's rapturous reception. The final car was like someone had designed a final version of the C3 Air concept but without having seen it, only heard it described over the phone. It was less Antibes, more Eastbourne.

Why didn't the Pluriel work?

The production Pluriel just wasn't as good as the concept dream had promised. The C3 Air concept is so bad it's cool, whereas the Pluriel was so bad it was bad. The roof was heavy and fussy, the car was wobbly when you tried to engage any of the lifestyle elements and it just didn't look quite as fun as the concept. But then what car ever does?

Advertisement - Page continues below

Ah, to be cruising the Riviera in a flimsy cabriolet.

You want a dangerous rag-top in the south of France? Well you've got options, my friend. The grandaddy of them all is the Mini Moke, but you can get similar versions of the Fiat 500 in its classic or more modern guises that come with no roof for that seaside swagger. Of course, there's the Citroen Mehari to consider, or even a nice 2CV. Less glamorous, but lots of fun.