Concept
Check out these five cars reimagined in retro form by artificial intelligence
Get a petrolhead to steer a computer and exceptional – if weird – things happen. The following images were all generated by AI...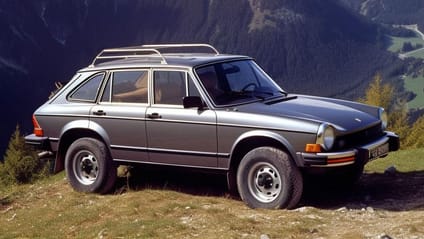 Subtle one, this. BMC's original '59 Mini had an estate version, the Clubman, but it was a stretched two-door. The Countryman, technically a sub-compact crossover, didn't appear until 2010. So what would an Alec Issigonis-designed Countryman have looked like back in the early Sixties? Well, wonder no more – weird doors aside, you can see how good it might have looked.

Images: @automotiveai

Advertisement - Page continues below

Here's where AI has to work hard – the Sixties were a time of innovation and Big News from the USA, with some exceptional designs. And yet Tesla as a corporate entity didn't even exist until 2003, and the Model 3 wasn't born until 2017. The AI decided that the Model 3 of the latter Sixties was still a compact executive car, but actually a two-door worthy of a poster. If only.

Another one that looks real. The Range Rover Sport appeared in 2005 as a mid-sized luxury SUV. The first Range Rover appeared in 1969, and was two-door only until '81, so an imagineered '74 RRS has ended up looking largely like a smaller Range Rover Classic with fat wheels and no rear doorhandles.

Advertisement - Page continues below

If someone distilled the Model T of 1908, boiled it down to the stylistic components and then rehydrated them for this year, this is what the result might look like. Although this seems to be a modern interpretation of a mid-Twenties pickup version of the Model T – sometimes called the Runabout – and the world's first pickup truck.

The Cayenne caused controversy when it was launched in 2002 – an SUV from a maker of sports cars? The horror! And yet it largely bolstered the company's future against the slings and arrows of outrageous market forces. But the early Eighties saw an imaginary Cayenne that borrowed heavily from the 911's stylings, yet weirdly ended up with shades of a Seventies Honda Civic. Or is that just us?