Concept
Concepts that time forgot: the Porsche Panamericana
A present for the patriarch who has everything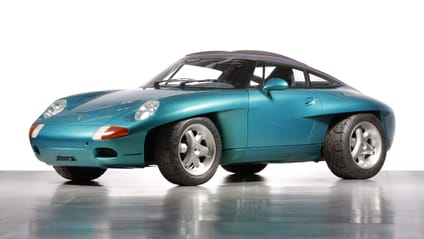 Er, has this 911 been in an accident?

This Porsche concept from the 1989 Frankfurt motor show might look like a 911, but it isn't really. It's actually a birthday present inspired by Mexico, you know.

Advertisement - Page continues below

I got a bike for my 8th birthday. Who gets a concept car?!

Well the Panamericana was designed as an 80th birthday present for company chairman Ferry Porsche. He, of course, was the son of company founder Ferdinand Porsche, and he'd been there since the dubious beginnings of pencilling the Volkswagen for the Third Reich. He took over the firm on his father's death in 1951, taking Porsche into motorsport and driving the success of the 911. Despite ostensibly stepping back later on in the Seventies, he remained chairman of the supervisory board and was still a looming influence even in the late Eighties. 

Where did the Panamericana name even come from?

The Carrera Panamericana was an epic cross-Mexico race that was introduced in 1950 to celebrate the opening of the country's new 2,200-mile Pan-American Highway. It was a gruelling five-day slog and even by the bloody motor racing standards of the time it was a killer. Porsche took class wins a number of times when the race ran between 1950 and 1954, and privateer entries have continued racing 911s since the revival of the competition in 1988. The Panamericana name was an overt nod, but did you know that the Carrera and Panamera badges are also linked to the race?

Advertisement - Page continues below

I've always fancied going off-road in my 911, but couldn't.

Well this would have been your chance. Those cutaway wheel arches were more than just a designer's fevered flourish of the felt tip pen, you know. The idea was that you could make easy suspension changes and swap to a chunkier rubber if you happened to be going well off the beaten track. For a picnic, say, or whatever else an 80-year-old man might get up to. 

Porsche engineers managed to whip this little pressy together in no time at all, taking the chassis and powertrain from a 964 911 Carrera 4 cabriolet and turning it into a Panamericana in just six months. So the engine is the donor car's 3.6-litre flat six, with 247bhp and 230lb ft of torque. The bonnet itself, along with the rest of the bodywork, was made from early experimentations with high-tech carbon fibre reinforced polymer. 

Are there any fancy concept car flourishes?

Frankly the curvy cutaway styling was racy enough for Porsche aficionados, who simply weren't used to seeing this sort of thing. But who doesn't love the Porsche logo in the tyre tread? That detail alone is worthy of a certain amount of praise. The roof came off in a number of stages, too, zipping on and off. The rear windscreen could be removed too, in case that was bothering you.

The Panamericana was a terribly practical concept car, though, with Porsche engineer Ulrich Bez (who would later go on to run Aston Martin) focusing on the oily bits. Styling-wise, a number of little details would go on to appear on the 993-generation 911 and Boxster.

Why didn't the Panamericana go into production?

Porsche just didn't have the cash, sadly enough, otherwise there were actual plans to put the Panamericana on sale, if you can believe it. Although perhaps that's the sort of wacky business sense that got Porsche into cash strappage in the first place. Look at the name badge, if nothing else – having to glue all those letters on the boot would have cost a tonne of money. Two examples of the car were built – one was gift-wrapped and sent to Ferry Porsche, the other went on display at the Frankfurt and Tokyo motor shows and now sits in the Porsche museum.

Funnily enough though, Harm Lagaay, Porsche's Dutch chief designer who supervised the Panamericana, did eventually get an off-roader (of sorts) on the books, but it looked a lot different to the Panamericana.  The Cayenne went on sale in 2002, was massively successful and has made lots of money. Still, as birthday presents go, you'd much rather have a nice convertible, wouldn't you? 

Advertisement - Page continues below

Actually can I have a 919 Hybrid for my next birthday please?

Nice try. Come back when you're the beloved octogenarian patriarch of a hugely successful German automotive dynasty, then we can sprechen Sie Deutsch about whether you deserve a 919 for your birthday.