Concept
It's that time of year again: feast your eyes on these Easter Jeep Safari concepts
Jeep has been blue sky thinking again for the annual Easter Jeep Safari. Here's what it's sending to Moab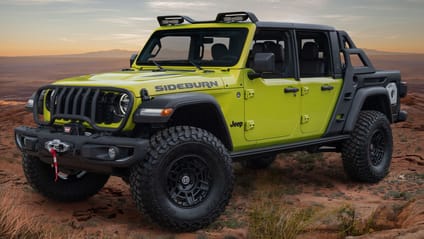 Jeep Wrangler Magneto 3.0 Concept

Based on a two-door Jeep Wrangler Rubicon from 2020, this is actually the Magento Concept's third appearance at Moab with Jeep having fine-tuned the recipe since its first outing in 2021.

Jeep's first battery-electric concept houses a custom axial flux motor that now produces a mighty 641bhp and 900lb ft of torque, although there's also a 281bhp/273lb ft setting for when obliterating the path ahead isn't absolutely necessary. The upgraded motor means improved efficiency and range, too, and there's an 'aggressive' regen setting that acts as a one-pedal hill descent mode. Clever.

 

Advertisement - Page continues below

The elephant in the room is, of course, those nearly elephant-sized mud terrain tyres: 40-inchers since you ask, fitted over 20in beadlock wheels. As you'll soon discover, huge wheels are a bit of a theme… The Magneto also gets Dynatrac 60 front axles and 80 rears, and there's 3in lift too for added clearance.

Jeep has played around with the proportions as well, because… well, why not? The doors have been modded for easier access and the windshield raked back for that 'chopped' look. Meanwhile the updated paint scheme pays homage to the previous iterations of the concept.

 

Jeep Scrambler 392 Concept

Having started life as a four-door Jeep Wrangler Rubicon, the 392 Concept is a nod to the CJ-8 generation Scrambler of 1981. Although that was never offered with a V8 engine, and this… is. Yep, there's a 6.4-litre HEMI under there generating 464bhp and 470lb ft. Which is certainly enough to scramble.

Advertisement - Page continues below

This concept's schtick is lightweightiness, thanks to a vast amount of carbon fibre bodywork that is said to increase performance off-road. In the same vein, the concept gets the newly released AccuAir suspension kit (developed for the modern Wrangler and Gladiator) which offers up to 5.5in of lift either on the fly, or via a wireless device thanks to Bluetooth compatibility.

40in tyres and 20in rims again here, finished in Brass Monkey Paint; the same you'll find on the stock Rubicon 392.

 

1978 Jeep Cherokee 4xe Concept

This one's a restomod, although rather than stick religiously to the original body of the donor 1978 Cherokee, it has been 'heavily modified' to incorporate elements of a 2022 Wrangler Rubicon and its hybrid 4xe powertrain. Not that you need reminding, but that incorporates two electric motors, a battery and a 2.0-litre turbo engine, with power going through an eight-speed auto.

The original Cherokee (SJ gen) was followed a year later by a sporty, two-door version that featured bucket seats and racy detailing for young-person appeal, and it's in that vein that this concept continues with its low-back, leather-finished bucket seats and… a four-point roll cage in place of the rear seats. Because nothing says 'cool' like a safety feature.

 

Jeep Wrangler Rubicon 4xe Concept

If any of the seven concepts for 2023 could be described as 'style over substance', it's this one. Goes without saying that there are some practical upgrades, including the AccuAir suspension 37in tyres and 17in wheels, but mostly this one's here to make a visual statement.

Advertisement - Page continues below

And, well, it certainly does that doesn't it? Following what Jeep calls an 'overwhelmingly positive reaction' to the limited-edition Tuscadero paint used on the 2021 Wrangler, the company has doubled down on the pinkness/purpleness with an 'unapologetic' colour scheme.

No apology necessary: the concept gets gloss black accents to complement its brash exterior, with the interior centred around a black leather dashboard that hides a pink velvet layer beneath the trim.

Grand Wagoneer Overland Concept

Yup, it's a camper. Designed primarily for comfort and adventure apparently. We'll gloss over the 3.0-litre Hurricane Twin Turbo engine and its 503bhp/500lb ft, because what you really want to know about is that most excellent roof tent.

Constructed from carbon fibre, the RedTail Overland Skyloft can be raised by hand in around 10 seconds and provides sleeping space and panoramic views for two people. Internal access is made possible by converting the rearmost sunroof into a hatch, and the second and third row of seats make way for a plush rug and a pair of bean bags.

 

Advertisement - Page continues below

There's also storage for bikes, and the truck bed-lined cargo floor makes scrubbing away mud a piece of cake.

Jeep Wrangler Rubicon 4xe Departure Concept

Building on the standard car with additional items from JPP by Mopar, the Departure Concept gets 37in BFGoodrich tyres and 17-by-18in wheels, as well as JPP's 2in lift kit and Bilstein shocks that use remote reservoirs for better cooling and boosted suspension travel.

See that tubular grille guard at the front? Yeah, that actually folds down into a bench when you want to pause your off-roading adventure and take stock of the view. Meanwhile custom bumpers increase clearance.

 

There's some clever lighting kit too: three header-mounted 11in TYRI LED lights can pivot out of the way when the windshield is folded down, and there are lights to illuminate all four corners; ideal for scrabbling up rocky terrain after the sun has set.

Final party trick: the tube gate that holds the spare tyre has two positions, so it can either face inward to improve the rear overhang or face outward to boost cargo space. Neat.

 

Jeep Gladiator Rubicon Sideburn Concept

Amusing though the name might be, the Sideburn Concept is a serious bit of kit dontcha know. Harvesting its power from a 3.6-litre Pentastar V6, it gets the same extra tools for off-roading as the Departure Concept - so JPP lift kit and Bilstein shocks - and 17-by-9in six-spoke wheels.

The LED lights are removable, and the concept JPP Gladiator Sport Bar (made from a mix of carbon fibre and steel) makes access to the load bed easier on both sides. There are also various clever storage solutions, including Molle panels that house RotoPaX containers that can hold liquid. What type of liquid isn't mentioned, so… tea supply?

 

Inside there are stainless steel JPP pedal covers that'll make sure your foot doesn't slip as you're feathering the throttle and a steep incline, and once the adventuring is done and dusted there's a vinyl floor system with integrated floor drains. Yep, this means you can hose it down.

We're loving the half-doors and open-air roof too… any cooler and it'd come with actual sideburns.