Concept
TG's guide to concepts: the Maybach Exelero
The curious case of a 218mph tyre test bed, and a rapper needing $8m to own the result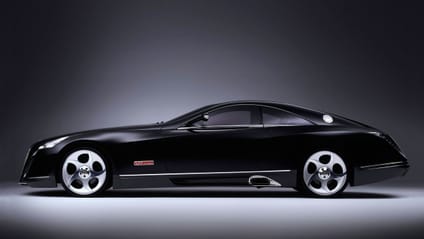 The Maybach Exelero – wow, that's still quite a cool-sounding name, isn't it – wasn't designed to be like other concept cars. This wasn't a show pony barely capable of creeping onto the floodlit stand without scrubbing its tyres on the arches. Underneath the Dracula-getaway-car bodywork, this was a machine designed to do a simple job. Test very serious tyres.

Advertisement - Page continues below

Here's the back story to a machine you might've assumed was just another Maybach folly. In 2003, Fulda, the German division of Goodyear tyres, piped up to Mercedes that it'd quite like a very fast, very heavy car to test its newest, widest tyres on. It'd done much the same thing in 1938, and Maybach had delivered an exquisite creation called the SW38, capable of an easy 125mph. The 21st Century successor had to be very heavy and extremely powerful to put the modern rubber through the most punishing tests imaginable.

Now, Mercedes could've simply bolted the tyres to an existing S55 AMG, or perhaps an SLR McLaren with a few sacks of spuds in the passenger seat, and had done with it. But instead, it foisted the brief towards its ultra-luxury Maybach spin-off, with a view to resurrecting the spirit of its 1930s streamlined racers. Revealed in Berlin in 2005, the one-off, 2.6-tonne Exelero was the sinister result.

Advertisement - Page continues below

Despite being long enough to land aircraft on, the menacing Exelero was just a two-seat, two-door coupe. The height of selfish opulence. Based on the Maybach 57S limo, the cabin was shunted back to give it the art-deco proportions of a pre-war speedster, while the resulting preposterous bonnet covered a unique Maybach V12. Capacity was stretched from the usual 5.6 litres to 5.9, with two massive turbochargers added to deliver 691bhp and 737lb ft. Whopping 23-inch wheels were deployed. Multiply that with the aerodynamics and a top speed of 217mph was deemed possible. Game on. 

And so, on 1 May 2005, the Exelero set off on the one and only journey it was every designed to complete – a set of laps around the Nardo high-speed bowl in southern Italy. Previous N24 and Le Mans winner Klaus Ludwig steered the gargantuan coupe to a verified 218.3mph, breaking a record for a luxury limo on street tyres and slightly exceeding Maybach's own claims for the car. Job done.

Purpose in life fulfilled, the Exelero has lived a tumultuous life since. In 2011, a rap person by the name of Birdman claimed to have purchased the car for a reputed $8m, intending to repaint the bodywork bright red. However, the car's existing owners claimed money never changed hands, and continued to offer the car for sale. So far as we know, it's still black.

You might think the Exelero a bit ugly, a bit pointless. Perhaps a summing up of where the whole Maybach brand went wrong. But as a piece of engineering, and one of the most evil-looking cars ever to turn a wheel in anger, it deserves all of our respect.