Concept
Under the skin of the VW XL Sport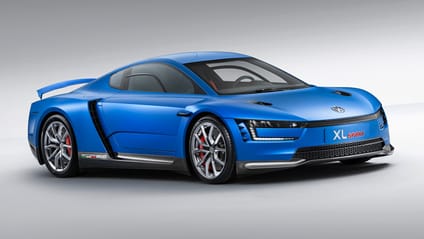 In the world of motorbiking right now, the most scaldingly hot property is the Ducati 1199 Superleggera. It's as powerful as a World Superbike machine, but so light that it isn't allowed to enter the races. Yet it's road-legal. The Superleggera has it all: a blazing racing pedigree, obsessive lightweight engineering, gut wrenching power from a charismatic engine and a stratospheric price. But even its - gulp - £54,000 sticker wasn't stratospheric enough to prevent the whole production run of 500 selling out before launch.

This feature originally appeared in the December 2014 issue of Top Gear magazine.

Advertisement - Page continues below

Ducati is owned by the ever-acquisitive VW Group. Where, in recent weeks, a series of unrelated events came together in a way that was too good for coincidence so must have been the doing of some high-zoot PR bod. Volkswagen needed a crowd-pleaser for the Paris show. The company was about to build its 200 millionth car. And the Group now builds two absolute extreme two-cylinder engines: the world's most efficient in the XL1, and the world's most powerful in the Ducati Superleggera. And so it came to pass that they combined all factors to build the one-off XL Sport Concept, calling it the 200 millionth Volkswagen. (How can they count? They have more than 10 factories worldwide. And this isn't even a production car.)

Still, of all that unimaginable number, this is the one that we want the most. To make this Franken-XL, they took the XL1 and tore out its heart, the tiny two-cylinder diesel with battery and hybrid system. In its place, they stuffed the engine from the Ducati 1199 Superleggera - 200bhp of manic, 12,000rpm, 1199cc V-twin.

For all the years that the XL1 project has been underway, it had been obvious to all concerned that, viewed through the suitably distorting lens of the true petrolhead, the little fuel miser bears some striking resemblances to a hypercar - and not just that it's made as a limited edition at an unbelievably high price. It has a carbon-tub, mid-engined layout, with two seats, gullwing doors and an ultra-aerodynamic body. All those physical factors are driven by efficiency, and efficiency is what you need whether the aim is extraordinary performance or extraordinary economy.

Advertisement - Page continues below

That's why, when the XL1 becomes the XL Sport, just 200bhp - a bit of a trifle in sports-car terms - translates into very handy performance. Weighing just 890kg, it gets to 62mph in 5.7 seconds; the low frontal area and drag factor of just 0.258 translate to a 168mph top speed.

If all they'd done was bolted in the bike engine and then fired up and mashed the throttle, the XL Sport would have had the short, explosive and self-consuming life of a big firework. The donor is built out of components made exactly heavy and strong enough to do their job with its pigeon-chested diesel powertrain, but no stronger. Hardly a gramme has been wasted, and hardly a standard VW component is used. Adding more power, wider tyres, more speed, bigger brakes and more downforce would have lunched the chassis. It needed total replacement for the XL Sport.

VW's technical drawings of the XL Sport show the engineers have gone to the sort of trouble that can only have production in mind. The engine and suspension at the rear sit in a new subframe. At each corner are a pair of forged wishbones. They activate springs via pullrods at the front and pushrods at the back. I'm not familiar enough with VW part numbers to suggest all this is bespoke for this car, just that it's not XL1 stuff. And I've had a poke around the suspensions of other suspects - Boxster, R8, new Huracán - and it's not from any of them, either. I think it's bespoke to the XL Sport.

From the XL1, it takes unaltered the beautiful, light and stiff resin-transfer-moulded tub, the doors and the same special thin glass. But the overall body is wider and longer - the wheelbase is 20cm more because of the new rear end, and there's some more added in the rear overhang too.

Indoors, the XL1's ultra-light dash and seats remain, as does the staggered seating arrangement. This was originally done to give shoulder room in a cabin that was kept narrow for aero reasons, and it's the kind of thing that still helps with top speed even with the Ducati motor shoving things along. But the XL1's simple dials have been replaced by a digital race-car LCD panel.

When the XL Sport arrived on stage in Paris, I texted Peter Wouda, the original XL1's designer: "What have they done to your car?" I bumped into him a few minutes later, and he was smiling. It was what he had done to his car: they'd kept him on the project to do the XL Sport. He looked tired but was wearing a gleeful grin. "We didn't know where it would end, marrying the most powerful two-cylinder engine in the world with the car that uses the most economical twin-cylinder. We didn't know what would be possible. It was a tough trip."

He clarifies the project status: "It's not a static concept car, it's meant to be drivable as a one-off. And it does drive, though it needs more work on the electronics. That's why there's no show-car jewellery on it. Everything is functional. There are active aerodynamics, and the rear spoiler and cooling ducts are electrically deployable, to keep the shape pure." He's referring to the sloping rear deck, above the engine. When the temperatures in that region get too high, the normally flush louvres swivel open.

Advertisement - Page continues below

On the face of it, the Ducati engine is a wildly exciting thing. Many of its steel parts have been replaced with titanium, meaning it weighs less and revs more crazily - and costs vastly more. But there is a but. Bike-engined cars have always been better in theory than practice, and there's a reason. They have pretty hostile torque curves. There just isn't much shove at realistic rpms, so to get a car - many times heavier than a bike - moving along, you must cling to the red line for all you're worth. High revs are brilliant in their place, but not for breakfast, dinner and tea. The Superleggera engine makes 75lb ft at 7,000rpm, and peaks - peaks, people - at only 100lb ft, at just shy of 9,000rpm. You'll have to drive it all-out. Always.

But at the moment we can't drive it at all because it's a concept car. Albeit one that can move under its own power. I asked Heinz-Jakob Neusser, VW's development chief, if it's good to drive. "Yes." Big smile. "So will this ever be more than a one-off?" "Let us try." Bigger smile.

The impulsion behind the XL Sport actually goes to the very top of the VW Group. When the XL1 was in gestation, under group R&D chief Ulrich Hackenberg, he never tried to quash talk of a faster one. And at the very apex of the VW Group pyramid sits Ferdinand Piëch, chair of the supervisory board. He pushed for the XL1 right from the start. The deal to buy Ducati also had his dabs all over it. And guess what? The XL Sport's DSG transmission is controlled by a lever with a wooden gearknob, just like the one in the Porsche 917, one of the greatest endurance racers ever, and a car directly engineered by the young Ferdinand Piëch, 45 years ago. It's an overt tribute by the XL Sport team.

Advertisement - Page continues below

If VW builds it, it will be in tiny numbers and, frankly, sales will be limited because it'll be punishingly expensive. It has to be, given the cost of the XL1 itself, and of the bike. A lot of money for not a lot of car - but you don't always measure value in kilos or horses. Heck, it's what Lotus should be building. It makes an Alfa 4C look porky. It blows the whistle on the 600bhp-or-don't-bother supercars that are too fast and over-endowed to be properly stretched on real roads anywhere near where we live. The XL Sport ought to be glisteningly sharp, and powerful enough without spoiling itself. It deserves a chance to prove it.