Concept
Yes, this is a Smart ForTwo with a detachable caboose
Ever wanted a six-wheeled, series-hybrid Smart car with a clip-on butt?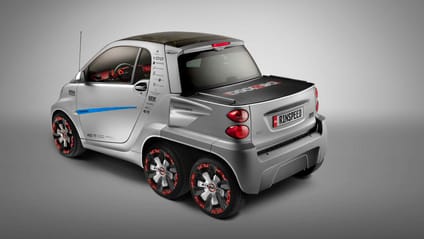 What is it?

That's... actually a question that's hard to answer in one sentence. It's called the Dock+Go, which, going just by the name, could really be anything from an old-school iPod dock to a bike-share system. It is, as you can plainly see, neither of these things, nor does it sit anywhere in the middle ground of expectation.

That's not a trailer, at least, not in the conventional sense. As the name suggests, the caboose is 'docked' to the car – although, worryingly, Rinspeed says it's "strapped like a backpack" on existing vehicles. That sounds... safe. Especially when you consider that the strap-on (stop sniggering up the back) is actually powered (if you keep sniggering, you will be ejected from the classroom) and provides juice (that's it; get out) to the electric battery in the car. Luckily, it does seem to actually use bolts, which, apart from being much more confidence-inspiring, also opens up a new avenue for bolt-on jokes.

Oh, and it's also an optional extra. See, there's the 'space pack', which comes with just empty space to fill between the axles, and the 'energy pack', which... well, packs an engine in there. The idea being that you could buy a pair of bolt-ons (cheque please), with one as a range extender and the other purely for haulage.

So, in one sentence, the Dock+Go is a possibly range-extending, volume-expanding, load-increasing clip-on for electric city cars that don't have a whole bunch of... well, any of that to begin with. There, nailed it.

Advertisement - Page continues below

What did it predict about the future?

Actually, the idea of a range-extended electric car. OK, so the idea of genset trailers and so on isn't new. And sure, no car company that actually brought a range extender to market ever implemented the concept in such an Amsterdam coffeeshop kind of way.

But the Fisker Karma and Chevrolet Volt, which came out in the same year as the Dock+Go, both had series hybrid – as in the engine charges the battery, the battery powers the car – which is the same basic principle as the Rinspeed. And the BMW i3 REx used that same concept two years later to eke out extra range and shoo away range anxiety.

OK, so it really seems to have predicted a small part of the future that never really took off either, but that wasn't the question, was it? Blame (or thank, as you see fit) improvements in battery technology and infrastructure for the demise of/current lull in range-extenders. If range extenders feel a bit niche, the following sentence probably won't allay your fears – Mazda is apparently pairing a rotary range-extending engine with battery power for its upcoming MX-30.

Give me some numbers.

Not until you buy a few drinks first. We're just not that kind of person.

Oh, about the car? Yeah. That makes more sense. Why would you want our number, after all, especially after the past year spent sitting inside, scoffing custard creams?

So, the four-wheeled bit has a blistering 33bhp from its induction motor, drawing from an 18kWh battery through 100V electrics. A Tesla it ain't. There's 88lb ft, though, which is fine propelling 880kg. Just not in any great hurry; acceleration figures are 6.0 seconds from zero to... um, 31mph. There's no zero to 60 time, either – partly, we assume, because acceleration is about as slow as the second season of The Walking Dead and partly because the DuckDuckGo's top speed is 59mph.

With the power-adding, range-extending, bolt-on bum, zero to 60 was a 13-second affair. Which would rate as one of our longer relationships! Anyone? No? OK then. Top speed jumped to 90mph, and range jumped from about 60 miles at 55mph to as far as Esso will keep accepting your credit card at European speed limits. Just not German ones.

Some of you may be wondering how speed can increase if it's just a range-extender, like the BMW i3. Well, it isn't – it's a 70bhp, 1.0-litre engine, with a five-speed sequential gearbox attached. Which makes the docked CS:GO a four-wheel-drive, six-wheeled hybrid...

Advertisement - Page continues below

Did it actually work?

Well, it's a concept car, so you can never be entirely sure what 'actually work' really entails. But in all the press bumf and official videos, it very much does not move. Nor did it do much other than sit on a plinth at the Geneva Motor Show, occupying the miniscule overlap in the Venn diagram of 'cars at a Swiss motor show' and 'cars actually from Switzerland'. So we're going to go with no. Burden of proof and all that.

Why should I have cared about it?

Because this is Rinspeed, famed creator of the left-brained (and hare-brained), without which the motoring world would be a much more boring place. And it is so often a boring place, constrained and curtailed by convention and conservatism.

Unlike so many other industries, motor vehicle manufacturers are forced to thread an infinitesimal gap between seeming staid and out-of-touch and too avant-garde. Citroen, for instance, suffered as often as it succeeded for its outside-the-box thinking. And Toyota's reputation for building dull appliances will take more than a hot-shot Yaris to fix, regardless of its excellence.

So for Rinspeed to defy convention and conservatism at every step is a bucket of ice water over the head for a public that's conditioned to expect anonymous blobs with badges on the back for generation after generation.

Why did it fail?

Because this is Rinspeed, creator of the left-brained and hare-brained. And, like we said, the only thing that the motoring world punishes more than old ideas is new ones.

Also, the fact that it's a Smart car with a caboose. That's just not going to catch on.