Detroit Motor Show
Detroit Motor Show 2017: the best bits
A big Audi, a fast Kia, a colourful Ferrari and Cars 3! Your show highlights here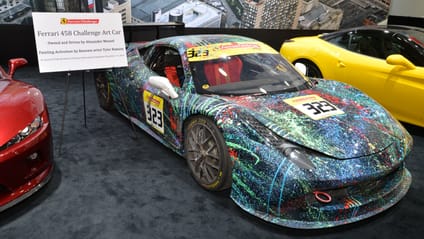 Audi says the Q8 is about five metres long, two metres wide, 1.7 metres tall and has a three-metre wheelbase – almost exactly the same as a 2017 Range Rover – but unlike the Range Rover, the Q8 will be a "luxury lounge for four". We can think of cheaper ways to get four people around in comfort.

It's described by Audi board member Dr Dietmar Voggenreiter as "the crown of the Q range".

"This should be the Q car comparable to the A8," he tells Top Gear. "The 8 always signifies the high-end cars – the A8, the R8, and now the Q8. The Q7 is more versatile and function orientated. This is more sporty, more expressive, and gives you a different image compared to a Q7."

Advertisement - Page continues below

Like the S4 and S5, the SQ5 has the 3.0-litre turbocharged V6 with 354bhp and 369lb ft. That's actually less torque than the outgoing SQ5 Plus, which in the UK is only available with a biturbo V6 diesel with a whopping 516lb ft. Power is up, but only by 14bhp. This means the new, petrol-powered SQ5 is some 0.3 seconds slower to 62mph than the diesel (5.4 plays 5.1).

Those unduly concerned with such matters should rest assured a diesel version will follow, though. Audi board member Dr Dietmar Voggenreiter has confirmed to Top Gear that both petrol and diesel versions will be offered, the petrol launching first to please the SQ5's doubtless large US and Chinese audiences.

"This was a very simple decision," he tells us. "The last time we started with diesel, and this time we start with the petrol, which is more worldwide market focused. But there will still be a diesel. As Europeans we love the SQ5 as a TDI version."

The GT C will slot between the mid-level GT S and full-fat GT R, with 557bhp (versus 522 in the GT S and 585 in the GT R) on tap from four-litre V8. It'll only be available as a limited-run 'Edition 50' model to start – with special paint finishes, forged alloy wheels, a selection of option packages and the appropriate badges – likely reverting to a standard model in a few months' time.

This means there'll be six AMG GT models to choose from, with a GT and GT Roadster, a faster GT S coupe, then an even quicker GT C and GT C roadster, before finally arriving at the hard-edged GT R.

Advertisement - Page continues below

Um, from the people that brought you the V10-engined Force 1 supercar, comes this Hummer-esque thing. It's based on a Chevy Colorado and comes with a 3.6-litre V6 underneath with around 300bhp. You can make your own call on the looks in the commenty bit below.

Comment, dear readers. Comment...

Ah yes, that's a bit better. So it's not a new reveal at Detroit - we saw it this time last year - but it's no less distinctive. The two-seat, carbon-bodied supercar is the product of a partnership between Henrik Fisker (he of the Fisker Karma, the BMW Z8, Aston DB9 and V8 Vantage), eccentric and utterly brilliant former General Motors chairman 'Maximum' Bob Lutz and Ben Keating, legendary Viper racer.

Indeed, Keating's experience with Vipers essentially provides the hardware, because the Force 1 is powered by a 745bhp/638lb ft 8.4-litre V10 from the Dodge-branded supercar (note the side-exit exhaust a la Viper), and features the computer-controlled active suspension system developed by Keating from his racing exploits.

And that's a naturally aspirated V10, don't forget, and with only 1,538kg to push around, a six-speed manual (auto is an option, with paddles), Pirelli tyres and Brembo brakes, this should be special indeed.

It's Lightning McQueen from Cars 3!

"This film is a lot ike the first film in terms of the emotional heart and connection. This is back to being a McQueen story. It's back to being a hero's journey." Those are the words of Jay Ward, creative director of the Cars series at Pixar. We'll have more from him - and the head of Cars' character design - on TopGear.com soon.

Advertisement - Page continues below

The Vmotion 2.0 is a tangible example of the direction that Nissan's design chief Shiro Nakamura has explained to us.

"The interior and exterior of cars are becoming very different," he says. "I think the exterior will not change so much. The exterior is a way to show the taste of the brand, and to express the customer's taste.

"But the interior will be very different. We're going right back to the drawing board. The steering wheel will store when you're in autonomous mode to make a very nice living room. The user interface is very different, with voice control, single big monitors, and not so many switches. It's more simple, as simple as possible. That is the direction of the interior, definitely."

An update for the famous Scooby. This 2018 cars gets revised suspension, a tuned DCCD all-wheel-drive setup (no mechanical diff, all electronic now), bigger, more powerful Brembo brakes and, for the first time, 19in wheels. 

There's also been some work to the front grille, headlights, better interior materials, better foam sealing and thicker glass. The bit you care about remains the 305bhp, 2.5-litre turbocharged boxer engine up front. Engage your favourite rallying face immediately.

Advertisement - Page continues below

Ferrari 458 Challenge 'Art Car'

Alexander Menzel is the man who owns and runs this Ferrari 458 racer, who politely allowed an artist called Tyler Ramsey to spill his paint pots all over it.

Yes, the 458 Challenge has of course been replaced with the 488 Challenge we first saw at the tail end of last year - full story here. Though offering nowhere near 488 levels of aggression, this 458 is still a peach, not least because of that naturally aspirated, 4.5-litre V8 chucking out over 560bhp. And with paint all over it, it just looks... better.

Again, not a new reveal at Detroit, but a seriously cool looking thing. We've driven it, so if those looks have piqued your interest, why not sate the urge and click here to read our full review? Go on, treat yourself.

Ah yes, we come to one of the big hitters from this year's Detroit show: the long-awaited, twin-turbo, rear-wheel-drive Kia sports saloon. It's certainly got the go to match all of that show, and you probably know everything there is about the car already.

(If not, refresh your memory here)

Here it is in a rather fetching blue...

Infiniti has suggested this driver-centric SUV will come with a turbo petrol engine that provides a clean alternative to the diesel tech, something that dominates the SUV market in Europe. A 2.0-litre four-cylinder with around 270bhp, it sounds promising. Whether it gives the QX50 an appealing USP or simply corners it into an oddball niche we'll wait to see.

 

Toyota unveiled the new Camry in Detroit. This is not it, and we haven't put it in this gallery, because Camry. But we suspect the one pictured above may be more aligned to your tastes. It is a NASCAR Toyota Camry, and is therefore better than a regular Camry.

NASCARs are rather cool, too, as we found out last year after driving one...

Unveiled first in CES, this is the Portal Concept. Yes, it's an MPV-ish family car, but it's not like the Vauxhall Zafira your mum has. With autonomous driving modes, modular seating and almost invasive levels of connectivity, the Portal promises to be a family car for the Snapchat generation.   

According to Chrysler's marketing bumf, the Portal Concept is "designed by millennials, for millennials" and will come to fruition when "one in three drivers will be a millennial and they will be starting/having their own family".

Dodge Challenger Shakedown

This one was first put forth to the baying hordes at SEMA last year. Here is is in Detroit, in full haymaker mode.

A 1971 Challenger at heart, Dodge treated this retro-modern wonder with a bespoke fabricated chassis, custom front and rear suspension that allows drifting, and a 6.4-litre HEMI V8 with 485bhp. Also a six speed manual. And monster Hellcat wheels. 

A Ford GT in red, because FORD GT

Come on, it's the poster boy for the new era of Ford Performance. And looks really rather good in red.

You'll know all about the new Ford GT, but if you don't, pick up a new issue of Top Gear magazine, because we've been up close and rather personal with the 3.5-litre, twin-turbo V6 supercar.

Volkswagen has teased us with all manner of small minibus concepts that hark back to the 21-window Microbus, from Bulli to Budd-e, without committing to production on any of them.

So with the launch of the new I.D. Buzz, you can forgive us if our patience is wearing a little thin. There's clearly a desire from up top at VW to make a car like this, after so many concepts. It would be nice if they just got on with it…

The Buzz has made its debut at the 2017 Detroit motor show, and it does so with all the modern-day concept car staples neatly ticked off.

Electric power? Yup, 369bhp of it, with a claimed 373-mile range figure, like most petrol cars.

Just make it already, VW. 

It sits on a new luxury global platform - a stretched version of the new platform that sits underneath the new Lexus LC - gets a twin-turbo 3.5-litre V6, many gears in the gearbox (ten!), is (ahem) bigger and more structurally rigid than before, lighter and features less road noise. Lovely.

The 45 heads up the refreshed GLA line-up, which features such things as modified bumpers, new wheels and LED lights. There's lots to digest, so click here for the full debrief.