Electric Awards 2023
Revealed: the winners of the 2023 TopGear.com Electric Awards!
We name the greatest EVs on Earth, including a Lamborghini, a retro Renault drift machine and a Jeep city car
15 minutes
From supercars to saloons, pickups to drift cars, SUVs to GTs and vans to luxury limos... who said EVs were dull? Join us as we run through all the winners of our 2023 Electric Awards...
EV we're most excited to drive in 2023: Lamborghini Revuelto
The Revuelto is, inevitably, a plug-in hybrid, but it's one that takes the possibilities of the format and does wild and wonderful things with it. In fact, Lamborghini insists on the abbreviation HPEV to describe the new car, for "high performance electrified vehicle".
Advertisement - Page continues below
Best e-racer: Audi S1 Hoonitron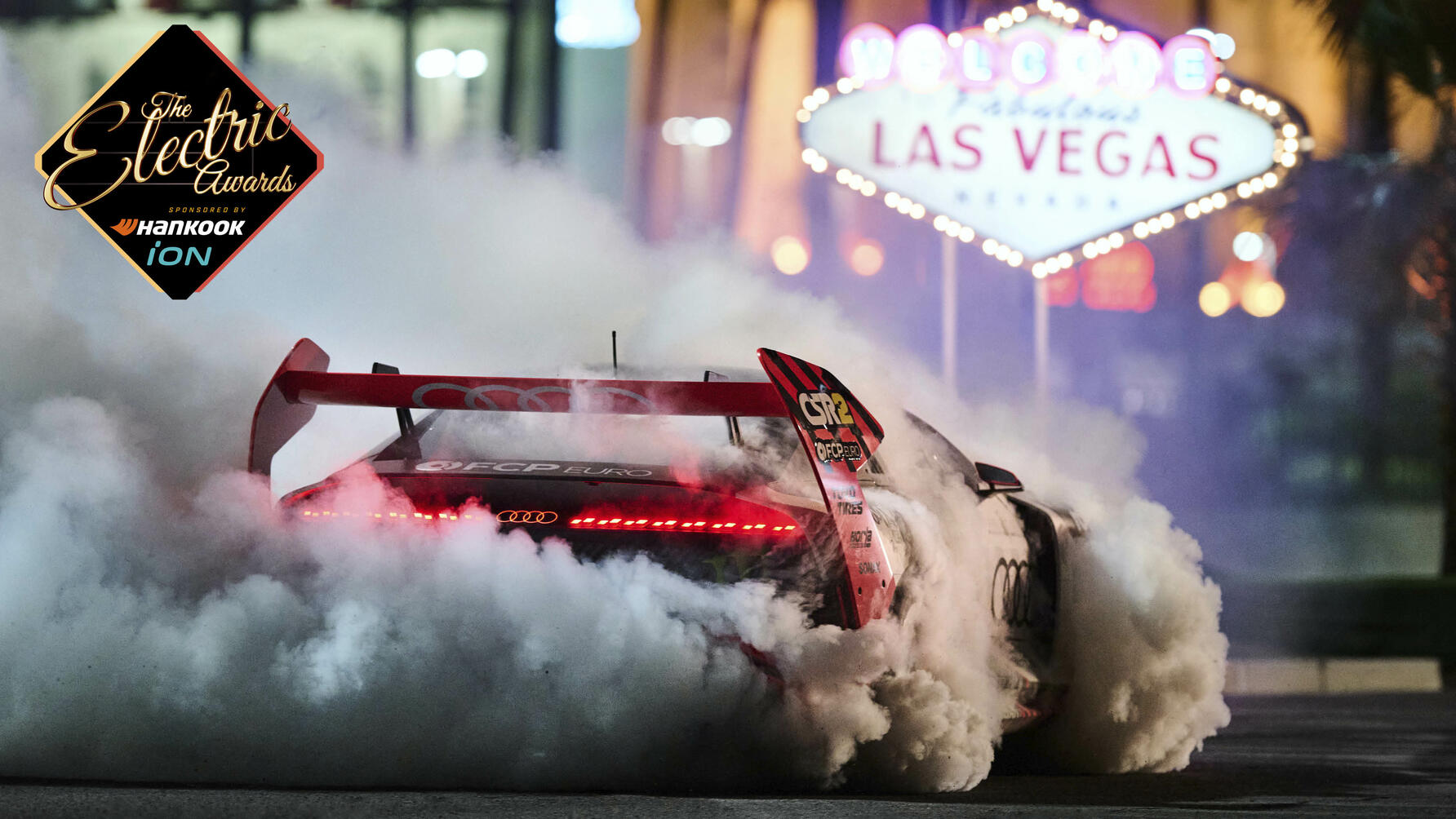 We're all still deeply saddened by Ken's passing. The Hoonitron was his first step into a new and exciting world, while Electrikhana was his last major Gymkhana production. But his legacy will live on. And through the Hoonitron he's proven there's still hope for madness in an electrified future.
Best luxury EV: BMW i7
Yes, it's heavy, but the dual motor xDrive60 makes 536bhp which is more than enough, and ride and handling are exemplary. BMW claims a fully charged range of 388 miles. The only disruptive element is the i7's exterior design, but even that could soon begin to make sense.
The innovation award: Mazda MX-30 R-EV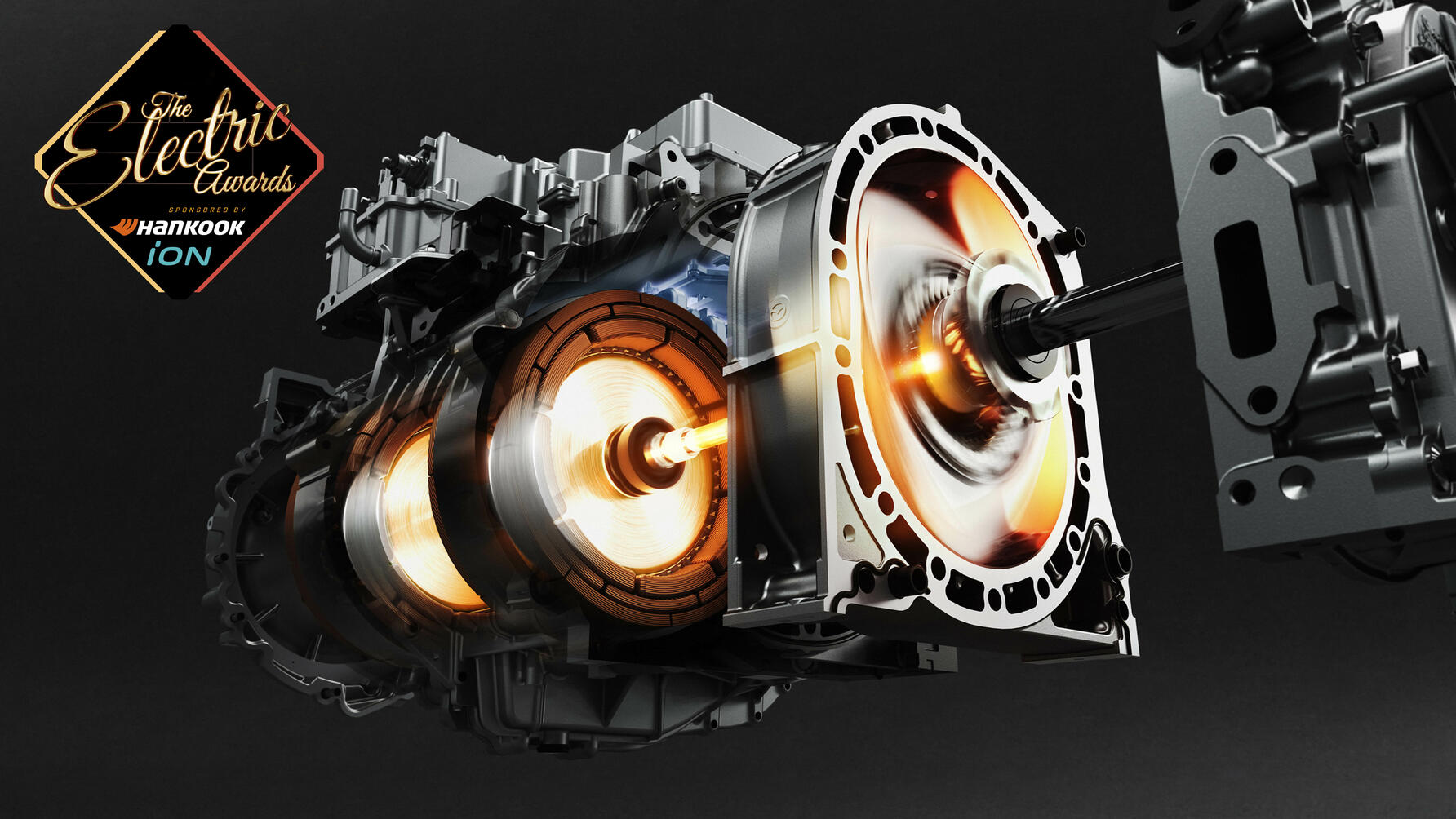 Mazda has added a range-extending combustion engine to its MX-30 EV, and although that may not sound like huge news, the solution it has come up with is genius. The headline is that the rotary engine is back.
Best excess all areas EV: GMC Hummer EV
The Hummer EV is a ridiculous motor vehicle. It weighs 4,110kg, which is the same as nine Caterham 170Rs and means, if you could buy one in the UK, you'd need an HGV licence to drive it. This $110k Edition 1 model has three motors – two at the back, one at the front – producing a total of 986bhp and 1,200lb ft of torque, enough for a 0–62mph sprint in three seconds flat. That's basically as quick as a Ferrari 296 GTB, despite having the aerodynamics of a shopping centre. It has a claimed range of 329 miles, which is impressive, but only because it has a 205kWh battery – the same as six Honda es. It drains the planet's resources like a sugar-crazed toddler slurping on a milkshake, and in the process upends the electric car's core justification – being in some way beneficial to the environment.
Advertisement - Page continues below
Best electric grand tourer: Maserati GranTurismo Folgore
We've sussed electric now haven't we? It works for luxury cars, because they trade in the silence and smoothness that is electric's calling card. And it doesn't work for engaging sports cars, as it's a bit one-dimensional. So how does it work in a car that sits in the middle? Very well indeed is the answer. Now, not everyone will get the grand tourer as right as Maserati.
Chris' pick: Rimac Nevera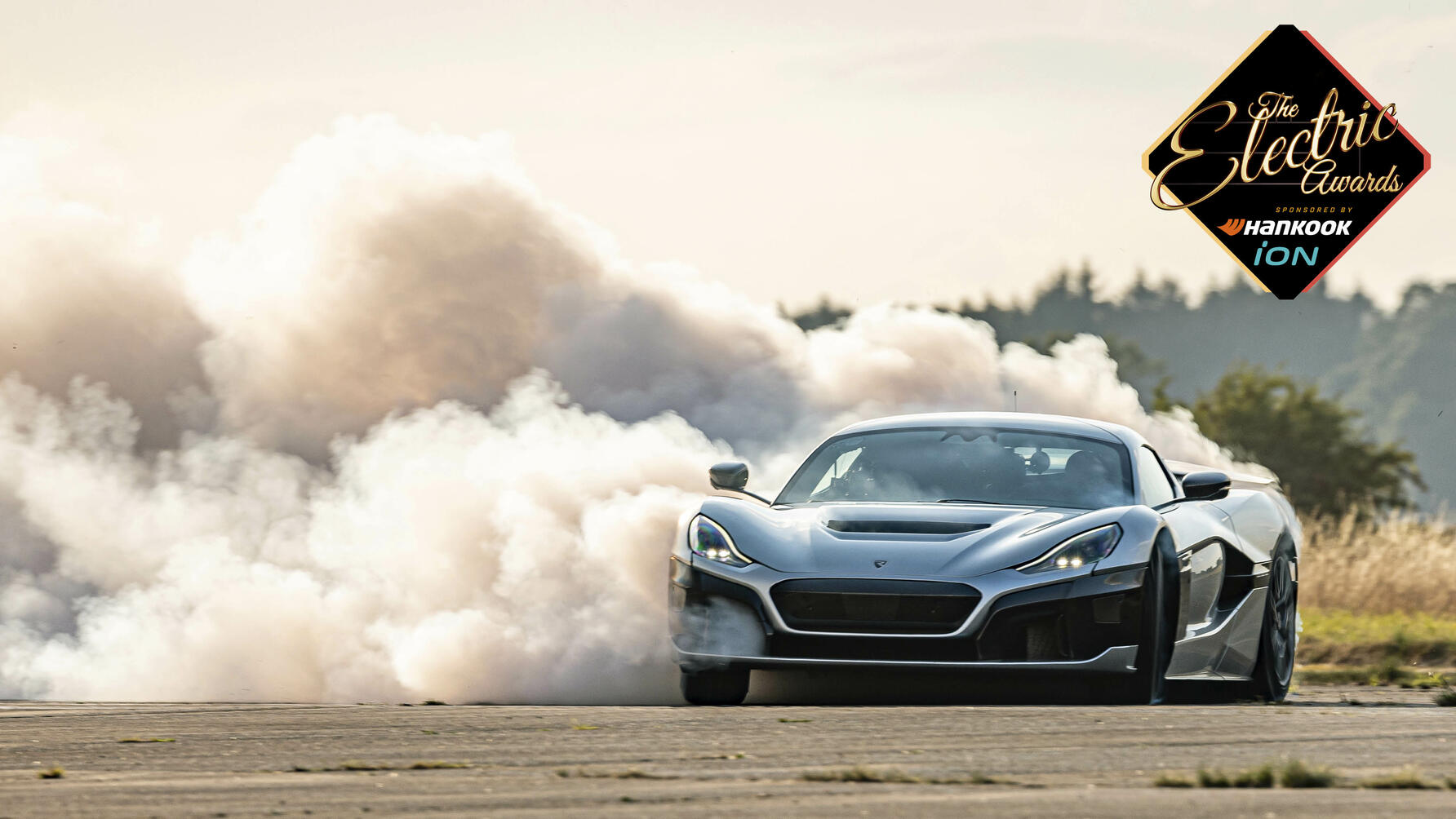 "Before filming our power test to end all power tests, I knew all about Mate Rimac. I knew what he'd been up to and I knew Porsche had bought a chunk of his company, and that's the ultimate accolade. I also knew he wasn't going to let me have a go in his Nevera until it was 100 per cent finished. When he did, the first few miles were on a Yorkshire moorland road. I had 70 per cent of the performance, it was damp and it already felt so much faster than any other supercar I'd driven in the same conditions. I was in jelly baby mode and when I put my foot down for the first time, I couldn't really talk."
The range champion award: Tesla Model 3
We're all winners. Or equal losers, at least. Our five cars have racked up a combined 5,800 miles, the distance from London to Japan. Which, with hindsight, might have been a better use of time and electricity. But we've proven with the inaugural 24 Heures du M25 that if you want to do big miles, electric cars are now fit for long-distance purpose. All five EVs have run faultlessly, managing longer between stops than the average bladder.
Best electric concept: Citroen Oli
It has to be said, Citroen has form going radical then watering down the innovation – C4 Cactus anyone? If nothing else, the lesser screen, tactile control cabin bodes very well for future Citroen interiors. But if some of the ideas distilled in the Oli's construction can go mainstream, then the EV revolution might stand a chance of being affordable – and sustainable – for everyone.
Top Gear
Newsletter
Thank you for subscribing to our newsletter. Look out for your regular round-up of news, reviews and offers in your inbox.
Get all the latest news, reviews and exclusives, direct to your inbox.
Best electric van: Ford e-Transit
If you're looking for absolute fitness, then the e-Transit is the king. At the moment, it's probably better at those multi-drop, next day delivery, regular round situations, having volume to spare but without the big ranges for motorway trawling. It's not perfect; Ford may have done the calculations of what 'most' businesses need in terms of range, but van drivers haven't had to cope with any kind of range anxiety on top of all the other stresses of their day, so it will matter. But it's also supported by the FordPro ecosystem, which will help businesses ease themselves into electric motivation, is easy to drive and use, cheap to maintain and charge – as long as it goes home at the end of each night and doesn't rely on expensive public charging. You can have ProPower onboard to run tools, which comes with a pre-programmed shutdown so that you've got enough charge left to get home comfortably. Find the right use case, and it's brilliant.
Best everyday EV: MG4
The MG4, with its sub-£27k starting price, has redefined what we can – and should – demand of our electric cars. Even on a budget. That's why it wins. It's of its time. An uncertain time. An expensive time.
Lifetime achievement award: Toyota Prius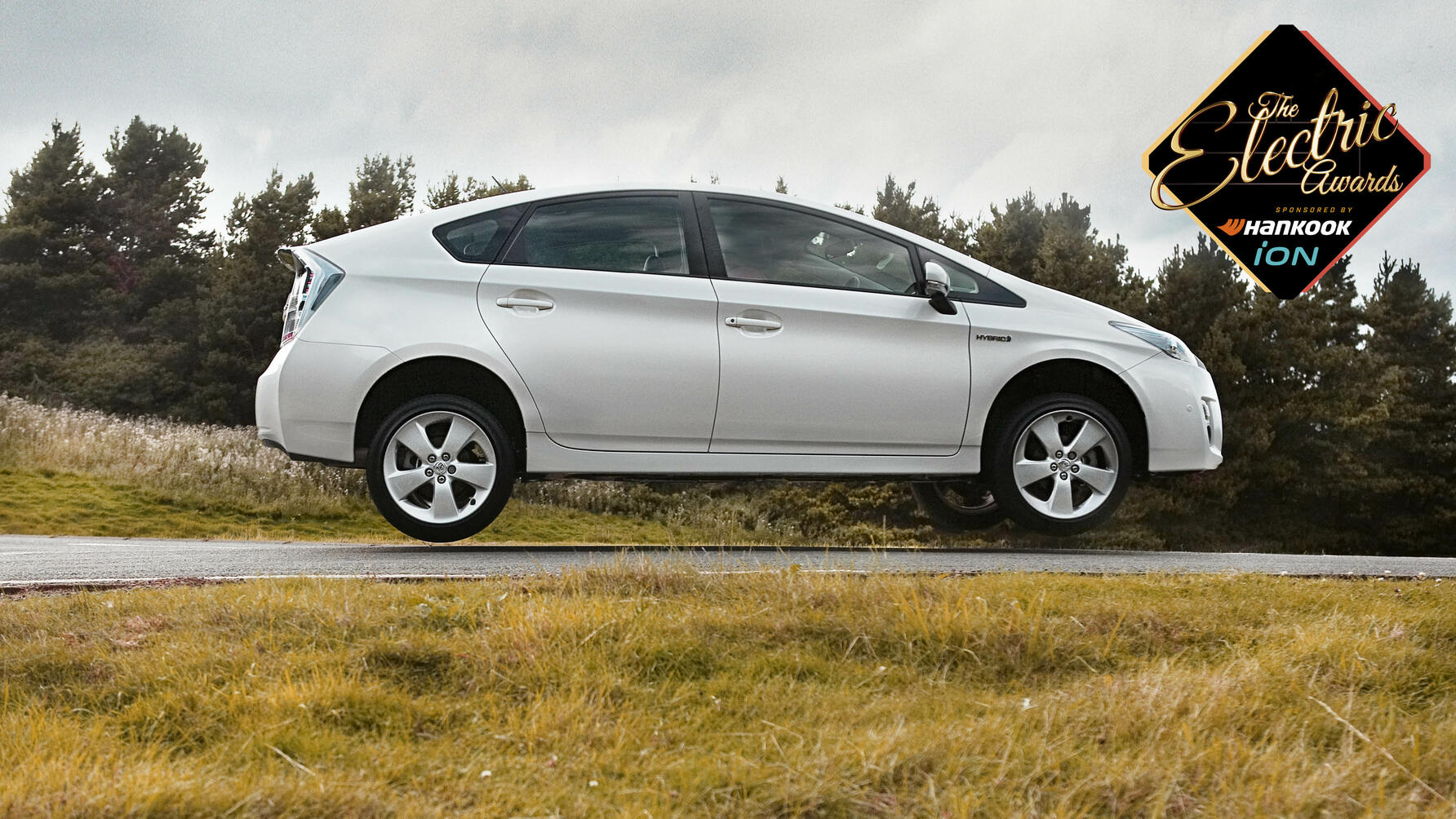 Gradually, the Prius got nicer as well as more efficient. Some 100,000 of them in four generations found homes in the UK. The brand new generation looks terrific. But it's not coming here. Private sales of the outgoing one fell as it became indelibly linked with the carriage trade. Still, hybrid drive has been rolled out across the Toyota and Lexus range. And the electrical expertise will inform the coming posse of Toyota EVs. The Prius worked, and its work is done.
Best retro EV: Renault 5 Turbo 3E
"Is this the electric future of RenaultSport? Now, I can't see them selling a road-going 400bhp rear-drive drift machine, but just look at the stance and attitude of this thing, imagine it on the road. What it tells me is Renault sees a future for the hot hatch."
Best electric city car: Jeep Avenger
The Jeep feels well at home in a city. It's still small for an actual car – shorter than most little crossovers, even the related Vauxhall Mokka. Its blocky outline makes it easy to thread down narrow streets, and all-round black plastic protection will save the day when you get it slightly wrong. Because it's set up for mild off-roading, the short overhangs and long suspension travel make light work of speed bumps and potholes. Its height means it'll carry adults in the back. There's a proper boot.
Electric car of the year: Jeep Avenger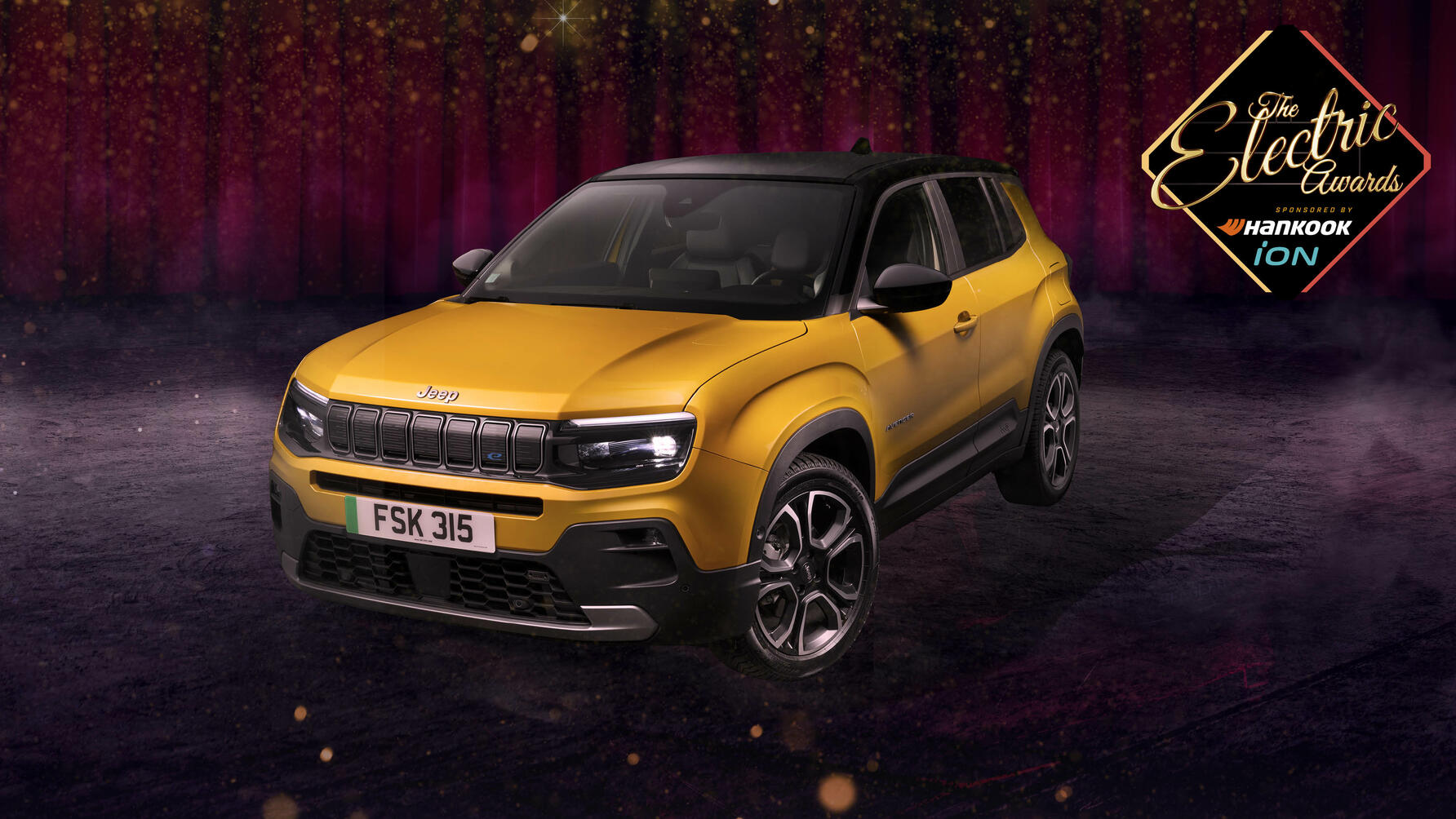 Jeeps have tended to be a bit rough edged. For the wild ones, the rock ape Wranglers and badass V8 SUVs, that's probably been OK. But not for the smaller ones that you rent on holiday in California and then contemplate for your next car when you get home and go to the showroom and conclude, well, naah. The Avenger isn't like that.
Grab a copy of the all-new Electric Awards issue of Top Gear magazine by clicking these blue words.