Electric
14 things you need to know about living with a Porsche Taycan
Pre-lockdown we spent some time with the awesome Taycan. Here's what it's like to live with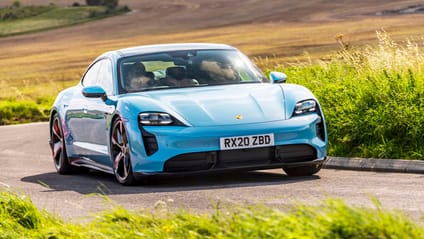 The 4S is the Taycan you want

First, you have to navigate buying your Taycan. At the moment there are three versions – the 4S, Turbo and Turbo S. Prices start at £83,580 for the 4S, the Turbo is another £32,280 and the Turbo S another £22,970 on top of that. Every Taycan is, therefore, a Very Expensive Car.

They're all four-wheel drive, but a rear-drive Taycan is already on sale in China and will hopefully be coming to the UK at some point. 

This one's a 4S with the 'Performance Battery Plus' option, which for £4,613 swaps the standard 79.2kWh battery for the same 93.4kWh battery as the Turbo and Turbo S, bringing more power (523bhp plays 563bhp) and more range (up to 254 miles versus up to 288 miles) than a normal 4S. A box very much worth ticking. 0-62mph takes every 4S four seconds. The 671bhp Turbo does it in 3.2 and the colossally powerful 751bhp Turbo S in a borderline unpleasant 2.6 seconds. Fun, but largely unnecessary for the day-to-day. The Turbo and Turbo S don't give you any more range either.

We reckon the 4S with the big battery is peak Taycan – the right price, performance and range. But be careful…

Advertisement - Page continues below

Pay close attention to the options list, and don't get carried away

Porsche isn't like most mainstream car manufacturers because it doesn't group popular options together in packs. The Taycan's options list is incredibly long, and it's easy to get carried away (as anyone who's spent more than a few minutes on Porsche's excellent online configurator will testify). And having to check things off one by one means it's easy to miss something you'd assume was standard.

Take this particular 4S. Besides the handy £4,613 'Performance Battery Plus' option, it has 21-inch wheels worth a staggering £5,636, the £3,527 'SportDesign' bodykit and £2,538 leather-free interior, £1,553 worth of matrix LED headlights and the £1,440 18-way adaptive sports seats among MANY other things. In all it's sporting an eye-watering £35,715 worth of options, for an RRP of almost £120,000. This is silly.

Sillier still is that it doesn't have heated seats or an auto-dimming rear-view mirror. £308 and £294 options respectively that someone evidently forgot to tick, and two things my Dad got as standard on his Ford Focus.

It's chuffing massive, but easier to manoeuvre than a Panamera

At 4,963mm long and 1,966mm wide (or 2,144mm with the mirrors), the Taycan is as big as a lot of large SUVs. It is the opposite of compact – threading it through width restrictors or decades-old multi-storey car parks is stressy to say the least, especially if in a moment of madness you've gone for the £5k carbon-trimmed 21-inch alloys. But that said the optional surround-view cameras are excellent and the view out the windscreen is superb. Reminds me a bit of a mid-engined supercar.

It's easier to drive in town and down narrow B-roads than it sounds. Better than a Panamera in fact. Rear-visibility isn't brilliant, mind – the rear-window is skinny and the headrests are big enough to mostly obscure what little view there is. Could almost do with one of those camera-based rear-view mirrors, like the Honda e or Land Rover Defender.

Advertisement - Page continues below

Get a wallbox, and pre-heat every morning

Now it's time to charge. Porsche claims up to 288 miles of range for the big-battery 4S – but as with any EV, what you'll actually get depends on a huge number of different factors, from weather conditions to the mix of town/country/motorway driving you do, via the size of the alloys you've chosen (generally the bigger your alloys, the worse your range as wider tyres means more friction and more air resistance).

Porsche has a handy calculator on its website where you can see how different ambient temperatures, wheel sizes and kinds of driving affect how far you can travel on a single charge. Go have a play.

Temperatures were hovering around the five degrees Celsius mark for the fortnight I had the big-wheeled 4S, pre-lockdown. Typical British winter-time. It claimed 212 miles from a full battery, and that's broadly what I got. Porsche's range computer is very good, so what you see tends to be what you get and it doesn't fluctuate wildly. Nothing screams range anxiety more than a rangeometer you don't trust, or that changes its mind every few minutes.

Pre-heating the battery helps massively, then the Taycan can draw power from your wallbox to get the battery up to operating temperature, instead of using precious charge you need for, y'know, going places.

It's pretty efficient

I averaged 2.7mi/kWh over a couple of hundred miles. Relative to what the boss gets from TG's Audi e-tron Sportback longtermer (about 2.1mi/kWh) and given it's very much winter, that isn't bad at all. One day I forgot to pre-heat ahead of a 12-mile round-trip to the supermarket and got 1.9mi/kWh as a result – just clearing the windscreen cost me ten miles of juice.

Be gentle, use Range mode and max regen on a longer journey and you may see over 3mi/kWh, which is incredibly good for an EV of this size/weight. Irritatingly the Taycan measures in kWh/100miles rather than the more Brit-friendly mi/kWh, so maths are required for direct comparisons. Not that it's easy to make direct comparisons without driving a different EV on the same roads, in the same conditions at exactly the same speeds.

The charge ports might cause you some problems

The Taycan's side-mounted ports (and the fact only one has CCS) could cause you problems with some public chargers, which tend to be geared towards EVs with charge ports that are much closer to the front or back of the car. Here, for example, I had to raise the air suspension to edge the Taycan over the kerb so the cable would reach.

Your fingers will get dirty

And another thing about charging. This Taycan has electrically-operated charge port flaps (£443, in case you were wondering). To open them you have to swipe your finger along a sensor – whether it registers your input is a bit hit and miss, and if the car's dirty your finger gets grimy.

Same problem with the boot release, which is a little button on the back-bumper. It's not illuminated in the dark, so at night you have to wipe your finger over the back of the car till you find it. Thank goodness we all carry hand sanitiser nowadays…

Happily, the charge ports and boot can be opened from inside the car, and there are buttons on the key for the boot/frunk too.

Advertisement - Page continues below

Tesla owners might make you jealous, but not because they've got better cars (they haven't)

Odds are you won't need to use public chargers very often, providing you can plug in at home. The Taycan can accept charge at a much faster rate than the VAST majority of public chargers are capable of supplying – up to 270kW in ideal conditions – which is most irritating. And even if you go out of your way to find a faster charger than the typical 50kW ones you'll find at most motorway service stations, there's every chance you could get there only to find it's not working properly. I went out of my way to charge at this 150kW charger, but on plugging in it would only charge at a max rate of 60kW.

A bit of bad luck and all of a sudden Tesla's network of fast, reliable, conveniently located chargers starts to look even more compelling than it already is. Taycan buyers do at least get three years' discounted charging at super-fast Ionity chargers, of which there are only a handful in the UK at present. And more and more Porsche dealers are installing chargers fast enough to deliver 62 miles of range in just six minutes (again, conditions permitting).

You'll love driving it

No 'regular' EV is as good to drive as the Porsche Taycan. With the optional rear-axle steering and 'Torque Vectoring Plus' systems (fitted here, about £2,700 together) it's a devastatingly quick thing point-to-point, and incredibly comfortable when you're cruising or threading your way through town. The steering is bob-on, the standard air suspension and adaptive damping are supple, and the brakes are superbly effective. It's a joy and has that Porsche-ish quality and feel in spades, despite doing without the trademark flat six.

On brakes, pad only meets disc when you really stand on the pedal – 90 per cent of the time it's the regen system that feeds up to 265kW back into the battery. Pedal feel is great given most of the time what you're actually feeling is entirely synthetic. Though you can alter the level of regen for when you lift-off the gas with a little button on the steering wheel, the Taycan is never a one-pedal EV.

The 4S obviously doesn't cover ground as quickly as the Turbo S, but the pricier car's added performance is entirely superfluous in the UK. 0-62mph in four seconds (and 0-100mph in 8.5), with the immediate yet smooth response of two e-motors, makes the 4S a tremendously quick car, whatever you've come from.

Weight is the enemy. The Taycan tips the scales at 2.2 tonnes but does a tremendous job of convincing you otherwise. After all, the centre of gravity is lower than a 911's.

Advertisement - Page continues below

It attracts a lot of attention

Passers-by love this thing because it looks – and sounds – like the future. It's rare for someone walking down the pavement not to turn and stare as you pass. It even draws a crowd at night – the front and rear-light signatures and squat stance give it proper presence.

There's no sunshade for the massive panoramic roof

The Jaguar I-Pace and Tesla Model 3 are like this too. If it's a hot day and you haven't pre-cooled the cabin, you need to use a slog of battery power to get it down to a habitable temperature.

But that might not be a problem with the Taycan. Porsche says its optional tinted panoramic roof (check out the pink-ish hue from outside when you catch it in certain lights) is engineered to keep the Taycan cool even in roasting hot temperatures, so it simply doesn't need a sunshade of any kind. Admittedly we didn't get a chance to test this properly given it's, y'know, winter. So watch this space. 

Either way, we reckon it's worth having as it brightens up the cabin a treat and gives you a bit more rear headroom.

The interior is superb, but could be a bit more practical

The Taycan's interior feels exceptionally well screwed-together and looks the business. The seats and driving position are superb, but space in the back is limited. A fifth, middle seat is an option but really only for kids. The outer two are better but still a bit cramped – there's space to put your feet under the front seats, even at their lowest, but getting them there if you're more than a size nine is a faff.

Up front there's a gap under the Taycan's centre console, where it arcs upwards to meet the dashboard. Why wouldn't Porsche have made use of this space with a little storage tray and a couple of USB ports?

P.S – That reminds me, the Taycan is USB-C only. So remember your adapters, people.

The infotainment is great, but has a few bugs

The Taycan can do over-the-air updates, and it may need one because I found a couple of bugs in the otherwise excellent infotainment system. Here, for example, I'm trying to search for something in the built-in owners' manual, but I can't because some of the keyboard is obscured by a strip of controls (Home, Vehicle and Notifications) down the side of the screen.

Annoying, but not deal-breaking. In general the system responds fluidly and looks the part, with crisp graphics and animations. Until now I didn't know the lower portion of the portrait touchscreen also acts as a trackpad for the main screen. Nice to have the option, but it's still not as intuitive as a click-wheel. I'd sooner just tap the main screen. The optional passenger's screen is pretty pointless – save that particular £725 for something else.

Would we like more physical buttons? Yes, of course, but we're not holding our breath.

It's not a hatchback, like the Panamera

You have to lean in a long way to get stuff out the back of the boot, getting your trousers dirty on the bumper. It's a good size though, and you can fold the back seats down to slide longer items in. I'd suggest relocating your charge cables to the frunk, which isn't much good for anything else, or the handy storage compartment under the boot floor.

Porsche is doing a Taycan Sport Turismo – that's an estate, to you and I – which will almost certainly be even more the one to buy.