Electric
8 things we learned driving the new electric Mini Cooper S E
The Mini EV is finally here. Well, almost. And we've driven it. Here's what we know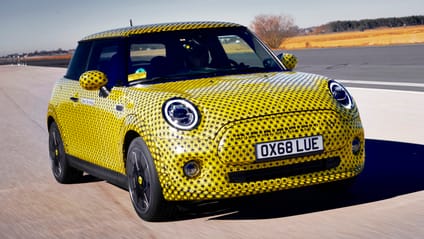 It borrows lots of stuff from the (old) i3

In news that should surprise precisely nobody, the electric Mini shares a hell of a lot with the old 94aH BMW i3. So you get the same 33kW battery pack (29kW of which are actually usable), and the same motor and transmission for broadly similar performance figures. Apparently. Mini's engineers can't tell us - German law means they're not allowed, at least while the car's still officially a prototype - but we're led to believe you're looking at the same 181bhp output as the i3S.

Advertisement - Page continues below

On the antiquated and unrealistic NEDC cycle, the old 94aH i3S claims 186 miles of range. Real-world, we reckon it's good for about 120 miles. As for the Mini… it's a fair bit heavier than the i3. Some 250kg, in fact, tipping the scales at 1,360kg or so. That's around 130kg more than a internal combustion Cooper S with the automatic gearbox. And of course the Mini won't be as aerodynamic as an i3, because it doesn't have its skinny tyres or (as) slippery body.

Our guess is the Mini might manage 100 miles or so, which isn't very far at all. Hopefully a bit more than that, but there's no knowing till it goes on sale. A smaller, likely cheaper Renault Zoe, with its much bigger battery, gets not far off 200 miles, and the new Peugeot e-208 claims over 200 miles.

That said, the average Mini owner only drives around 25 miles a day, so odds are they probably won't care. Much like Smart EV buyers, and the people Honda's targeting with the E Concept. That's only likely to have a WLTP range of 125 miles when it goes on sale.

Wheelspin isn't a thing anymore

The i3 will do 0-62mph in 7 seconds or so. We don't know how the Mini compares, but that extra quarter of a tonne it's carrying can't help, right? Maybe 8 seconds.

Anyhow, the problem with EVs is the immediate nature of the power delivery can make brisk getaways a bit..scrabbly, as thin eco tyres tend to get overwhelmed by a load of torque all too easily. The Hyundai Kona Electric is one of the worst offenders.

Not so in the Mini, which has a special traction control system called 'Active Slip Regulation' that effectively kills all wheelspin. We tried it on one of those low-grip wet surfaces, and can report it seems to work very well indeed. Mini says it's quicker reacting because the system is actually integrated into the ECU, basically just a few lines of code, so doesn't have its own dedicated control unit. Oh, and you can't turn it off. The Mini people couldn't understand why you'd want to, either, which is only mildly concerning.

Advertisement - Page continues below

It's going to be called the 'Cooper S E'

Yep, this is not merely an eco special, it's supposed to be fun too. If Mini had simply called it the Mini Electric or something, our expectations might not have been quite so high. But it did, so they are.

The added weight we mentioned earlier means things don't get off to the best of starts. Nor does the fact electric Minis ride between 10 and 20mm higher than a normal Cooper S (in EVs the batteries have to be mounted a certain height off the ground). However, the way the batteries are packaged (mostly in the transmission tunnel and under the rear seats, where the fuel tank used to be) means its centre of gravity is actually lower, and weight distribution front-to-back is closer to the perfect 50/50 - you're looking at 54/46 here.

Setting off it feels a lot like a regular Mini. There's the same kind of weight and feel to the steering, which isn't twirly-light like you get in most small EVs. At speed it still turns in keenly and stays pretty flat, but the weight does come into play eventually, as the mass catches up with your direction changes. The car we drove was a disguised prototype, so obviously isn't quite the finished article, but there's certainly promise here. It's tangibly a Mini, which is great, and will no doubt benefit from the fact no other affordable, electric car handles particularly well.

Braking is interesting. The i3 has no regen modes - it just does it by default. The Mini does too, but now there's an option to lower the level of regen from 0.19g of braking to 0.11g. The former is enough that, with a bit of planning, you can drive around without using the brake pedal. The latter...isn't. The brakes themselves do have a bit of that hybrid/EV springiness to them, but they're not the worst we've used. Again, more when the car is a) finished and b) on sale.

As for the ride - obviously the suspension has been fettled a bit for the EV. We drove it on a super smooth test track, so there's no knowing how it'll cope in the UK on actual roads. We're told it should feel similar to the Cooper S, which is to say a few per cent too firm.

...and will be priced like a normal Cooper S

The Cooper S starts at around £21,000, so the E ought to too. Only it won't, will it? Electric cars are still comparatively expensive things, so we're expecting the Cooper S E to set buyers back perhaps £25,000 - as much as a specced up Cooper S. Makes sense, given the technology involved and the fact S Es will get more standard kit than a normal S - LED headlamps, climate control and so-on. All the info arrives in July, while production isn't scheduled to begin until November. So we've got time to wait.

It's going to look a bit different to a normal Mini

EVs don't need loads of cooling, so for the S E the front grille is replaced by a solid, yet squishy panel. This makes the car a bit longer and also improves pedestrian safety. Handy, when people can't hear you coming (though there is one of those systems that emits a fake whine). And out the back there's a new rear bumper that, among other things, deletes the opening for the Cooper S's centre-exit exhaust. Though the S E rides a bit higher than other Minis, you won't notice because the wheelarch trims have been subtly altered to disguise it.

The changes inside are slight. The rev-counter ahead of the driver is gone, replaced by a screen with rounded corners. It was all taped up for our drive, but we reckon it's a version of the same display you get in the i3. The centre console has had a minor redesign to get rid of the old-school manual handbrake for an EPB (no more handbrake turns, boo), but that's pretty much it in there.

Just as practical as a normal one, though

Ah yes. Impressively for a car that's been chopped about to accommodate a powertrain it was never intended to (not even discussed, apparently), the E is no less practical than a normal Mini. It still has rear seats, still has a deep boot with no humps or bumps. This is good.

Mini learnt from the Mini E trial ten years ago that customers simply will not compromise on practicality, even if it is for environmental reasons. EV technology was comparatively primitive back in 2009 - the Mini E's 35kWh battery was so physically big it eliminated the rear seats and most of the boot. Indeed, the main reason it's taken Mini so long to put an EV into series production is that only now is it possible to do it without having to compromise on practicality.

Advertisement - Page continues below

There probably isn't going to be a convertible, or a five-door

Though there could technically be other versions of the E, there probably won't be. Mini started with the three-door hatch because it's its most urban car. Perhaps the next one - which no doubt will be designed to be an EV from the start - will offer different bodystyles. Perhaps even a faster one. Yep, we're told a future JCW EV "could be an option". Good news.