Electric
Students build 1,600-mile EV with *15.5kWh* battery, blowing the range world record to smithereens
It's a strong week for student projects: first the 0-62mph world record, now this…
Thought breaking 0-62mph in less than a second was impressive? So it was, but now students from the Technical University of Munich have done something equally jaw-dropping by building the longest-range EV ever.
Get a load of this: the TUfast Eco team's modified muc022 creation travelled 2,573km (1,599 miles) on a single charge… using a 15.5kWh battery. That is not a typo. They really have broken the world record for EV range with a battery that's seven times smaller than you'll find in a Mercedes EQS. Woah!
Advertisement - Page continues below
Apparently the car doesn't even have solar panels to top itself up on the go. Powered by a 400W permanent-magnet synchronous motor, it weighs 170kg without a driver and the drag coefficient is an ultra slippery 0.159Cd. Like a bar of soap that's been greased in banana juice.
The attempt took place in an empty hangar at Munich airport over the course of six whole days. It took so long that the students ended up sleeping in cots in the hangar, passing the old world record of 1,608.54km (999.5 miles) on day four.
Eventually the muc022 ran out of steam after 99 hours of driving (yup, that's an average speed of 16mph), clocking up a scarcely believable efficiency rating of 103mi/kWh. For the uninitiated, a production car is doing well if it tickles 5mi/kWh in ideal conditions…
That heroic driving stint was split between Sebastian Brummer, Pei-Yi Lin, Eddie Groh, Sheila Marie Gabe, Marius Wendler, Severin Brock and Leon Federschmidt, while the rest of the team comprised Angus Yeung, Linus Simons, Jonas Ohnemus, Robin Geißler, Frederic Koch, Lara Aldulaijan, Rafael Schellhorn de Sá, Felix Falk, Sebastian Kuhn, Jonas Bauer, Nidhin Jacob and Jonas Uffinger.
Advertisement - Page continues below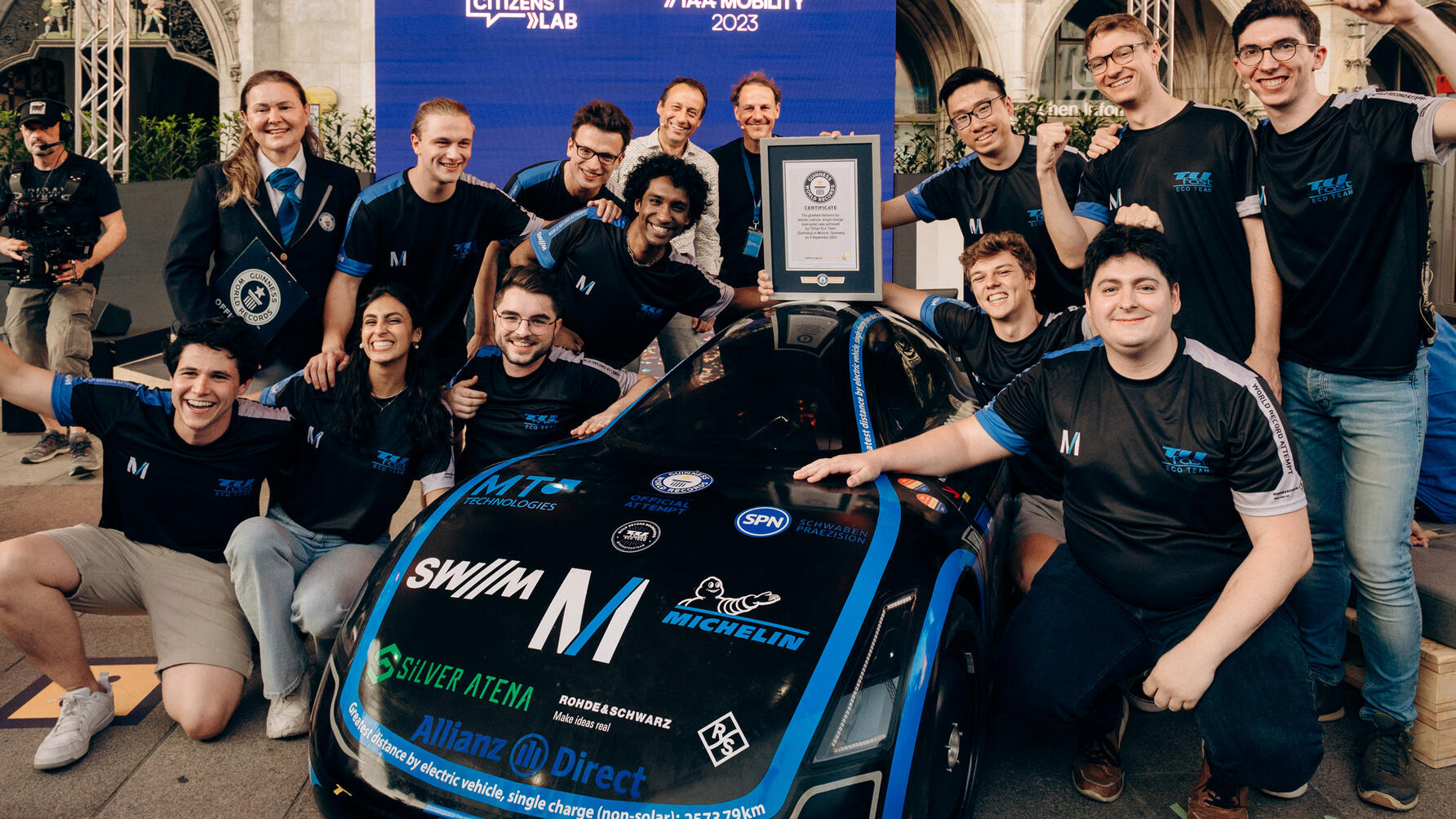 "Countless hours of work in addition to our studies went into preparing for the record," said the TUfast Eco team afterwards. "This makes us all the more happy that we now hold the world record. The muc022 had already succeeded in several competitions, and now this is the crowning achievement. Our thanks go to everyone who supported us.
Meanwhile the university's president declared himself "proud" of the group's achievement while the Bavarian minister of science congratulated the students on their "terrific success".
Mainstream manufacturers, you have been warned: give us 1,000-mile, superfast EVs, or we're letting the youngsters take over.
Top Gear
Newsletter
Thank you for subscribing to our newsletter. Look out for your regular round-up of news, reviews and offers in your inbox.
Get all the latest news, reviews and exclusives, direct to your inbox.
Images: Viktoriya Zayika/MCube & TUfast Eco