Electric
Ten reasons why you shouldn't be afraid of a hybrid Porsche 911
Silicon Valley's Vonnen beats Porsche to an electrified 911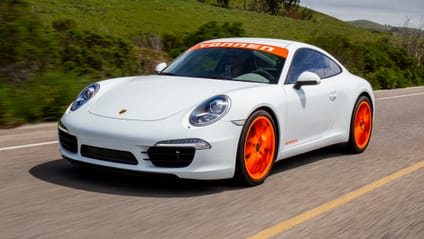 A hybrid 911 isn't sacrilege

If Ferry Porsche's quote of "the last car built on earth will surely be a sports car", then the rear-engined icon is going to have to evolve just like everything else on the road. Porsche itself is readying a hybrid 911, but if you can't wait for its engineers to slot an electric motor in the gap they've already left in the new, current 992-generation 911's gearbox, then Californian firm Vonnen has a solution.

Advertisement - Page continues below

This one's been engineered by people who worked at Tesla

It helps that Vonnen is based in Silicon Valley, USA, where all the tech giants call home. That can-do attitude is in the air around there. Chuck Moreland, owner of Porsche specialists Elephant Racing, got thinking about how they might be able to make a hybrid 911. A few ideas were thrown around, and an early 996 was used as a test bed. The concept worked.

Though that early prototype was fairly rudimentary, Moreland and his team - among whom a couple happen to have a certain company called Tesla on their CVs - decided to go all in, and engineered a smarter, more effective solution, and Vonnen was born.

It's got more power, naturally

Moreland says the company's name (Vonnen) is a "made up", before adding it's also related to old Viking ships that used both sails and oars for greater speed. That's not a bad analogy, either, as the electric motor slips in-between the gearbox and that flat-six, taking up just 26mm of space to do so and supplementing the power of the internal combustion engine.

Without getting too technical, there's also an inverter to manage all the power, some cooling for all the electrical kit and some batteries under the floor of the luggage space in the 911's nose. It's self-charging - which means you don't need to plug it in - gaining all its energy by scavenging back power where possible, and using regeneration via the motor, too.

If the Vonnen name's got a cool backstory, then you've gotta love what they call the hybrid system - Shadow Drive. The Shadow Drive adds 77kg, the fitment of it meaning the original flywheel and starter motor are binned. All that brings and additional 148bhp and 148lb ft of torque, too.

Advertisement - Page continues below

And thus, it's built for speed, not economy

Exactly, disassociate the word hybrid from something earnest like a Prius, and instead think about it as a means of boosting performance and you're on the money. This is hybrid tech to make the car faster, not greener, though there are some potential economy gains possible, that Vonnen is still exploring.

It's no more polluting than a regular 911 Carrera

The advantages for those wanting a go-faster 911 is that you can add that performance without changing the emissions and economy of the car it's based on - the 3.4-litre Carrera here still passing all those important smog laws in its Californian home. Try that in any other 911 you've added 148bhp to.

The hybrid tech can be retro-fitted to nearly any old 911

Moreland admits it's possible, with a bit of tweaking, to fit the Shadow Drive to any 911, and by that we're talking right back to the earliest air-cooled machinery. It will work with Turbos, rear- and four-wheel drive, manual or PDK automatic models, as well as Cayman and Boxsters, too. We rather like the idea of a late Sixties/early Seventies 911 with Shadow Drive doubling its power, but otherwise looking entirely standard…

So it's faster, but also clever and has lots of modes

Vonnen won't confirm just how much faster this hybrid is than a regular 911, as it's yet to be fully figured, but adding 148bhp will have a significant effect when someone puts it against the clock. It's very clever, too, the integration of the electric motor into the driveline allowing its use across all gears. There is, inevitably, a number of drive modes - selected via a Bluetooth-tethered smartphone. There's fully off, where the electric motor does nothing but act as a starter motor and work the stop-start system (if fitted), right through to Overboost, which dumps all the electric power into the drivetrain and turns this ordinary-looking Carrera into something that can go out and chase down its Turbo relations.

Street and Sport modes are also offered, with their assistance adapted accordingly - electric boost coming in at 40 per cent throttle in Street and 65 per cent in Sport. Its effect is initially a little bit subtle because of the need to push relatively hard on the accelerator, though it's deceptive, as a quick glance at the speedometer reveals. It's rather quick, then, that electrical assistance very linear in its delivery, adding real punch accelerating out of corners.

Advertisement - Page continues below

It hasn't fundamentally changed the character of a 911

What's really appealing is that it adds all that performance but retains all the character of the original car it's fitted to, Vonnen currently trialling a version on a GT3. That piggybacking is something that will undoubtedly appeal to owners of classic Porsches who want performance to keep up with modern traffic, while retaining all the original car's charm.

In this 991 Carrera there's still all the engagement and aural appeal, only with the electrical motor giving a useful additional shove into the drivetrain. What there isn't presently is the ability to glide around in any electric only mode, the battery pack and motor's installation not suited to it, but it is a possible area of development as Ultra Low Emissions Zones become every more stringent around the world.

It's expensive, and a wee bit heavier

There is always going to be a trade-off, and here it's the cost. Vonnen currently asks $75,000 to convert your 911 into a hybrid. Tuning Porsches is never cheap, though, and this is pioneering tech, that adds performance without any of the traditional compromises related to emissions, economy and driveability. You lose a bit of luggage space under the bonnet to those batteries, but 911s have plenty of space in the rear seats if you can't pack light. There's a bit of additional weight with the Vonnen Shadow Drive, though 77kg is easily offset by the additional performance.

Advertisement - Page continues below

It's the first hybrid Porsche 911

A big plus with the Vonnen is that you can tell all your green-leaning pals that you've got a hybrid Porsche and they'll not have a clue that you've done it merely to go faster as opposed to cutting back on pollution.

That, and you can be among the first to own a hybrid 911, something that's not been possible until now, and won't be available from Porsche itself for sometime yet.