Electric
TG's big Jaguar I-Pace test part 5: how far can it actually go?
In the final part of our mega-EV test, we attempt London to Land's End... on one charge
The silence is ominous. I've just told a senior I-Pace engineer what I'm about to do with his car. I was hoping for encouraging noises and handy hints. Instead, dead air. Then, at length, "The WLTP is just a lab test, you know…" and a series of mumbled qualifications and excuses-in-advance about how real driving can use far more energy. His heavy implication is that to set out on a real trip the same length as the quoted range is a fool's errand that'll inevitably leave me stranded.
Which pops my balloon good and proper. London to Land's End on a charge – how great would that have been? The WLTP range (Worldwide harmonised Light-vehicle Test Procedure) of the I-Pace is 298 miles. That journey is 291 miles. We've known for years your actual results would never be anywhere near the old and discredited NEDC test. The new WLTP is supposed to be more realistic and attainable. Er, but not, says my Jaguar man, that attainable.
Advertisement - Page continues below
Well sod the lot of 'em. Top Gear is going anyway.
The Jaguar has slept overnight with an electrical umbilical to the wall. I've never been more steely in my determination. I adjust the electric seats and mirrors before unplugging. Then hand Rowan, the poor photographer who's always assigned my endurance trips, a USB power pack so he won't feed his phone from the car's sockets. Those things would be a fraction of a fraction of a per cent, but everything counts today.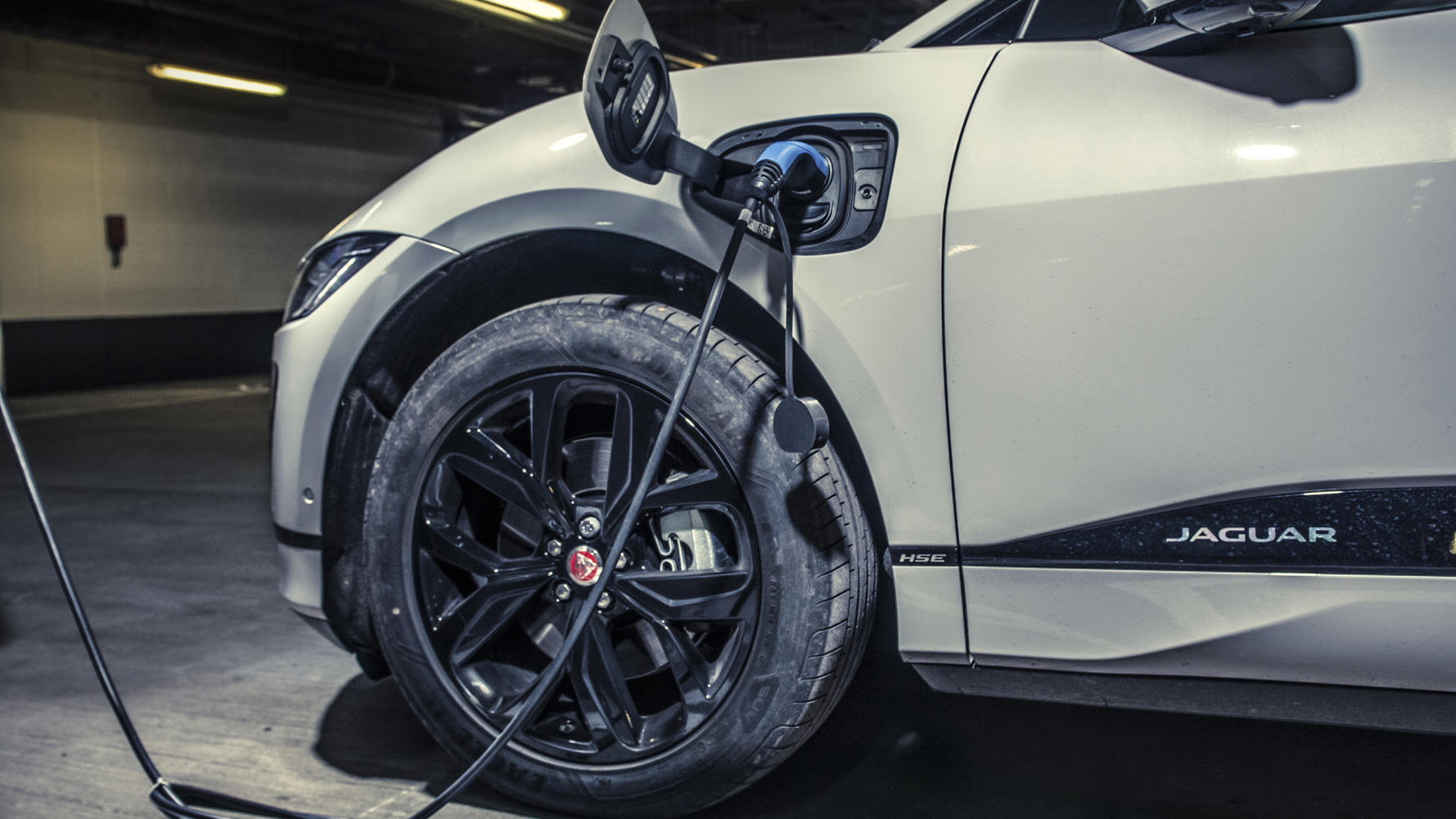 Out through west London, the accelerator is a glass knife, the brake the pedal of last resort. I play loose with ambers and freewheel too brazenly into roundabouts. Sorry, people. Onto the M3, I don't so much gain speed as accrete it. I learned from Jag's man that the most efficient speed is 45mph. I donate myself some speedo error and settle on 47 max.
Advertisement - Page continues below
It's now getting busy, but not busy enough for commuters to slow. Where the M25 joins the M3, all M3 traffic is funnelled by new hatchings into the outside lane. I have a stream of impatient German premium up my chuff. Meanwhile two lanes of nose-to-tail trucks are undertaking me. They are not inclined to give quarter. But neither, today, am I. Sorry again.
Soon the day's temperature soars. Without aircon – and with windows shut for aero – the cabin roasts. Heat is moist. Heat is prickly. Heat is fetid. But heat makes batteries yield more, so heat is good. I'm gazing at the power meter, trying to keep it hanging steady – it's not just speed but speed fluctuations that suck energy. The I-Pace has such urgency in its motors that it's near-impossible to keep things super-smooth. I find a solution in jamming my left foot under the accelerator, counterpressed by my right foot on top of it.
The adaptive cruise control is off. Radar uses power. Normally you can't turn the actual transceiver off; it's on standby for auto emergency braking. But it's on the fritz today, and I am glad. And then the passive speed limiter switch comes to life, so I set that to 47 and begin to let the road distract my eyes from the instruments.
And on. And on. If you want to travel fast, you'll find busy roads. There's always a car or lorry in front. Travel slowly and the roads are empty. The frustration is all behind you. See! Look at the faces in the rear-view!
Top Gear
Newsletter
Thank you for subscribing to our newsletter. Look out for your regular round-up of news, reviews and offers in your inbox.
Get all the latest news, reviews and exclusives, direct to your inbox.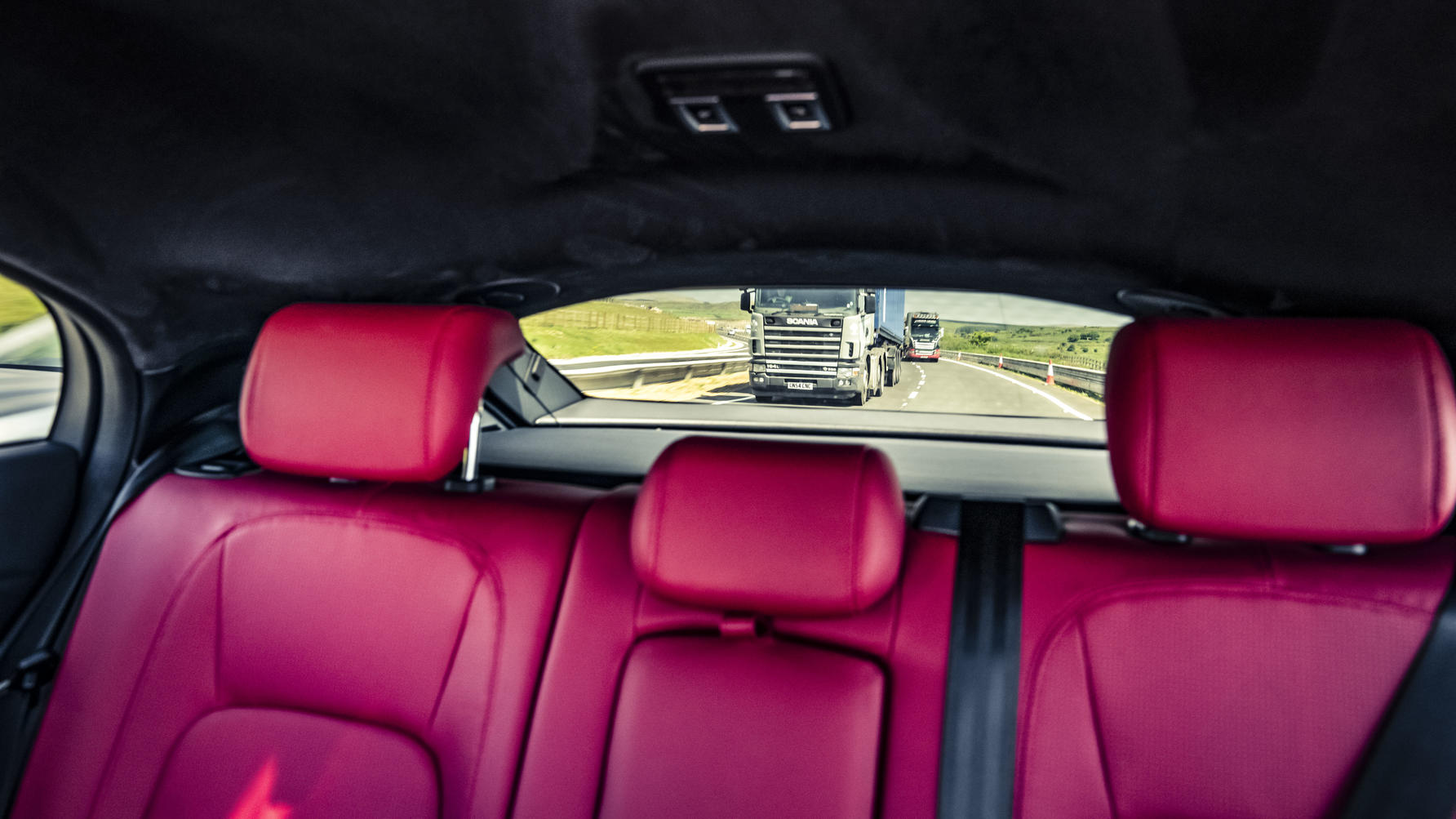 Now, the I-Pace's spec shows a 90kWh battery, but the car never allows itself all that, for the sake of the cells' health. So for 291 miles, my average consumption has to be less than that total available 84.7kWh divided by that target distance, equals 0.291kWh per mile or (29.1kWh per 100 miles in trip-computer units). So far our consumption has been too damn high, and the available range readout has lagged behind the satnav's destination distance. And yet, passing Honiton, Exeter, Okehampton… Tantalisingly, those numerical gaps slowly close.
Crossing the Cornish border, we look set for victory. Consumption is on target, and distance-to-go equals range at 76 miles. A layby. I ease to a stop and we fling open the doors of this rancid pressure-cooker. For five joyous minutes we swim in the Cornish air like a crystal lake.
But on restarting, the dash lights up news. Range has crashed to 25 miles. All other numbers, including battery percentage, are unchanged. Sweat turns to full-on hot flush. Which number do we believe? We proceed with renewed caution as Rowan scours phone-apps for chargers.
We climb to the heart of Bodmin Moor at Temple Tor. My family has been back and forth here for generations. In the War, my grandfather was sent out by the Ministry to tell farmers across Cornwall what to grow where, to best extract food from every precious acre. My parents too endlessly crossed the county, and every road improvement saved time. As Dad neared his end last summer, my sister was visiting one day. He fancied a trip out. Where? Could he see the brand-new dual carriageway at Temple Tor, please? That was the last time he left the house. See, roads and cars bring people closer. If future cars are connected and electric and near-autonomous, as this Jag is, well, I'm still all for them.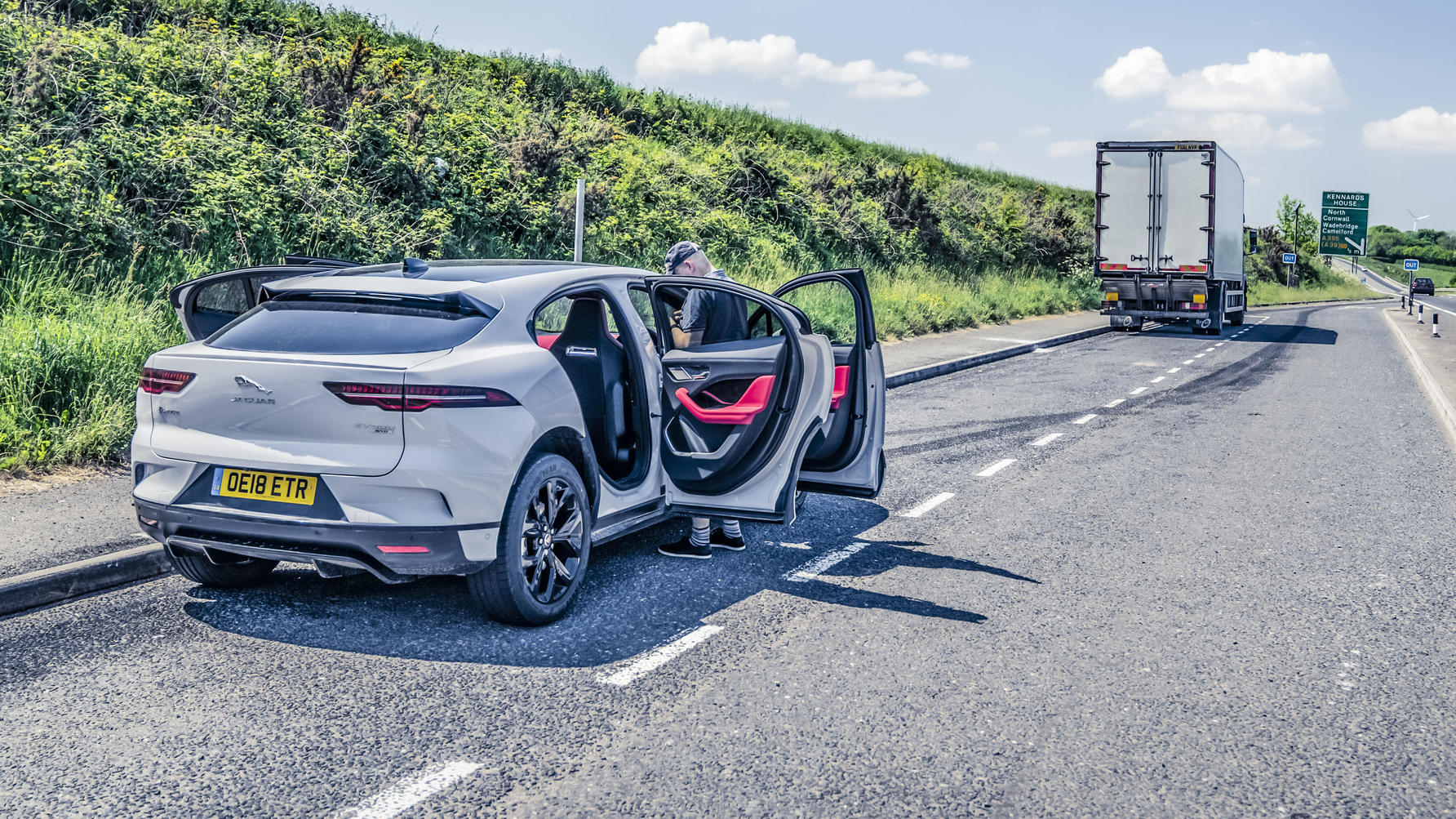 But not like this: eyeing the feeble range, we struggle to a charger on an industrial estate. EV drivers get righteously indignant at normal cars thoughtlessly blocking these lifelines. Yet here's a Leaf, straddling two charger bays, so although I can drive into the remaining space, I can't get out of the car. Rowan plugs in, then tracks down the owner to release me. We trudge off to find food. The nearest pub's Thai veggie burger's taste, texture and colour resembles a puck of compressed-wood renewable fuel. Appropriate to our green mission but no reward for five hours in a slow-moving greenhouse and the dank scent of failure.
Phoning Jaguar again reveals the range-calculation software is beta. Trust the charge percentage, they say. So, onward. More new bypasses. By Penzance an hour later, we've recalibrated the goal: to do it using one total battery's worth. We'd added 10 per cent at that charge, so if we retain 10 at the finish, it's a win.
We smell the sea, bathed in flaring Atlantic sunlight. To ridiculous in-car jubilation, we hit the end of Britain with 11 per cent. That means 99 per cent actually used.
We have attained the rated range. But only by crawling along, denied heating, A/C, stereo, HUD, lane-assist, wipers, headlights. Real-driving range is below 200 miles, I reckon. This gap is not the fault of the I-Pace. It's the fault of a new test that may be more realistic than the old, but still isn't realistic enough. Which perversely makes today even more of a TG triumph. Malodorous as we are, you may hug us.