Electric
Six big electric car questions answered
How far can I go? Will my battery brick itself? And can I run my toaster?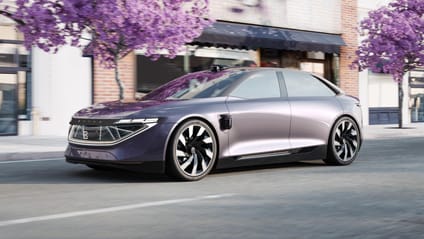 Will my car battery eventually brick itself like a phone battery always does?

Ain't. Gonna. Happen. Trust us. Nissan has made 300,000 Leafs, and some are now in their eighth year. The number globally that have had battery failure is… three. Degradation too is a vastly overstated problem. A few Leaf taxis in Japan have dropped to sub-80 per cent capacity, after spending years being rapid-charged three times a day (brutal) and doing more than 100,000 miles. Batteries degrade with the number of discharge cycles, especially deep-discharge. Future cars, with longer range, will be less prone, as their charging frequency will inevitably fall. The market is realising they're reliable. Two years ago a friend of mine bought a three-year-old Leaf. He paid £9,000. Today, three-year-old Leafs of the same mileage and spec are £12k. Also, there's a growing demand for used car batteries for renewable-energy storage. Those packs don't need tip-top energy density: it's OK if they have, say, 70 per cent of their original capacity. So at the end of the car's life, the battery isn't a hard-to-recycle liability. It's an asset.

Advertisement - Page continues below

Never mind the advertised range – how far will I really be able to go?

Quoted EV range has been based on the same unrealistic EU test as petrol and diesel cars. The advertised range on the new, more honest WLTP test will be less, but you'll have a better chance of achieving it. Long journeys using fast chargers make it worse. Say you have a "200-mile" (WLTP) EV. You start at home, with the battery at 100 per cent. Driving on a motorway, at 160 miles there's a rapid-charge station. The next one is 30 miles ahead, and who'd risk that? You stop. This charging is only rapid up to about 80 per cent, and after that the battery tops off more gently. OK, take it to 80 per cent, or 160 miles' range. Set off again, and again feel compelled to stop when the indicator says 40 miles. In that leg you've covered only 120 miles between charges of your "200-mile" EV.

How fast can I charge?

Roughly, divide the usable battery capacity by the charger power, plus about 10 per cent for charger inefficiencies. Using a household socket is desperate. It's 3kW or less, so more than 13 hours for a new Leaf; 30 hours for the (84.7kWh usable, 90kWh gross) I-Pace. A home wallbox is about 7kW, and too many public charge points are the same – too slow for big-battery cars. Some AC points do 22kW or even 43kW fast charging, although many cars can't accept that power and throttle the intake. Check the car's spec. DC 'rapid' charging bypasses the car's on-board charger rectifier, but after 80 per cent the rate tails off. Motorway outlets are 50kW, giving the new Leaf 80 per cent charge in 40 minutes. From next year, there will be some 150kW DC sites, and 350kW with Porsche's 'Turbocharging', taking a flat Mission E to 80 per cent in 15min. Tesla's Supercharging is 120kW DC, for 0–80 in about 30mins. 

Advertisement - Page continues below

Will I be able to find a station that has my plug on it and that accepts my payment scheme?

First, you need the right charge lead and plug. For slow and 'fast' AC charging, your cable will have a plug for your car's socket at one end (Type 1 or Type 2, according to the car). The other end of your cable is best to be Type 2, as that's most public chargers. For rapid DC, there are three kinds. Nissan has a thing called CHAdeMo. Most other cars, if they accept DC, have an extra two prongs on the Type 2 plug, called Combined Charging System or CCS. Tesla uses a Type 2 plug for Superchargers, but the electronics are incompatible with the others. You can't just turn up at a charge post and pay. Oh no. There are several different national networks, plus local schemes. You usually need to be a member, signed up in advance, or download the relevant app, sign up and top-up your account for pay as you go charging. This takes careful planning and is currently a total arse. It's being sorted, but only gradually. 

What happens in a few years when the tax breaks finish?

First, the £4,500 subsidy for buying an EV will go. Maybe quite soon. Fair enough, as the car companies are finding ways to build and sell EVs more cheaply. But running them is a different matter altogether. Taking duty and VAT into account, the tax on petrol and diesel is about 170 per cent, raising a staggering £30 billion a year for the Exchequer (schools, the NHS and the army). Electricity carries no duty, and VAT of just five per cent. Clearly, then, when EVs take hold, there's going to be a serious revenue hole. It would be political suicide to shift the burden to non-motoring taxes. It's likely to be added to the electricity price, but only the electricity for the vehicle. After all, EVs are highly connected. It would be pretty simple for them to report their energy use to your supplier, which would collect higher-rate tax on that electricity, while taxing the electricity for the rest of your home use at the normal rate.

When's this all going to actually take hold?

The traditional manufacturers expect about a quarter of new cars sold will be electric within six years. Merc says 30 per cent of its sales will be EV by 2025; so does the VW Group. VW (just the brand) expects to do a million EVs a year by then. There will be plenty of choice. The VW Group is talking of 30 no-engine models by 2025. They're modular, with economy of scale bringing down prices. We'll need a robust widespread charging infrastructure, including maybe chargers on lamp-posts so people in towns who have to park on the street can still charge overnight. The Government has said no more new combustion cars sold by 2040, but full hybrids will still be allowed. Anyway, think of what's happened in the past decade: the only EV on sale here as 2008 began was the G-Wiz. We can't begin to imagine the possibilities in the next 22 years before that deadline.