First Look
10 things you need to know about the Aston Martin DB11*
*And one you probably don't. Jason Barlow delves into Aston's brand-new GT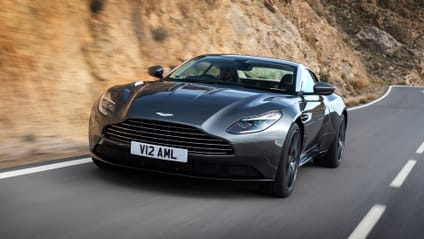 The design dictated the engineering, pt1

Nobody wants or needs an ugly Aston Martin. So the design team sat down with the engineering one and issued its wish list. 'When Marek [Reichman, Aston's Chief Creative Officer] and I were tasked with dreaming up a new DB, we really did start with a clean sheet of paper,' project director Ian Minards tells TG.com. 'It was daunting, but very liberating.' 'Every millimetre of DB11 has been re-imagined from the ground up,' adds Reichman. So though the grille and face are classic Aston Martin, they're pumped up to such an extent that the rest of the car kind of flows from there. The bonnet is a single-piece aluminium clamshell, which has the dual purpose of reducing shut lines on the body, but also improves its ability to absorb impacts – good for passing ped-pro legislation. Aston's design guys have long been obsessing over LEDs (check out the Vulcan's illumination), and the DB11's set-up doesn't just enhance the car's graphics, it incorporates daytime running lights and low-speed cornering lights for the first time.

Advertisement - Page continues below

The design dictated the engineering, pt 2

Reichman and team have been at pains over the past five years to make each car – One77, CC100 concept, Vulcan, even 007's DB10 – part of an evolving continuum, and it all comes together here. As well as the front end vaulting the classic Aston cues deep into the 21st century, the original DB series' side vent strakes also get a welcome reboot. They're now part of what Aston calls the 'curlicue' vent, which extracts high-pressure air from the front wheelarch to reduce lift. 

The design dictated the engineering, pt 3

There's more cleverness in the roof. There's another 'strake' there, that runs continuously and seamlessly the length of the car. It's extruded, bent, pressed, laser cut and then polished and anodised (though that's optional, and the jury's out for us). What's not optional is the AeroBlade, which does away with an ugly big rear spoiler by feeding air across the boot panel and rear deck via channels hidden in the C-pillars. It reduces lift, while allowing the designers to have their sloping rear end cake and eat it (though a relatively tiddly spoiler does still deploy at high speed). Aston has patented the idea, and it's proof that the company is developing impressive aero know-how.

Over to Minards: 'Miles [Nurnberger, Aston's exterior design head] said, "I don't want a big spoiler, what can you do?" and the AeroBlade was the result. We don't need big committees to get things done. We have an amazing ability to free-think. The AeroBlade is a good example of that.' 'Working alongside Design, we've created not only a cleaner and more beautiful shape, but also an incredibly effective and efficient aerodynamic instrument,' Aston's aero boss Darren Coe adds. 

Advertisement - Page continues below

Engineering extracts its revenge, pt 1

The engine is an all-new 5.2-litre twin-turbo V12. Here are the top-line stats: 600bhp at 6500rpm, 516 torques (from 1500rpm), 0-62mph in 3.9 seconds, top speed 200mph. It also has variable valve timing, stop-start and cylinder deactivation (with trick management to keep catalyst temperatures in the zone), in the name of reduced emissions and improved fuel economy. All great, of course, but bluntly put – won't the arrival of two turbos mess with the ripe Blessedesque roar of the old Aston V12? Not according to the people who created it. The noise is as full-blooded as ever, derived 'purely from intake and exhaust', Aston claims, and gets harder in Sport or Sport Plus mode. 'Turbocharging takes out the higher frequencies,' Minards says, 'and getting them back in is down to the muffler. Believe me, the DB11 sounds a lot like a V12, especially in Sport mode.' The DB11 uses ZF's eight-speed transmission – a torque converter not a dual-clutch job, note – mounted as a transaxle with a limited slip differential and active torque vectoring (thus becoming the first Aston Martin to feature it). The DB11's dry weight is 1770kg. 

Engineering extracts its revenge, pt 2

Aston wanted the new DB – the model they like to think of as a sports car dressed in a tuxedo – to be lighter, stronger and more space-efficient (yes, Aston's clients wanted to be able to ferry passengers in the rear without having to bribe them first). The old V-H aluminium architecture has gone, in its place an all-new chassis that uses a mix of bonded aluminium pressings, extrusions and castings. The body panels feature aluminium, composites and plastics. (Parts of its aluminium structure have been Hot Form Quenched – this is a new process that allows pressings to be lighter, deeper and to have tighter than usual radii. So now you know.) The wheelbase is 65mm longer, allowing the engine to be mounted further back to benefit weight distribution and handling. There's more headroom for the front passengers, and the rear now has Isofix points for child seats. That's the sort of added feature that can drive an engineer to distraction. 

The DB11 is a true GT

It was a while before Aston could make the DB9 truly ride properly. The DB11 will breathe down the road from the off, not least because it's the first car to benefit from the input of former Lotus ride and handling guru, Matt Becker [Aston's head of vehicle engineering]. The new car also features adaptive damping and electric power steering, examples of electronic voodoo that Aston insists will give the car class-leading dynamics. The suspension uses double wishbones and has a trick multi-link rear. In GT mode, things are largely calm; in Sport, there's more control and firmness in the dampers, and the EPAS and ATV sharpen overall responses; Sport Plus sharpens everything up again without turning the DB11 into a mental anti-dental track warrior. 'Ride, ride, ride,' says Minards. 'It was almost a daily mantra, and the thing I said most often to Matt [Becker]. Give me handling, but not at the expense of ride…' In other words, expect the DB11 to be the most fluent, compliant Aston Martin ever. (Bridgestone is the official tyre supplier – the S007 tyre has a tread pattern, construction and compound unique to the DB11 – 255/40 ZR20s on the front, 295/35 ZR20s at the rear.)

The interior will blow your mind

It'll also work properly, and now that Aston has hooked up with Mercedes for the electronics infrastructure, the antediluvian Aston sat nav has finally gone out with the ark. The infotainment system is all-new, the main instrument display is a 12in TFT LCD screen, with a secondary 8in TFT screen displaying multi-media. There's a rotary controller, but also an optional touchpad with character recognition and gesture control. 

Advertisement - Page continues below

It's hi-tech, but still hand-crafted

Aston is so chuffed with its new seats and trim they've invented something called 'Broguing' – like a gentleman's shoe. Needless to say, the personalisation possibilities on the new car are almost limitless: how does 'Nexus' quilting and 'Celestial' perforation sound? TG.com has sat in the car, and confirm that it looks, feels and smells magnificent. 

Detail fanatics will love it

'We were determined that everything would work in harmony,' Minards tells us, 'because if you get one thing wrong, it really sticks out. So although it might sound a bit nuts, I was adamant that the DB11 should have a really comfortable arm-rest on the door.' There is a man at Aston whose job title is 'sensory perceived quality manager'. His name is Toby Fox, but he probably sounds a bit like Hugh Grant. As will the car. 

Advertisement - Page continues below

The DB11's soundtrack goes further than engine noise

Aston carried out an internal survey to find out what sort of warning bings and bongs the car should have, what sort of noise the indicators should make. They could have used the same sound palette as Mercedes, but hired a company specifically to develop their own suite of noises. In other words, the DB11 will have an aristocratic sounding reverse parking sensor.  

The flappy paddle gearshift…

…currently has 5.7 degrees of force deflection. But that might change by the time the car is in full production.