First Look
What's it like to drift the new Hyundai Ioniq 5 N?
TG journeys to the Arctic Circle to sample a new flavour of 600bhp powerslide
The Hyundai Ioniq 5 N isn't finished. The whoosh and warble noises it'll pump into the cabin aren't finalised yet. The bodywork is hidden under a garish shrink-wrapped disguise. Inside there's a sporty new steering wheel and sporty bucket seats which I can't tell you about. 
And what's the range? Well, given it's about minus three Celsius and Hyundai hasn't calibrated that bit of the on-board computer yet, I really can't say to within 100 miles how far an Ioniq 5 N goes between charges.
Advertisement - Page continues below
So, why are we in Lapland? Well, Hyundai's next N car is an all electric hot hatch-cum-performance SUV, and that's a ruddy big shift from the peppy little hot hatches it's been busy impressing our socks off with recently. Lapland is also a tad slippery this time of year, so it's the ideal place to go if you're, say, trying to teach an electric dual-motor crossover how to powerslide on demand. 
Here's the engineering basics, or at least, what I could glean from Hyundai's tight-lipped engineers. The Ioniq 5 N uses the same platform as the Kia EV6 GT. So, it's going to weigh over two tonnes, have at least 580 horsepower, and there'll be the ability in its locker to drift. And not in an under-the-counter, if you know, you know kinda way. It's a headline selling feature of the 5N.
In the touchscreen there's a sub-menu for the N Drift Optimiser. Explaining exactly how this changes the 5N's mood would take weeks, so here's the basics: as well as shifting where the boulder-sized lump of torque is sent, it tweaks the adaptive suspension, plays with the steering weight and changes the behaviour of the electronic limited slip differential. Basically, millions of lines of computer code are being trained to give the car the same sort of playful balance as an old-school limited slip diff.
So, when you happen to find yourself on a frozen lake dusted with powder – the classic everyday relevant test – then the 5N no longer behaves like a responsible four-wheel drive car. It doesn't realise things are getting squiffy and demand the front motor tugs the car straight. The traction control doesn't come over all killjoy and nip the brakes. Nope. You just tickle the throttle pedal, the 5N steps sideways into an arcing drift, and then sits there until the battery runs out. 
Advertisement - Page continues below
Obviously on a racetrack it's going to be trickier. It's also going to destroy tyres at a truly catastrophic rate, as this heavy car slews sideways, overspeeding its tyres as it juggles huge wads of twisting force. Zero emissions? Hah. Not when the driver selects the skid function. 
This is in no way a hot hatchback that anyone who loves fast hatches will recognise. I'm not that old – I'm from the Nineties – but to me a hot hatch sends about two hundred, maybe two hundred and fifty horsepower through the front wheels and only kicks the arse out if you yank the handbrake. 
This has got just shy of 600bhp, weighs more than two Mk1 Golf GTIs, and there are engineers working round the clock with barely any daylight to sustain them, making sure it can skid for as long as your stomach holds out.
You're quite correct to wonder why on Earth a grown-up global company like Hyundai is bothering with this. I mean, how well-used are drift modes in petrol cars? Even when range anxiety isn't a concern, do Mercedes-AMG E63 and BMW M3 Touring owners routinely prod the button that disconnects the front driveshafts, just so they can have their wicked way with a dab of oppo? Not on a track day – you'll get black-flagged. And not on a public road, if you prefer your bedroom window not to have bars across it. Perhaps an icy lake is indeed the natural home of the drift mode.
Top Gear
Newsletter
Thank you for subscribing to our newsletter. Look out for your regular round-up of news, reviews and offers in your inbox.
Get all the latest news, reviews and exclusives, direct to your inbox.
Naturally, Albert Biermann, the ex-BMW M boss of Hyundai's hugely impressive N division, thinks there is a purpose to all of this. Not a quantifiable, mathematical one, perhaps. But ask him about the 5N and he speaks of fun: of a philosophy, of a desire to build an EV which doesn't live and die by how quickly it accelerates.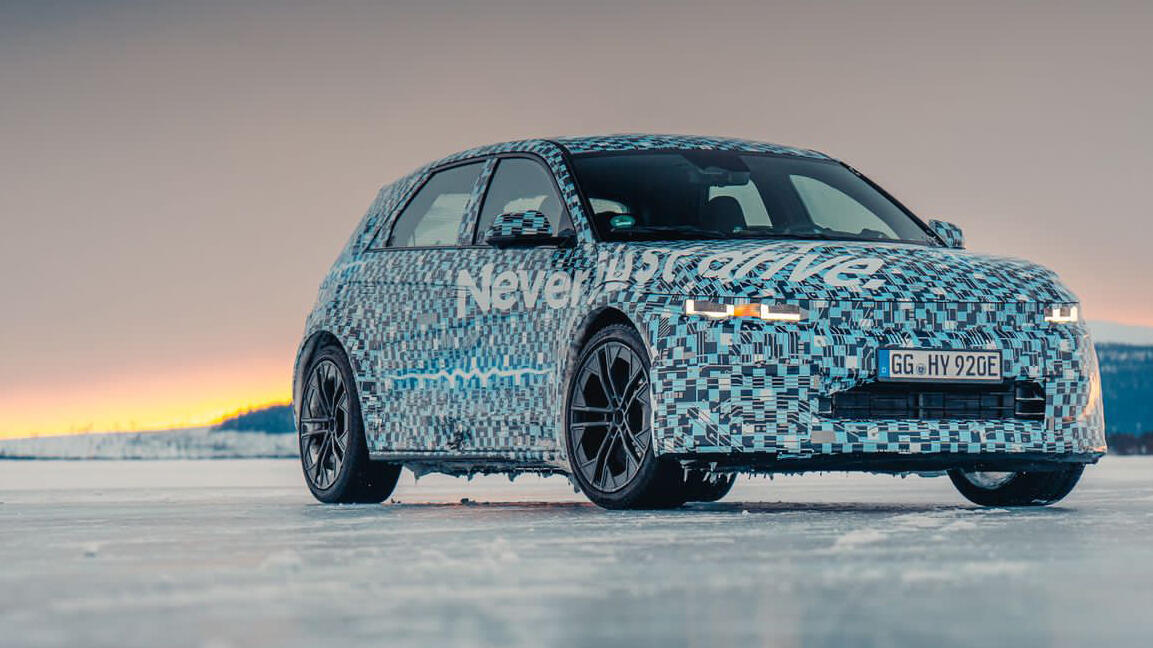 For Biermann, it's all about showing a mindset; an attitude. And yeah, sure, the cars are heavy and it's going to be expensive. Likely over £70,000 for a 5N, which is well beyond hot hatch money, even in a world of £50k Civic Type Rs and £60k Audi RS3s. But against something as lacklustre as a VW ID.5 GTX? The 5N should monster it for giggles. This is an EV that wants to titillate its driver, not empty their stomach. 
While this may well go down in history as the car with the most over-developed and under-utilised driving modes of all time, there is one which is truly laugh-out-loud material. And it's the N Torque Kick. Strap in for some history.
In rallying and drifting, handy drivers did and do use a technique called a clutch kick to pop a car sideways. The principle is very simple. Mid-corner, dip the clutch and floor the throttle. Then, at the precise moment you want the tail to arc round, slam the clutch closed with the revs still high. This will immediately overspeed the rear tyres, and hey, presto, you're oversteering. And crashing, if you're not very dexterous at gathering it all back up. 
Anyway, doing a clutch kick in an EV is fraught with problems. Chiefly, engineering fans, not having a clutch. But that hasn't stopped Hyundai. 
So, let me paint a picture. You're mid-corner on one of those pesky ice lakes we all have to drive around every day. You've carried too much speed on entry and now the nose wants to push wide into dreary understeer. You can't brake, as that'll make the problem worse. The snowbank is hoving closer. What to do?
Simply pull and hold both paddles behind the steering wheel. Usually, these adjust the level of re-gen braking in an EV. Hyundai has toyed with repurposing them to simulate gearshifts, timed with burpy noises from the on-board speaker. But when clicked together, they momentarily pause torque delivery to the rear motor. Release both paddles, and a jolt of power is burped out to the back, and the car is suddenly sideways, as if you'd been T-boned in the rear door region by an intercity express train. 
Is this – the N Torque Kick – indisputably the silliest feature in any car in 2023? Even more nonsensical than BMW's gesture control or VW's voice [lack-of] control? It has to be up there. I'm not sure I have any idea who the Ioniq 5 N is actually for. People with £70k to spend on a medium sized fast SUV don't necessarily want the reincarnation of a Vauxhall Corsa VXR, I'd wager. 
But it is fascinating to see a carmaker boldly trying something wilfully different with an EV platform, selling on something beyond range or speed. You sense it won't just be Hyundai watching the reaction to this car before deciding where to go next with fast cars. Quite a lot of the industry might well be keeping a sideways glance on it as well.