Formula One
Formula One 2022: here's the full driver and team line-up
The new season kicks off this weekend. Here's your runners and riders checklist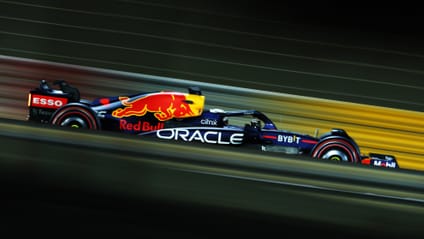 Lewis Hamilton GBR + George Russell GBR 

Car: W13 / Engine: Mercedes

Chances: Hamilton vs Russell looks juicy and both will be motivated – Lewis after being shafted in Abu Dhabi, and George because he's reached the big time. New rules and stricter cost cap make title nine most difficult yet, but previous eight make them favourites.

Season goal: Remove Christian Horner's perma-grin by any means.

 

Advertisement - Page continues below

Max Verstappen NED + Sergio Perez MEX 

Car: RB18 / Engine: Red Bull

Chances: Buoyant having clinched Verstappen's maiden title, but did the fight to the wire harm the new car? Honda's gone, so the team is in charge of its own engine. Still, you'd never bet against aero wizard Adrian Newey.

Season goal: Acquire some more lawyers in case Mercedes tries another end of year appeal.

Charles Leclerc MON + Carlos Sainz SPA 

Car: F1-75 / Engine: Ferrari

Changes: Most evenly matched pairing on the grid? Leclerc narrowly lost out to Sainz in 2021, but important thing was overhauling McLaren. Team needs to kick the habit of snatching defeat from the jaws of victory.

Season goal: Shake off stuffy image and look woke on Drive to Survive.

Advertisement - Page continues below

Daniel Ricciardo AUS + Lando Norris GBR

Car: MCL36 / Engine: Mercedes

Chances: Won a GP for the first time in nine years last season and scored the only one-two, but strangely lost momentum in the final third of the year. Ricciardo and Norris frequently win the internet, but strong social is no replacement for glory on track.

Season goal: Get 10m Instagram followers and crack the NFT market.

 

Fernando Alonso SPA + Esteban Ocon FRA 

Car: 522 / Engine: Renault

Chances: One of the 2021 highlights was Ocon's win in Hungary, but the team finished a disappointing fifth in the standings. At least Fernando Alonso – at the age of 40 – proved he's still 'got it'. How long he will continue to have it is anyone's guess.

Season goal: Teach people it's pronounced 'Al-peen' not 'Al-pine'.

Pierre Gasly FRA + Yuki Ysunoda JAP 

Car: AT03 / Engine: Red Bull

Chances: Gasly starred in '21, but Red Bull ties mean he's stuck in the junior team. Teammate Tsunoda crashed a lot in his rookie year but signed off with a fourth place. Only tangible progress will protect him from F1's most trigger happy development programme.

Season goal: Get in the way of Red Bull's rivals as much as possible.

 

Sebastian Vettel GER + Lance Stroll CAN 

Car: AMR22 / Engine: Mercedes

Chances: Tumbled down the pecking order last season despite wielding, er, a declining former champ and, er, the owner's son. But they pinched several key personnel from rivals and they're the masters of the bang-for-buck ratio.

Season goal: Lay trails of cash leading away from Brackley and Milton Keynes.

Advertisement - Page continues below

Nicholas Latifi CAN + Alex Albon THA 

Car: FW44 / Engine: Mercedes

Chances: Got an actual podium out of that one-lap washout farce in Spa, but the team can no longer rely on the qualifying magic of George 'Mr Saturday' Russell. His departure means a return for Alex Albon. He must beat Latifi to resurrect his career.

Season goal: Score points on merit and do the late Frank Williams proud.

 

Valtteri Bottas FIN + Guanyu Zhou CHN

Car: C42 / Engine: Ferrari

Chances: The only all new line-up for 2022, Alfa has a known entity in Valtteri Bottas and an unknown in Guanyu Zhou. Latter is China's first F1 driver, and finished third in F2 last year. But COVID means he'll have no home race until 2023 at least.

Season goal: Work through the vast drinks cabinet left by Kimi Raikkonen.

 

Advertisement - Page continues below

Mick Schumacher GER + Kevin Magnussen DNK

Car: VF-22 / Engine: Ferrari

Chances: Last year was a write-off for Haas, and not just because of its rookies drivers' appetite for carbon fibre. Anything short of a return to the midfield will be a failure. Expect expletives from the boss either way.

Season goal: Spend the Guenther Steiner swear jar fund on a car capable of actual points.