Gaming
Forza Motorsport 8 best cars: top picks for dominating the track in Turn 10's new racer
The finest in retro machinery, electric hypercars, and a perennial Forza favourite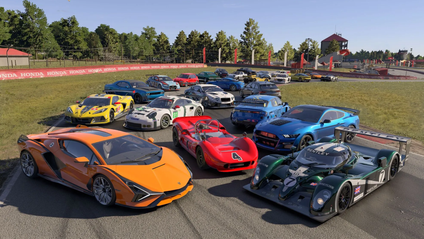 Forza Motorsport 8 is imminent - it's out on 10 October for PC and Xbox Series X/S, and it's a day one on Game Pass Ultimate which is, as Max Verstappen might put it, very lovely. Two major challenges await, then: getting really good at going round its tracks without being taken out by public lobby kamikazes, and picking the right cars in which to do so.

TG can help with that. Prior Forza Motorsport and Horizon instalments give a good insight into where the absolute best vehicles will pop up from, and armed with that considerable track time we've highlighted the vehicles that should be first to enter your garage. You'll just have to trust us on the Sierra.

Advertisement - Page continues below

Top speed: Bugatti Chiron

In Forza Horizon 7, the Chiron was beaten for top speed only by a movie tie-in vehicle with some questionable performance stats. The Fast & Furious edition of the Plymouth GTX could hit 269 mph on straights, and ran on pure Vin Diesel. Thankfully, that car doesn't feature in FM8.

The Chiron's back though, and if tuning works in a similar way to the last game we should still be able to get 300mph out of that 8.0-litre, quad-turbocharged W16 engine.

Cool points: Ford Sierra Cosworth RS500

Cards on the table: you're not going to be beating modern era hypercars in a Ford Sierra. But don't let the sector splits tell you otherwise - driving in Forza or anywhere else is about more than ruthless speed and efficiency.

The Sierra Cosworth RS500 is an enduring icon. A prosaic, unassuming and ubiquitous family hatchback turned into a fire-breathing monster, the benign expression of its headlights distorted into a menacing scowl by the wide body kit. Oh, and a used one will set you back about £600,000 today - nearly as much as a brand new Ferrari SF90XX. So, when given the opportunity to drive one, you drive one.

Advertisement - Page continues below

Newey's nous: Aston Martin Valhalla Concept Car 

The Valhalla sits just underneath the flagship Valkyrie in Aston Martin's range and it's intended as a more practical road-faring alternative to the Valkyrie's track stylings. Adrian Newey's had a hand in its design, and that's probably worth two tenths a lap at least. They're due to enter production before 2023's out and 99 will be made. You're unlikely to see one in a Morrisons car park, then.

They're far more commonplace on the lawless roads of Forza Horizon 5's Mexico though, where they've become a community favourite for their impressive high speed grip levels and ghostly operating sound. This is going to go well around the likes of Silverstone and Suzuka where carrying high corner entry speed pays off in purple sectors.

Retro speed: McLaren F1 GT

Forza Motorsport and Horizon titles do a good job of conveying how far performance car design has come in the last few decades. The models that graced posters blu-tacked to bedroom walls in the 90s feel vague and slippery in comparison to contemporary track cars - with one notable exception: McLaren's F1 GT.

The combination of an uncompromising and unprecedented supercar and the GTR racing model thereof, the GT has the grip to back up its raw power, and as a result it can leave Forza's recreations of XJ220s and F40s well in its wake. For any event requiring '90s hardware, this is the absolute pinnacle.

Even retro-er speed: Ford GT40 Mk II Le Mans

Some Forza Horizon players will swear blind this is the best car in FH4 and even FH5. Over in the realm of that slightly more accessible handling model, the GT40's low centre of gravity, rapid acceleration and surprisingly accommodating suspension make for an incredibly easy drive, considering this is '60s hardware.

Vintage vehicles require a slightly more delicate touch in Motorsport, but the GT40's potential is still there. Ferrari 250s might be able to keep pace with it, but if you put in the laps and make a friend of its handling character, this is the dominant force in vintage machinery.

Grip for days: RAESR Tachyon Speed

Controversial opinion: is the Batmobile really all that? Speaking candidly, RAESR's ultra-aggressive design really shows up Bruce Wayne's daily driver and although the Tachyon Speed's crimefighting capabilities are untested in the Forza series, it's well established that it can take a corner quicker than sound.

Oh, and it can hit 240mph, too. The trickiest element about its handling in Forza isn't managing all that speed or dampening it in time to make an apex, but in discovering just how much further you can push it than you'd think was possible. A dab of the brakes and full lock on the thumbstick will almost always get you to the apex - it just takes a few hours to trust in it.

Advertisement - Page continues below

Forza Royalty: Ultima Evolution Coupe 1020

Hands up who spent more hours than they're proud of racing an X-tuned one of these around Forza Horizon 3's Goliath to grind for cash and wheelspins. No judgement. It was a monstrous, bellowing track machine then and remains so now in FM8.

It'll be particularly fascinating to see how advancements in AI will affect the tuning meta in Turn 10's latest game. The Ultima Evolution was always a great platform for tuning, but since FM8 decides performance classes by having its AI drive a simulated hot lap using that tune, and furthermore since the AI's a hell of a lot smarter this time and has a choice of 85 racing lines per track, maybe a new vehicle will take up the mantle as the Ultima - sorry, ultimate - cheese machine.