Gaming
The nine best cars in GTA: The Trilogy Definitive Edition
Our favourite picks from the Grand Theft Auto remasters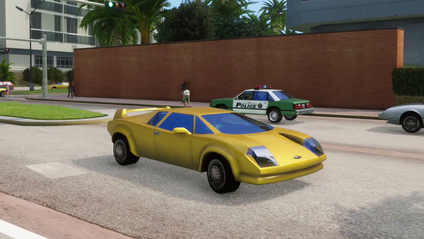 With Grand Theft Auto: The Trilogy - The Definitive Edition launching recently, we got to reminiscing about some of the classic GTA vehicles in which we spent hours weaving through traffic, ripping outrageous handbrake turns and utterly failing to successfully line up a drive-by. Whether your favourite is GTA 3, Vice City or San Andreas, here are the rides that should be top of your carjacking hit list...

Advertisement - Page continues below

GTA III: Mafia Sentinel

Wannabe gangsters working their way to the top of the criminal pile in Liberty City could do a lot worse than to plump for the Mafia Sentinel, based loosely on an E36 BMW 3 Series. Manoeuvrable in a chase and slightly more durable than the highly strung sportscars your eye might otherwise be drawn to, it's always a good option. Well, unless you steal it directly from a Mafioso, in which case you'd better hope those distinctive rear window louvres are good at deflecting bullets.

GTA III: Banshee

If you want to feel the wind in your chunky, polygonal hair, there's really only one option in GTA III, the Banshee. Clearly designed to resemble a Dodge Viper, it's one of the fastest cars in the game and, unlike its inspiration, doesn't mind the odd corner either. Best of all, it's readily available at the very beginning of the game if you head to Capital Autos in the Portland region. The dealership is our immediate go-to before starting any mission, and given how many times we've smashed through the plate glass windows and peeled away in a brand new Banshee, it's a wonder they're still in business...

Advertisement - Page continues below

GTA III: Yakuza Stinger

A bit of a leftfield choice, this one, given that it's not a barely disguised version of an iconic motor, the Yakuza Stinger is a nippy option for cutting about Liberty City's Manhattan-alike district Staunton. They're readily available and pointy enough that you can positively scythe through busy traffic. We particularly like the two-tone paint job and the fact that, while it's fast, it's not so fast that you arrive at every destination cartwheeling and ablaze.

Vice City: Cheetah

We'll admit, the Cheetah has been in every GTA since the third one and we could have picked any of them for the list, but our favourite is Vice City's 1980s version, which most closely resembles the Ferrari Testarossa it's usually been based on. Snag a white Cheetah, tune to Emotion 98.3 on the in-game radio in time for Crockett's Theme to come on and even if you've never watched Miami Vice you'll be transported back in time. Just don't come complaining to us if you also spontaneously sprout a mullet.

Vice City: Infernus

You can't have one 1980s icon and not the other one, so here's Vice City's take on the Lamborghini Countach, a car where the only way to be subtle and unassuming is to take the bus instead. GTA's take on the Infernus is ballistically quick but more fragile than a porcelain poppadom. Still, once you've established your multi-million dollar crime empire and moved into the enormous mansion on Starfish Island there'll always be one parked outside, meaning you can essentially treat them as disposable. How the other half live...

Vice City: Hotring Racer

Yes, Grand Theft Auto's preferred variety of 'satire' is mainly jokes about bums, but don't let that put you off the Hotring Racer, a NASCAR-style stock car that's supposed to be confined to a stadium oval track and can only be used on the street either by completing the Sunshine Autos side missions or, more realistically, via a cheat code. Whoever said cheaters never prosper never outran a phalanx of angry cops in under thirty seconds just by putting their foot down.

Advertisement - Page continues below

San Andreas: Bullet

Given that GTA San Andreas is set in the mid 1990s, it's not entirely clear why the Bullet looks so reminiscent of the 2005 Ford GT, but we're not complaining. This muscular sportscar's wide haunches mean it remains positively planted, even when you're ducking and weaving through oncoming traffic and dodging pursuing police. Which, spoiler alert, you'll be doing a lot – it's called Grand Theft Auto, not Grand Politely Asking Auto.

San Andreas: Turismo

Arguably the ultimate 90s supercar, the Ferrari F40's considerably uglier San Andreas equivalent might not have the timeless Italian beauty, but what it does have is the blistering hair-on-fire speed. Best suited to the freeways rather than the game's knotty version of South Central LA, the Turismo is always worth grabbing if you need to be somewhere in a hurry. In fact, with San Andreas designed as a highly compressed version of California, you could potentially cross the entire state in about two minutes if you get a clear run.

Advertisement - Page continues below

San Andreas: Infernus

Yes, we chose the Infernus in Vice City too, but in our defence, this is not another Countach. It's not even a Lambo. In fact, if you were blessed with a working pair of eyeballs, you'll immediately identify this as a Honda NSX. Or an Acura NSX, if you insist. Either way, this is the laziest disguise job since Superman wandered into a Specsavers. Still, it's absolutely worth seeking out in the Las Venturas district, because in spite of sharing the screen with a car that's based on the monstrous twin-turbo F40, the Infernus is actually the quickest car in the game.