Geneva Motor Show 2020
Gallery: these are the cars Mansory planned for Geneva
RS6, Urus, Continental GTC – the German tuner was going all out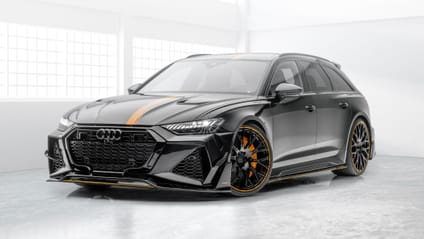 Motor shows aren't just a forum for the major manufacturers to unveil brand-new cars, they also provide a space for tuning companies to rock up and stand out from the crowd with their craziest ideas and interpretations.

And over the last few years, there haven't been many tuners with wackier ideas than Mansory. The Brand-based company doesn't really do things by halves, and the ill-fated Geneva show this year would have been no different.

The first of three new cars it was hoping to display was this – a supremely angry Audi RS6 Avant…

Advertisement - Page continues below

The RS6 is Mansory's first crack at any Audi product, but the same recipe has been applied. There are lashings of carbon fibre and plenty of sharp angles – although the black and orange paint job is reasonably refined.

As is the interior by the looks of things. Mansory's new logo features at the centre of the steering wheel and there's Alcantara everywhere, but the RS6 is just the warm up act...

Advertisement - Page continues below

Woah, there's the Mansory we know and erm… love? This is its take on the Bentley Continental GTC V8. Bit loud, we must say.

Again, there is much carbon, many wings and the obligatory black wheels. Mansory reckons this bodykit will "make the hearts of die-hard Bentley fans beat faster". Technically, that's probably correct.

Just check out that interior. Wonderful – although a little bit more quilted leather wouldn't go amiss.

And we've hit peak Mansory. This is the Lamborghini Urus-based 'Venatus'. There's a lot going on here, even after your eyes get to grips with the blue, lime green and dappled carbon fibre colour scheme. 

Advertisement - Page continues below

Did the Urus really need three spoilers and a massive diffuser? Probably not, but none of this is about need…

What... how... what has actually happened here? Has someone been playing with the colours on Photoshop again?

Advertisement - Page continues below

We thought they were done… they really really weren't. This is Mansory's latest take on the G-Class – the 'Star Trooper Pickup'.

It's been built in collaboration with German fashion designer Philipp Plein. Now, we don't know much about fashion but…

Camouflaged interior trim to match the exterior wrap. Nice. You'll want to source a picture of the starlight headliner too – it's not as calming as the one in a Rolls Royce that's for sure.