Geneva Motor Show 2020
Step inside the 1,700bhp Koenigsegg Gemera
This, friends, is what the inside of a four-seat 'Mega GT' looks like. Cosy, right?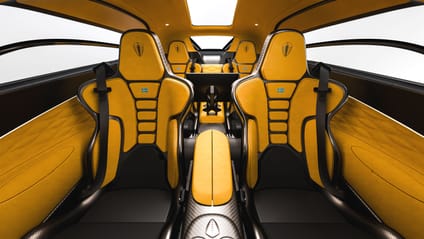 This is a Gemera. It is a brand new family car from a Swedish carmaker called Koenigsegg. Koenigsegg is a relatively new company that you may not have heard of, so let us tell you now that this Gemera is important, because it's Koenigsegg's first-ever family car.

Advertisement - Page continues below

Great! I've been looking for something to replace my Ford Focus.

Then you must be prepared to make a few sacrifices. The Focus of course, is able to seat five people, where this Gemera can only seat four. And where the Focus is available with five doors, the Gemera only gets two.

On the plus side, the Focus's doors open in a really boring way. The Gemera's, as you can see here, don't.

What about luggage space?

A Focus hatchback has 341 litres of boot space with the rear seats up, or 1,320 litres with them folded down. Truly, it is a spacious family car.

The Gemera on the other hand, has a total luggage volume of 200 litres. But, you can option a roof box, and as every family will attest, roof boxes are cooler than regular old boots.

Advertisement - Page continues below

Is it cheaper than a Focus?

No. Very much no. We'll address that later. Next question.

Does it have a bigger engine than my Focus?

Well, interestingly, it has the same number of cylinders as one of the cheaper Focus variants. That's three. But where the Focus's three-pot is a 1.0-litre, Koenigsegg's is a 2.0-litre.

And where the Focus makes around 100bhp, the Gemera makes 600bhp. Best not to ask how. We did, and we still don't understand.

Woah! 600bhp from a 2.0-litre!

That's not all. Just like the Focus, the three-cylinder engine powers the front wheels. Unlike the Focus, the Gemera also features three electric motors – one on the engine's crankshaft, and one on each rear wheel.

When all systems are working together, the Gemera makes 1,700bhp, 2580lb ft of torque and is able to go from 0-62mph in 1.9s.

That's… that's quite a bit faster than a Focus.

Yes. It'll also reach 250mph in what Koenigsegg claims as "record matching pace". This Swedish company knows a thing or two about that, apparently: in 2017, it sent something called an Agera RS to a top speed of 277.87mph across two runs.

In the parlance of Things Going Really Quite Fast, we're assured this is Really Quite Fast.

Advertisement - Page continues below

Can we slow things down please? My brain hurts.

Then allow the inside to soothe your cerebrum. The Gemera is able to travel up to 31 miles on electric power alone, and as you can see, gets a plush interior with both heated and cooled cupholders.

Can I charge my phone in Koenigsegg's family car?

Of course you can! It has two inductive phone chargers, 13in screens up front and in the back, an 11 speaker sound system, three-zone climate control, and each individual seat can be heated. Indeed, the front seats are four-way electrically adjustable.

Advertisement - Page continues below

OK, final question: should I trade in my Focus for a Gemera?

We would highly recommend that you do. While the Focus is one of the UK's best selling cars – for good reason, it's ace – the Gemera offers something a little bit more unique.

Yes, you'll have to sacrifice some luggage space, and it's only really suitable for families of four (owing to the fact there are only four seats). And maybe the Focus has better fuel economy. And maybe you might have to move to a bigger house with a bigger driveway and also find the best part of €1.7m, but the Gemera makes a case as an excellent family car.

Right? Right? If you're thinking like we're thinking, then a) seek help, and b) click here for more info on the Gemera.