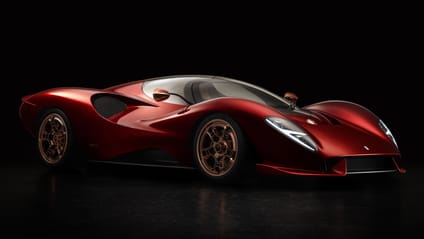 Introduction

De Tomaso's most famous car, the Pantera, went out of production a long, long time ago, and the company has returned from its own ashes so often that even the phoenix will be starting to get bored. So, now that Hong Kong-based company IdealVenture has brought back the name once again, why should we all care? 

Well, here are five reasons from the past and present that may just convince you…

Advertisement - Page continues below

1. The P72 has a great story

Let's be honest, when you heard that De Tomaso was coming back you thought it'd be an all-new Pantera, didn't you? We certainly did for a while, but boy are we glad it isn't.

The P72 is gorgeous, but there's also a fantastic story behind its inspiration. Back in 1964, a man named Carroll Shelby contacted Alejandro de Tomaso, whose company began by making race cars, with the intention of collaborating on an all-conquering prototype racer known as the P70.

Unfortunately, a falling-out between the two parties meant that only one of the planned 50 cars was built, and this is what the P72 takes styling cues from. It's pure 1960s cool.

2. Alejandro knew how to hold a grudge

The falling out between de Tomaso and Shelby was clearly a big one, because the subsequent road car that Alejandro's Modena-based company produced was called the Mangusta.

In Italian, that name means mongoose, and those of you with a fondness for the animal kingdom will know that mongooses like to spend their time attacking cobras. 

Now there's a man who knew how to hold a grudge. Top trolling in our eyes.

Advertisement - Page continues below

3. De Tomaso were trendsetters

It wasn't just the Shelby connection that made De Tomaso cool. Before that, its first road-going production car was the Vallelunga, and it was the first Italian sports car to feature a mid-mounted engine. A pretty impressive feat given what came afterwards, we think you'll agree – even if that engine was the 1.6-litre unit from a Ford Cortina.

4. Gordon Murray is a fan

Yep, the father of the McLaren F1 actually owns the very Vallelunga that was displayed alongside the launch of the P72 at the Goodwood Festival of Speed. Talk about impressive endorsements.

5. The original company worked with some of the greatest design houses

In the age of Italian coachbuilders, De Tomaso worked with a whole heap of the big names. The Vallelunga was originally designed by Carrozzeria Fissore, before being built by Ghia, which de Tomaso then bought. Also on the list of collaborators is Tom Tjaarda, Marcello Gandini and Carlo Gaino. Have a look at the back catalogue of each to see just how impressive this was for a relatively small company.