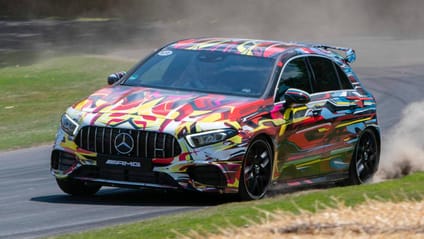 Mercedes-AMG only revealed its new super-hatch, the A45 S, last week, but it didn't forget to bring along a finished prototype to the 2019 Goodwood Festival of Speed. Such a pity it accidentally crashed into a paint factory on its way to Sussex.

"Would you like to have a ride in it, while a racing driver shows off next to you?" asked AMG.

Rude not to... So, here are six things we learned from the experience. 

Advertisement - Page continues below

1. It doesn't have enough power*

*if you're a fully fledged GT3 racing driver and you want to pull fourth-gear powerslides on a dry track. This is unlikely to be a major obstacle to most A45 S buyers.

In charge of firing AMG's ultra-hatch up the Goodwood hill is N24 winner Adam Christodoulou. He's seriously handy, but he knows the value of being a showman, does Adam. So he wants the biggest slide possible out of Drift Mode.

Problem is, the car's doing almost 90mph when it arrives at the first corner. Even with a big Scandinavian flick - and even with 416bhp from its record-breaking 2.0-litre engine - the car's got so much raw grip that it's tricky to unstick at high speed.

"Argh, got some understeer", growls my chauffeur as we exit turn one at twice the speed of sound.

2. It's actually got more than enough power

A dab of brakes into the tighter second turn, an even heftier flick, and boom, we're looking out of the side window. AMG's mega-hatch will kick the tail out and hold it there, if the conditions are right. And if you're a very handy racing driver.

It feels very similar to the Focus RS, from the passenger seat. Should make for some watchable YouTube content when owners get their hands on these things...

Advertisement - Page continues below

Off the line, the A45 S is a rocket-hatch. AMG claims 0-62mph in 3.9 seconds and I've no reason to disbelieve that using the ol' backside dyno. I've never been faster in a hot hatch. Sorry, RS3. The redline upshifts through the 8-speed dual-clutch gearbox are deliciously rapid. It's a bit mini-GT-R.

4. It's less crackly when it's sat still

New regulations have clamped down on yobbo-hatch exhaust misbehaviour. So when your delinquent brother revs the new A45 S at a standstill, the exhaust doesn't crackle and pop. You have to be underway before the exhaust clears its throat. Once you're rolling, the bangs and farts are back.

5. There are two rev counters

See? Two rev counters. No, we've no idea why either. And that's the tip of a screen configuration iceberg in AMG's technohatch. There are so many displays, gauges and gimmicks layered throughout the A45's twin screens, it's difficult to know how you might use them all. People love toys and gadgets though...

Goodwood is a great place - perhaps the best place - to judge reacting to a car. The dazzle camouflaged A45 S was sandwiched between the new Aston Martin DBX and Shelby Mustang GT500 on the hill. The whole estate was crawling with exotica.

And yet the little muscle-hatch was a selfie star. A head-turner. Owners of current A45s arrived to drool over it. Owners of current RS3s told anyone who would listen that it would definitely be rubbish, like all Mercedes, and anyone in the world who doesn't have an RS3 and drive it everywhere in Dynamic mode is a loser. Apparently.

Advertisement - Page continues below

We'll be driving the new AMG A45 S ourselves later this month. Guess which mode we'll be choosing?