Goodwood Festival of Speed 2021
Goodwood Festival of Speed 2021: 13 memorable moments
Missed this year's FoS? Worry not. Here are the 13 best moments from the weekend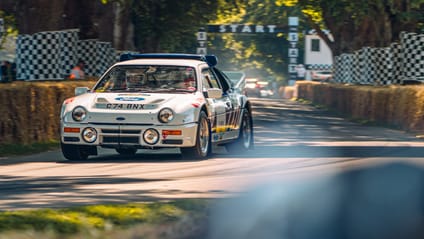 Big up the Duke of Richmond for being able to put on his high horsepower garden jamboree, the Festival of Speed. Thanks to the government giving the event the green light as a pilot event, an army of cars could come from all around the world and fire up his driveway for our enjoyment. Now, we're not sure about you, but a weekend's worth of properly juicy cars is exactly what we needed to blow away some of the Covid cobwebs. But don't worry if you couldn't make it in person, as we've rounded up a few notable moments below.    

Advertisement - Page continues below

An old Nissan Skyline nearly stole the show

Even after all these years and innovation, Godzilla still refuses to lie down and have a rest. Back in the Eighties, Nissan's R32 Skyline vanquished all its competition, winning 29 races from 29 starts across four seasons – a feat that gave it the name 'Godzilla'. This weekend, the BTCC's Jake Hill manage to quash most of the competition in a heroic HKS-liveried car by firing the 4WD monster up the hill in 48.96 seconds and it looked awesome doing so.

A very fast, very special McLaren did steal the show

Ladies and gents, we give you the fastest car of Goodwood 2021: McLaren's 720S GT3X. It's basically a 720S GT3 that's been removed from a race grid – and thus the stifling world of regulations – with everything demonstrably turned up several notches. In the Timed Shootout Final, Rob Bell sent the stripped-out and sticky tyred 720S up the driveway in just 45.01 seconds, more than a second clear of its nearest rival, Travis Pastrana's silly quick Subaru WRX STI.

Advertisement - Page continues below

Kimera's Lancia 037 restomod is throwback heaven

Up until this weekend, we'd only ever seen renders of Kimera Automobili's 037 restomod. But the firm from Cuneo in northern Italy rocked up with the real thing and threw the covers off for all to see. And in real life it's even better than the pixelated dreams they'd previously published. It's small, wonderfully engineered and screams to be driven. Hard. Called the EVO37, it aims – shock – to combine the drama and emotion of the Group B-inspired 037 road car of the Eighties with the comfort and tech of something more modern. Consider the nail hit on the head.

Travis Pastrana was on it

Last year, Travis Pastrana took the Gymkhana baton from Ken Block and blew us all away. This year he brought his bespoke bewinged 862bhp Subaru Impreza WRX STI over to Goodwood and fired it up the hill. Unsurprisingly, for a man who has obviously pulled his 'fear' fuse out of his head, he didn't lack commitment. Not bad for someone who made his name on two wheels, eh?

Kenny Brack + Rain + Elva = spicy sideways

With 804bhp, the McLaren Elva is the most powerful non-hybrid McLaren ever. It's also rear-wheel drive. And has no windscreen. Strap a Swedish chap called Kenny Bräck (a former Indy 500 winner and Goodwood hill climb champ) behind the wheel and allow him to give it the beans in the wet, and you get quite a show. 

The Aston Martin Valkyrie sounds utterly glorious

Aston Martin's brain-scrambling Valkyrie project hit a bit of a landmark last weekend. It was the first us puny members of the public could see the thing run in anger. Which also meant it was the first time we could hear the 1,000bhp 6.5-litre naturally-aspirated V12 rip around to its 10,500rpm redline. Something your ears will thank you for if you ever get to hear it in person.

Advertisement - Page continues below

It was 'leccier than ever

EVs played a bigger part than ever in this year's Festival of Speed. Not only were there a smattering of cars silently bombing up the hill, but also a whole 'Electric Avenue' (Eddy Grant, we're sure the invoice is in the post) showcasing every electric offering available; from Rimacs to hatchbacks and everything else in between.

Goodwood has morphed over the years. It's more corporate – more of a motor show than the Pimms-soaked toodle-pip day of motoring it used to be. But this year it dipped its toe into another industry: tech. Yep, there were flying cars, autonomous cars, jet packs and even those scary animatronic dogs that can open doors. Should it be the UK's answer to CES? Or a garden car show? Let us know below. 

Advertisement - Page continues below

Alpina airbags really do work

It wouldn't be Goodwood without someone having a shunt at Molecomb. The tricky off-camber left-hander has sent many into the hay in the past and this year was no different. The first car to fall foul of it was a lovely Alpina B8, headbutting the straw with such force that the airbags went off. Luckily everyone was OK.

Phil Collins drum roll, please. As Hyundai's prog-rock named premium brand Genesis has officially landed in the UK. Using Goodwood as a launch pad, the Korean firm showcased its Europe-only Genesis G70 Shooting Brake. But cars are only one part of the package, as Genesis is keen on making all the other bits around buying, servicing and owning a car something luxurious. Can it take on the might of the established Germans? We'll have to wait and see.

The GT3 Touring is still a whole load of want

With the absence of motor shows, we've been starved of seeing some cars in the metal. One of which was the recently announced Porsche GT3 Touring. Luckily, Porsche brought a few along. And this wingless GT3 hasn't got any less lust-worthy. Someone, please pass the drool bucket.

Last week was a big one for Lotus. Not only did it launch the new £60k, 400bhp Lotus Emira. But it was also the lead manufacturer for this year's FoS, meaning it brought ALL the goodies from its back catalogue out to play. Plus what's coming down the pipe shortly, most notably the 2,000bhp all-electric Evija. Which showed it's quite good at instantly incinerating a set of rear tyres.

If you want to have your autograph book scribbled in, mooching around the Duke of Richmond's lawn is a good place to go. There's all matter of motoring royalty wafting around in fireproof pyjamas and the occasional celeb. This year even Mr Mission Impossible popped down to see what was going on. Before heading to the Wimbledon final. And then the Euros final. What a day he had.