Hot Hatch
Giulietta Cloverleaf vs Megane RenaultSport
Can France and Italy offer credible alternatives to German hot hatchery? There's only one way to find out...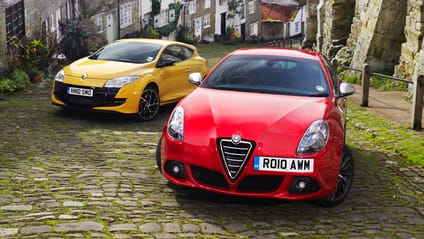 They reckon Mankind's first wheel turned somewhere in Mesopotamia in the 4th century BC. And a few hundred years later, you can be sure, the ancient inhabitants of Italy made something fairly similar. It will have looked a bit prettier too, but probably wasn't round.

Even today, in our homogenised and increasingly one-car-fits-all world, the Italians are still doing it their own way. Almost all Italian cars are blessed with a certain indefinable element of cool that makes life better for the simple act of driving them. But almost all Italian cars also appear to have been built by (very recent) graduates of a Montessori nursery. Dr Montessori, it turns out on Wikipedia, was Italian.

Words: Matt Master
Photos: Lee Brimble

This article was originally published in December's issue of Top Gear magazine

Advertisement - Page continues below

The Alfa Romeo Giulietta Cloverleaf is the next in a long, long line of cars from that iconic stable which simultaneously stirs the soul and sets the alarm bells ringing in your sensible head. It's brilliant and rubbish all at once in a way that only an Alfa can be. Just the sort of car TopGear loves, but would we seriously encourage you to buy one?

To give the Cloverleaf some context, we've pitted it against its most realistic rival. In a market awash with excellent but fundamentally boring cars like the Volkswagen Golf GTI and Scirocco, the Megane RenaultSport – TopGear mag's own much-loved Lifer – is the only mid-sized hot hatch that can hold a candle to the Cloverleaf.

Renault has grown a serious pair in the last few years, and its Clio Cup looks well set for being the definitive hot hatch for a generation. The RS Megane is a bit more grown-up, but no less mad-looking or involving for that.

On paper then, both Alfa and Renault are sub-£25k cars with serious front-wheel-drive power. With 235 and 250bhp respectively, they both find 60mph in just over six seconds and top out at around 150mph. They are a statistical match for the GTI, but they also give you the James May Trademark Fizz where a Golf never could. Your wife, bank manager, even your kids might tut-tut, but here are spacious, refined and relatively practical family cars that look the business, go like stink and set you apart from the galaxy of Teutons pounding across Britain's blacktop.

Convinced? NO? Nor should you be yet. Let's start with the Alfa.

Advertisement - Page continues below

The Giulietta is currently being aggressively marketed across Europe with the gawky beauty of Uma Thurman behind the wheel. That she is slightly jolie laide makes her the perfect ambassador for a car that is stunning from the right angles, slightly odd from the wrong ones. But the Cloverleaf, presented to us in the same rich metallic red that adorns Alfa's super-exclusive 8C supercar, looks utterly glorious. Dark, multi-spoke alloys, modest twin exhaust pipes, subtle aero, a smattering of honeycomb in the airdam - if it weren't for the clumsily slapped-on Cloverleaf badges below the A-pillars, the Giulietta would be the very model of racy restraint.

And up against the Megane, it still is. Renault hasn't spared the horses when it comes to styling the RS, and it strays dangerously close to DIY aftermarket territory. The way the wheel arches, side-skirts and that lumpy rear wing integrate into the bodywork seems like an afterthought, although in fairness a slightly less showy colour than our 'Slap Me Yellow' would make them less conspicuous. And the overall effect is one of real menace. From any angle, and none more so than when the Megane looms into your rear view, this is a car whose styling borders on being a threat.

So both these cars have a real kerbside impact, already setting them apart from the Golf, if not a Scirocco. On board, meanwhile, the Megane's solidity, ergonomic logic and cleanliness of design is right up there with the Germans, which is no mean feat for a manufacturer whose national identity leans far more towards price than luxury.

Our car has the excellent, if dear, option of Recaro bucket seats, a stark (and, on entry, occasionally painful) reminder of this car's sporting focus. Everything else, however, with the arguable exception of the bright yellow seatbelts, is all maturity and class.

And this is where the Alfa starts to frustrate. The first thing you notice is that you sit too high in the Giulietta, especially for one with a performance bent. This seems to be a packaging problem that the Fiat group is unwilling or unable to circumvent. The 500 is similarly afflicted, a fact that really impacts on the potential brilliance of the little Abarth.

A greater failing, though, is the lack of space for your clutch foot. This is probably a hiccup in the conversion to right-hand-drive, and while it was a common problem a few years ago, most manufacturers have designed it out now. That Alfa hasn't feels either like laziness or incompetence, and neither fills you with confidence. You're left to rest your foot on the clutch at all times on pedals that are already slightly offset to the right. This is infuriating during a day-long twin test, so what would it be like to live with?

You can dismiss such niggles with a good-natured Italian shrug, but a £25k performance hatch should have your bum on the floor and the pedals in the right place. If Renault can do it - and it has here - then so can Alfa Romeo.

Advertisement - Page continues below

To make matters worse, the Cloverleaf's cabin is a hotchpotch by comparison with the Megane. Where Renault has used acres of soft-touch, rubberised plastics, the Alfa makes do with brittle, flimsy fair that smacks of lesser segments and bygone days. The integrated nav and entertainment system is also a bit of a fiddle - again a problem that most other car makers have long since dealt with.

There is, however, a very real possibility that anyone taking a Cloverleaf for a test drive will forget all this rather important griping far too soon. Up front is a 1742cc, four-cylinder turbocharged engine with a 'scavenging' control system that claims to do away with turbo lag. Even in its normal driving mode, the Alfa feels quick and the power delivery inarguably smooth and linear. As the revs build an addictive little turbo whine opens up, encouraging you to shift later and later, squeezing every ounce from this comparatively small powertrain.

Alfa has equipped the Giulietta Cloverleaf with the same 'DNA' system that it debuted on the MiTo, with Dynamic, Normal and All-Weather settings varying the throttle response and degrees of intervention from the car's VDC safety system. The most immediate and significant change when you flick the car into 'D' is a super-fast reaction to your right foot. The Cloverleaf is reborn, surging forwards in-gear and scrabbling for grip out of junctions. This is the stuff of proper hot-hatch madness, a soupçon of insanity that you can dial in or out at the flick of a switch.

Advertisement - Page continues below

Pushed across country, the Alfa also rides remarkably well, particularly up against the unforgiving nature of the Megane's Cup chassis and optional 19-inch alloys. And it corners with impressively little body roll for a car that doesn't look to have a particularly low centre of gravity and one that certainly isn't sprung unrealistically for the real world.

The steering is good, the gearchange heavy but short and direct, and it stops with assurance. After remarkably few miles, it's easy to see why people will fall in love with the Giulietta Cloverleaf, and why some of them might even buy one.

But then you get into the Megane again and realise just how far the game has moved on. This is a car TG readers know well, and it won't get more column inches here than is necessary. Suffice to say that if you want the faster of these two cars, A-to-B on any road in (almost) any hands, the RS is it. It's more communicative, more responsive, flatter in the corners and quicker out of them. It lays down its greater power with comparable ease, carries its speed with more confidence and dispenses with it superbly. In an unlikely turn of events, Renault has the head over the heart.

But the Alfa is special. It is truly beautiful and those looks will endure for far longer than the RenaultSport's unsubtle and aggressive bodge-up. It's not perfect, even by Italian standards, and the age-old question mark hangs over the interior packaging and general quality, but as an overall product, albeit one far removed from the hermetic perfection of Wolfsburg, it is very good. And above all that - or in spite of it - the Cloverleaf is lovely, an adjective that seldom gets applied to hatchbacks. I wouldn't buy one and I wouldn't recommend one to a friend, but I hope to see lots out there, in 8C red, being flicked into 'D'.