Insider
Five of the biggest scandals in automotive history
From the Corvair to DeLorean, Jason Barlow investigates car company meltdowns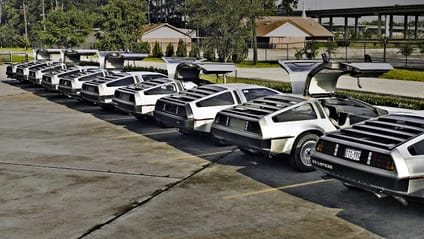 Volkswagen, for so long the shining beacon of the car industry and a global symbol of German magnificence, is engulfed in one of the greatest industrial scandals of all time.

But as seismic as the US emissions saga is proving, this isn't the first time the car industry has got itself into hot water. Oh no. Here are five of the best/worst car business meltdowns…

Advertisement - Page continues below

Jose Ignacio Lopez, VW v GM (1990s)

As head of purchasing for GM in Europe, Lopez – known as Inaki by his disciples, and fond of Don Quixote – pioneered all sorts of ruthlessly efficient cost-saving and 'lean manufacturing' techniques.

GM's Chairman Jack Smith parachuted the Spanish wizard into Detroit, and after just a year in the hot seat Lopez had stopped the General haemorrhaging cash, slashing $1.1bn from its annual purchasing bill.

In Germany, VW's chairman Ferdinand Piech decided Lopez was the man to streamline the group's unacceptably high cost base. Piech apparently promised to build a car factory in the Basque region, a showcase for Lopez's genius (his ultimate gameplan was called Plateau 6) on his home turf, and GM countered with the top job in the US.

Lopez agreed, and Smith was literally about to announce the appointment at a press conference when an aide passed him a note saying:  'Sorry, I changed my mind.'

This didn't impress Smith. Not to mention that Lopez allegedly brought several million secret documents with him as he headed to Wolfsburg, a whole headful of what GM regarded as its intellectual property, and immediately targeted around 30 top Opel execs.

There followed years of expensive litigation and transatlantic mud-slinging, with accusations of industrial espionage, copyright infringement and racketeering. Criminal charges were brought in German and US courts.

In 1997, VW stumped up $100m to GM, and agreed to buy $1bn worth of components from the company up to 2004. A statement was issued by VW that admitted no liability, but said that there was 'the possibility that illegal activities' might have occurred.

In May 2000, the US Justice Department sought Lopez's extradition to stand trial in Detroit, but the Spanish authorities ruled a year later that he couldn't be extradited. Badly injured in a car crash in 1998, Lopez is said to suffer from dementia but now dabbles in property.

Audi 5000 (mid-1980s)

On 23 November 1986, US TV news behemoth Sixty Minutes ran a 17-minute hatchet job apparently exposing the Audi 5000's predilection for 'unintended acceleration'. Vulnerable people were being mown down or driven into garage doors by suddenly uncontrollable Audis, the in-no-way hysterical (and later proven to be rigged) piece suggested.

In 1989, the National Highway Traffic Safety Administration (NHTSA) fully exonerated Audi, deciding that the problem stemmed from the car's smaller, more European brake pedal sitting closer to the accelerator pedal than you'd usually find in a US car. In other words, it was down to, um, user error.

The furore almost destroyed Audi in the US market, whose sales collapsed from 75,000 in 1985 to 12,000 in 1991. [See also Toyota Prius unintended acceleration]

(European spec' Audi 100 pictured)

Advertisement - Page continues below

Ford Explorer/Firestone (2000)

Even in the US, the SUV wasn't such a big deal as recently as the early 1990s. But the Explorer became a colossal cash-generating hit for Ford during the decade, the archetypal suburban school run answer-to-every-question-you'd-asked-and-plenty-you-hadn't.

Then Explorers started falling over, a result of their Firestone tyres suffering blow-outs caused by tread separation and incorrect pressures, but a situation seemingly exacerbated by the Explorer's higher centre of gravity, suspension set-up and track width.  (The car's predecessor, the Bronco II, had been deemed unstable in a Consumer Reports' test and ultimately cost Ford a fortune in damage settlements.)

Both Ford and Firestone issued enormous recalls, shouted at each other a lot, and a 95-year-long partnership between these two US titans dissolved during a series of acrimonious congressional hearings.

Firestone tried to and believed it had fixed its tyres, and countered that the problem was inherent in the car itself. Ford CEO Jac Nasser said, "We simply do not have enough confidence in the future performance of these tyres keeping our customers safe."

Wherever the blame was apportioned, it is believed that the crisis caused the deaths of 200 people.

Ralph Nader and the Chevrolet Corvair (1965)

'Unsafe At Any Speed: The designed-in dangers of the American automobile' became an unlikely publishing sensation in 1960s America, when safety campaigner and moral crusader (and much later Presidential hopeful) Ralph Nader took the US car industry to task for its, um, rather cavalier attitude to consumer safety.

Styling excesses, air pollution, and engineering short cuts were all singled out across the book's eight chapters, but it was Nader's demolition of the rear-engined Chevrolet Corvair that is most remembered.

The Corvair had a tricky swing axle, no anti-roll bar, and ran unusual tyre pressures front to rear. The handling was interesting at the best of times, but over-inflating the tyres, as many customers did, redefined the idea of dodgy roadholding.

Nader may have been a pain, but his quest remains a pleasing example of one man sticking it to The Man. Unsurprisingly given the stakes involved, Nader had his reputation pulled to shreds, and later sued GM for invasion of privacy. He won.

Nadar's crusading eventually led to the creation of the US Environmental Protection Agency. His thoughts on the current VW emissions scandal are unknown.

DeLorean (1982)

Where do you start? Genius Detroit car exec John DeLorean (credited with the Pontiac GTO, youngest vice-president in GM history) mounted a personal crusade to build an ethical sports car, leading him into an unholy alliance with the British government.

Newly elected Tory PM Margaret Thatcher reluctantly bankrolls a factory in Belfast in a doomed quest to reduce chronic unemployment, and production of the Giugiaro-designed/Lotus-engineered gullwinged DMC-12 starts as the Troubles reach fever pitch and Northern Ireland tears itself to pieces.

DeLorean commutes from his Manhattan penthouse three times a week on Concorde, fiddling while Belfast burns. The project finally crashes in 1982, when DeLorean is caught smuggling cocaine in an FBI sting.