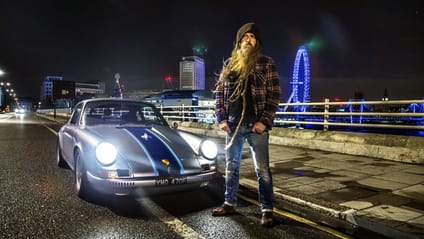 His beanie hat hoards a mass of dreadlocks; his beard is a mixture of silver and blonde hairs. Magnus Walker is not what you'd call a typical-looking Porsche enthusiast. Sit him outside Kings Cross, and you'd be excused for handing him your spare change. Yet the self-proclaimed Urban Outlaw has shot to fame as one of the world's most prolific Porsche collectors and something of an underground hero for anti-establishment tuning of vintage Porsche products. So how exactly does a scruffy lad from Sheffield wind up nestled in Los Angeles as an aficionado of Stuttgart's finest?

The story begins back in 1977. England was an exciting place to be as a young 'un - the Sex Pistols kicked off the punk rock movement, and a little film called Star Wars was about to spawn a whole generation of geeks. But, for Magnus, aged 10 years old, 1977 signalled a very different kind of obsession. "It was the Earl's Court motor show," he explains in his strange amalgam of US twang and Yorkshire vowels. "I travelled there with my dad, and as we reached the Porsche stand, I laid eyes on a 911 painted in Martini red and blue stripes. The engine plaque read turbo, the spoiler was as tall as my head. I knew right then the Porsche 911 was my dream car."

Pictures: Mark Riccioni

This feature originally appeared in the February 2015 issue of Top Gear Magazine.

Advertisement - Page continues below

Magnus was hooked. In between scrawling 911 shapes on any piece of paper he could find, he wrote a letter to Porsche HQ asking for a job - solid ambition for a 10-year-old northerner. To his surprise, they replied, thanking him for the interest and suggesting he establish contact again in a few years' time. Sure enough, this tentative contact engaged a little thing Magnus describes as "Porsche passion".

Unfortunately for Walker, Sheffield in the early Eighties wasn't exactly the place where dreams came true. By 1982 he'd dropped out of school with two O-levels to his name and no real education. About this time he also discovered drink and heavy metal music... two hobbies not exactly renowned for sparkling future prospects. Undeterred, Magnus bummed around on the dole making money exclusively to fund these new hobbies. "Cut your hair and get a proper job," he was constantly told. By the age of 17, it was beginning to sink in, so, sure enough, he decided to get a proper job.

The haircut would have to wait.

A natural draw to US culture would prove prophetic. The American dream fascinated Magnus, where classic contemporary American TV shows like Starsky and Hutch made the USA look like a haven of fast cars, fast women and serious facial hair. Sheffield, on the other hand, did not. With no significant education, no real job and no reason to stay, why not try his luck in the States? "I joined a thing called Camp America - where kids are sent to the States in return for working on a summer camp. By some miracle, I got accepted [it's worth noting Magnus was a keen cross-country runner and not just a booze-swigging metalhead]. So, in 1986, I packed my bag and hopped on a flight to New York, followed by a 600-mile bus ride to Detroit."

Detroit was gritty, rough around the edges and home to America's automotive industry. It ticked all the boxes, but Magnus wasn't based in Detroit - instead taking refuge 30 miles north at the summer camp. Minor hiccup aside, he'd made it to America. Working on the camp was never his long-term plan, and within 12 months he'd hopped back on that same bus and travelled 2,000 miles west to Los Angeles. "I woke up after that bus ride on a park bench at 6am with the LAPD telling me I couldn't sleep there," he remembers. "It wasn't the best start to my American dream, so I grabbed my bag and headed into Hollywood, looking for work."

Advertisement - Page continues below

Within three days, the long-haired Brit had an epiphany. "It's a funny story - I bought a pair of PVC alligator pants for $10. They didn't fit me, so I grabbed a sewing kit and made them fit. I travelled to a punk rock shop where the owner, a band member of Faster Pussycat, took a shine to 'em. He asked me where I got them from. I don't know why, but I told him 'England' and asked if he wanted to buy them! 'Sure,' he said. 'How much?' Looking to make a quick buck, I hit him at $25. Without hesitation, he told me he'd take eight pairs. I ran as fast as I could to that market selling the PVC pants and made more money in that one transaction than a week in Sheffield. This place was beginning to make sense."

Over the next years, Magnus established a business buying cheap, soulless clothing and personalising it before punting it on at a stall in Venice Beach. He'd joined the fashion industry without even trying, and now there was money for sex, drugs and rock 'n' roll. By the early Nineties, the stall had evolved into a brand nicknamed Serious Clothing, now being wholesaled in hundreds of shops and worn by stars including Madonna and Alice Cooper.

"Serious Clothing had its own style," adds Magnus. "We were shifting a ton of merch, renting a house and a workshop to keep it going. One day it hit me - why am I paying for two peoples' mortgages? Why don't we get our own place? In 2000 my wife found a 24,000sq ft warehouse we now call home. It was in an undesirable place, pretty beat up, and people called us crazy. But we had this gut feeling that everything would be ok, so we ran with it."

With living accommodation upstairs and a workshop below, it wasn't entirely conventional, but it worked. Then, in 2011, after an LA Times feature on the property, Magnus received a phone call from a company wanting to rent the place for a music video. He looked at his wife, Karen, asked "What's the worst that could happen?", and 22 hours later established a film location business by pure chance. "It was like the PVC pants story 15 years earlier - a lucky break which we turned into a new business venture."

But how does this translate into the Porsche collection? Back in 1992, Magnus realised that long-held dream and bought his first Porsche, a 1974 911, which soon resulted in countless speeding fines and even being pulled over at gunpoint. A change was, inevitably, needed. Fast-forward to 2002 with both businesses ticking over, the bearded speed freak joined the Porsche Owners Club where he also drove his first track day. He was pretty handy, first obtaining his Clubsport licence and then instructing other owners. "I was doing nearly 50 track days a year, and the costs were getting crazy," he explains. "The more serious I took it, the less fun it became. So in the mid 2000s, I sold
every car I owned that wasn't a Porsche and focused my time (and money) on obtaining the ultimate early 911 collection to fulfil my childhood dream."

Advertisement - Page continues below

As the collection continued to grow, Magnus soon found his cars in the media spotlight by dint of being slightly... different. Having spent his entire adult life personalising clothing, Magnus wasn't about to conform to the unwritten rules of Porsche restoration, and the 911s in his burgeoning garage gained a certain underground cachet. Not your average trailer queens - used and abused and subtly modified to suit, they were often described as "hot rod streetable racecars". With integrated indicators, bonnet louvres and wider wheels wrapped in slick tyres - from the outside these looked like a 911 by shape, but each one was chock full of Magnus Walker character. The red, white and blue colours seen on car 277? A friendly nod to his childhood hero, Evel Knievel.

The 911 styling was never intended to bring him fame. Aside from a small blog on the forum Pelican Parts, Magnus kept the collection sheltered at his workshop for his own enjoyment. But in 2012, a film director named Tamir Moscovici approached him, fed up with directing drink commercials and determined to do something more edgy. He, like Magnus, was a Porsche guy, and instantly the pair gelled. Tamir proposed the idea of a short YouTube film and, ever the optimist, Magnus replied with: "What's the worst that could happen?" Four days of filming later, the 32-minute documentary Urban Outlaw had been created and was later shown at Sundance, to rave reviews.

"Things blew up after that," explains Magnus. "It opened up my collection to the whole world. Within two weeks, I had a phone call from Jay Leno to be on his Garage (Leno's car-based show). My emails exploded, my phone never stopped, it was a new chapter opening up in my life."

Advertisement - Page continues below

A month after the film's launch, Magnus noticed a letter at his workshop stamped with the Porsche logo. Unbeknown to Magnus or Tamir, Porsche had watched the film. What's more, they loved it, and they loved him - so much so they flew him across to Stuttgart for a factory tour. "Opening that letter reinforced my love for Porsche," he adds. "Being a Porsche guy is about loyalty and the journey. For Porsche to reach out 35 years later reinforced that brand value. I've been fortunate to build a working relationship with the brand I strove so hard to be a part of. I've been lucky, and I don't know what the future will bring. But one thing will always remain - Porsche passion. It brought me this far, and I'm sure it will continue to take me further."