Le Mans 2016
Le Mans 2016: here's who will start on pole
One of the world's biggest races kicks off this weekend. Who qualified on the top spots?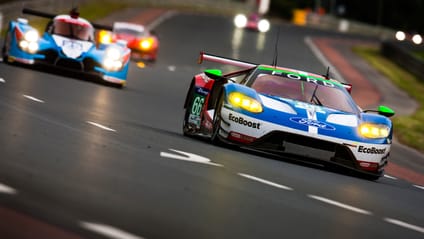 It's the 84th running of the Le Mans 24hrs this weekend, and, well, qualifying has been a little bit... wet. OK, not a little bit, but really, biblically wet. If there was any doubt, just check out this heroic save from the safety car. Bossing it.

We're told none of the 60-car grid - spanning prototypes and GT racers - could improve on their times set from Wednesday, such was the weather.

So, we've rounded up the pole-sitters from each class (that's LMP1, LMP2, GTE Pro and GTE AM). Click forth to find out who's on the top spot in each...

Advertisement - Page continues below

LMP1: Porsche

Looks like we've got a mighty battle on our hands come Saturday afternoon. Neel Jani's Wednesday time of 3m 19.733s stands as the fastest lap across the 13.629km circuit, while reigning world champ Timo Bernhard set a time of 3m 20.203s to score 2nd, meaning Porsche has locked out the front row. It's the 15th time Porsche has achieved a one-two in qualifying for Le Mans.

They're closely followed by the two Toyotas in 3rd/4th, with Audi 5th/6th.

LMP2: G-Drive

The Nissan-powered G-Drive team will head-up the closely fought LMP2 grid, followed by the um, Nissan-powered DC Racing and Signatech Alpine racers. This will be a field to watch very, very closely...

Advertisement - Page continues below

GTE Pro: Ford

... that's of course, if you're not witnessing the return of the Ford GT at Le Mans. Because its rather delightful new racecar managed not only to qualify on the top spot of the GTE Pro class, but also nab 2nd, 4th and 5th. 'Team USA' took the top spot, with the trio of Hand/Muller/Bourdais setting a fastest GTE Pro time of 3m 51.185s. The four cars are split only by the AF Corse Ferrari 488 GTE which managed a 3rd-best time of 3m 51.568s. Yup, that's just four tenths off the pole time. Get ready for the mother of all GT battles.

GTE AM: Ferrari

And last, but by no means least, comes the AM class for GT cars, and Clearwater Racing's Ferrari 458 Italia setting the fastest class time of 3m 56.827s, followed closely by the Aston Martin Racing team's Vantage, which clocked a second-best class time of 3m 57.198s.

TopGear.com will be live at Le Mans, so stay tuned for regular updates on and off the field. And remember, it's a long, long race, so literally anything can happen...

Who's your money on for the outright win?