Le Mans 2023
Here are six of the coolest ever Le Mans 24hr race cars
Any endurance racer is cool, but these winners are cooler than most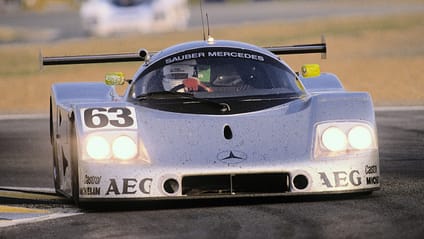 The Mazda could very well have been the only entry on this list, backed up not only by its extraordinary noise and pace, but also its story. A plucky outsider with a fraction of the big teams' budget; a last ditch do-or-die attempt; a driver who overcame incredible obstacles to compete; victory against all odds.

The film script writes itself of course, though a screenwriter isn't really needed – you just need to play 90 minutes of that rotary engine at full chat.

Advertisement - Page continues below

Like the Ferrari 166 MM Barchetta back in 1949, McLaren won the Le Mans 24hr race on its first ever attempt, catapulting the fabled GTR into the pantheon of la Sarthe heroes. Though, it was less a full-factory effort and more a factory-backed effort.

Five of the BMW-engined F1s entered the 1995 race, and despite suffering from gearbox fragilities throughout, managed to finish 13th, fifth, fourth, third, and of course, first.

Yes, we're swinging for the big hits here, and none come bigger – or with a juicier backstory – than Ford's 1966 entry; a car built entirely out of motorsport's most infamous grudge. Spurned by Enzo Ferrari (a failed partnership betwixt the USA and Italy), Ford instead decided to get even on the racetrack.

Though, the GT40's 1964 outings were beset with DNFs, ditto at Le Mans the following year (despite a podium at Sebring and win at Daytona in '65). Come 1966, the pressure was on… and it delivered. Hoo boy, did it deliver: a famous 1-2-3 victory at the most famous endurance race in the world.

Advertisement - Page continues below

Built in just 10 months following a rule change for Sportscars (bigger engines), the Porsche 917K was revealed at the 1969 Geneva Motor Show. In its first year of competition it suffered from aero lift at high speeds – bit of an issue at a track famed for its... speed.

By 1970, it'd sprouted additional downforce, and that car would dominate all. It won nine out of 10 races across the season including a Very Wet Le Mans 24hrs – Porsche's first ever victory at la Sarthe.

Mercedes withdrew from international motorsport following the horrific crash at the 1955 Le Mans race. So its return for the 1988 sportscar season was a big deal. Partnering with Sauber, the twin-turbo V8 C9 took a very respectable five wins, though couldn't race at Le Mans.

It'd storm the following year, however. Nine victories out of ten, and a win at la Sarthe returned the Silver Arrows to the very top of the motorsport table.

Former F1 driver and current F1 commentator Martin Brundle won the Le Mans 24hr race in 1990, but not in the car he started the race with. Yes, his 'Silk Cut' Jag – surely one of the most famous of all sportscars – was leading the race throughout the first stint, but a water pump problem meant his car was retired.

Instead, Brundle was swapped into another XJR-12 running that year which allowed him to lead a 1-2 for the team. Mighty thing to do it with, too, not least because of the 7.0-litre V12 hung out over the rear axle.