List
All the cars from Breaking Bad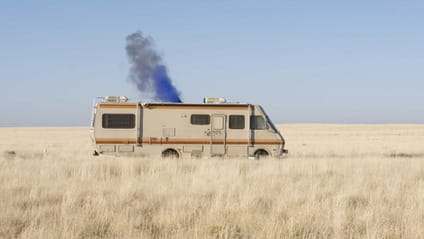 If you've not seen Breaking Bad, may we kindly suggest that you take a long, hard look at yourself. Clear your diary for a week. Go on Netflix and download it. And then watch a man have history's most spectacular mid-life crisis while standing next to a smaller, younger man with terrible taste in cars, and an older, sensible one with bad shirts. You may already be familiar with this format.

Watched it? Good. Now you'll know what a pleasure it was to have Jesse Pinkman, also known as Aaron Paul, on Sunday's show. And how truly superb it was that the meth-slinging potty-mouth posted the fastest celebrity lap in our new Astra.

Now you'll also know that Breaking Bad is set in America, where it is mandatory to drive a car if you're travelling more than five feet. And writer Vince Gilligan paid as much attention to casting the perfect automotive characters as he did the fleshy, sentient ones. Click on for Top Gear's stars of the show...

Advertisement - Page continues below

Pontiac Aztek

Driven by: Walter White

During the pre-Heisenberg era, Walter White hammers home his baby boomer good-guy persona by driving the deeply terrible, deeply aspirational Pontiac Aztek. Which is enough to turn anyone to crystal meth.

Chevrolet Monte Carlo

Advertisement - Page continues below

Fleetwood Bounder

Driven by: Walter and Jesse

Dubbed 'The Crystal Ship'by Jesse, it's an RV that the duo turn into a mobile lab, and it's about as reliable as the relationship between White and Pinkman.

Jeep Grand Wagoneer

Driven by: Skyler White

Walt's wife gets up to all manor of hijinks in this cool-repelling wood-sided Jeep. It's nearly so bad it's good. Which just makes it really, really bad.

Volvo V70

Driven by: Gustavo Fring

The shows most calculating, stone-cold killer keeps his drug empire under (chicken) wraps by driving a car so unassuming and inconspicuous that its styling barely qualifies the word.

Jeep Commander

Driven by: Hank Schrader

He's rough. He's rugged. He's red-blooded. Or at least he thinks he is. So he tools around in a massive great big SUV. But this is a Commander, and inside it's full of soft, sensitive lugjury. See what they did there?

Advertisement - Page continues below

Volkswagen Beetle

Driven by: Marie Schrader

Hank's gently psychotic, kleptomaniac wife drives a first-gen OMG CUUUUUTE Golf-based Beetle. All self-conscious feminine style but nothing unique underneath.

Cadillac de Ville

Driven by: Saul Goodman

Walt's criminal lawyer (as in criminal lawyer) is simultaneously ostentatious and a bit rubbish. Much like his big, white choice of wheels. Better call Saul. Then the AA.

Advertisement - Page continues below

Chrysler 300 SRT8

Driven by: Heisenberg (aka Walter White)

Walter's drug-wholesaling, hat-wearing alter ego sacks off the Aztek and gets himself a big, gangster saloon. And this one has 470bhp, 470 torques, and PULL ME OVER written all over it. Brave choice, Heisenberg.

Toyota Tercel

Driven by: Jesse Pinkman

While Walter/Heisenberg drives increasingly drug-dealery cars, Jesse matures from a bouncy Chevrolet to what could be the least G car in the known universe - a lightly antiqued Toyota Tercel. A car that actor Aaron Paul tried to buy after filming but wasn't allowed. His real-life Shelby Cobra will have to do.

Dodge Challenger SRT8

Driven by: Walter Jr

Walt's son, Walt Jr, guilt trips his dealer Dad into buying him a flashy car. Gets a Challenger SRT8. Gets promptly downgraded to a Chrysler PT Cruiser. By his Mum. Ouch.