List
The coolest utilitarian cars ever, from Lada Niva to Unimog
Meet the machines that keep it cool by keeping it simple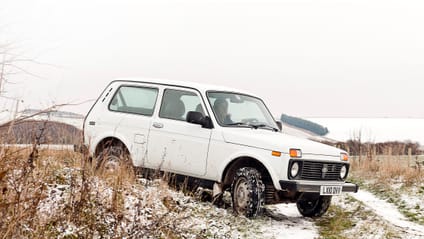 There's nothing cooler than a truly utilitarian car, one that dispenses with styling flim-flam and overwrought luxury in favour of hosed-to-the-bone function.

Yes, back-to-basics is where it's at, and they don't come much more back-to-basics than the cars in the gallery above. From a Lego-inspired Toyota to a ute named 'Brat', these simple soldiers prove there's beauty to be found in the most agricultural of machines. 

Have a click through and tell us: what did we miss?

Advertisement - Page continues below

The FJ40 is a practical icon famed for utility over aesthetics – it's like a 4x4 made of Lego. The cool variants hark from the early Sixties – the '40-series' was in production from 1960 until 1984 – and the ones you want are the early 2drs which are still exceptional at getting about in the mucky stuff.

The Niva ('field' in Russian) was described as a "Renault 5 on a Land Rover chassis" by its designers at AvtoVAZ – which makes it the first small crossover. Blocky, simple and cheap, it's now got a huge anti-hero attraction. Extra points if you can find one badged the Bognor Diva (what Nivas were called in Uruguay).

Advertisement - Page continues below

The Universal Motor Gerät – gerät being the German word for 'machine' –has been around since 1947 and is still in production. It's basically a tractor with proper, equal-sized wheels and has seen service in virtually every practical sphere known to autokind.

Odd and almost impossibly cool, the Mehari is a Citroen Dyane 6 with a body made of plastic and a 600ish cc flat-twin. Simplicity is the abiding attraction here; the Mehari is slab-sided with virtually no interior, and the 4x4 version is properly good off-road, mainly because it only weighs around 550kg. The thinking man's 2CV.

Kind of a two-door coupe pickup with AWD, this was supposed to be Japan's response to the growing popularity of small trucks in the USA back in the late Seventies. It continued production until 1994, and they're tiny, but incredibly useful. Ronald Reagan had one – possibly the weirdest claim to fame of any car in this list.

The Panda 4x4 is something of a legend. It was the first tiny car to get proper AWD, thanks to a system designed by off-road supremo Steyr-Puch. It may only have 48bhp, but with so little weight to drag around, it was the car version of a plucky mountain goat, and it's got Giugiaro design classic written all over it.

Advertisement - Page continues below

You might well know this one as the Matra-Simca Rancho. Based on a Simca 1100 pickup, the body was made from fibreglass and polyester, and it remained front-drive only, even though it sported off-road styling – including an optional winch. It's sort of a spiritual predecessor to stuff like the Audi Allroad.

One of the first luxury SUVs, the Wagoneer has recently seen a surge in popularity – mainly thanks to the restomod movement picking up Eighties models for refurbishment. But it's got the luxe-utility thing nailed. Mainly thanks to 'marine-teak' panelling and boxy styling.

Advertisement - Page continues below

Conceived as a sketch in the sand in the Forties, the Defender has weathered wars, carrie dexplorers and been a runabout for the monarchy, James Bond and Sir Winston Churchill. But after a nearly 70-year lifespan, this year is the Defender's last. Good luck replacing one of Britain's great icons, Land Rover...