List
Here are 10 alternative cars for King Charles III's coronation procession
Ditch the gilded coach - these are the modern British motors Top Gear would put the Royal party in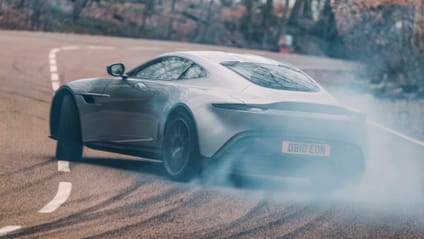 Zara and Mike Tindall: Land Rover Discovery

Zara's an olympic silver medal winning equestrian, Mike's a former England rugby squad captain, they probably don't want anything that can't put up with a bit of mud, or can't tow for toffee. What's perfect for them? A Land Rover Discovery. Designed to be covered in filth when the going gets rough, and ideal for pulling boxes full of future glue around. To top it all off, everything in there is designed to be used with chunky gloves, and the materials can supposedly withstand the worst the elements can offer. Perfect for the royal pair.

Advertisement - Page continues below

Prince George, Princess Charlotte, and Prince Louis: LEVC Taxi

As wonderfully well behaved as the future King and his younger siblings may be, do they really want to be sat in a boring car waving at people for hours at a time? Does ANY kid? Of course they don't. Top Gear's solution to mini-monarch boredom for this is an LEVC Taxi, albeit one plushly modified by the UK's Clive Sutton. There's loads of space for the trio to stretch out, tall doors to hide behind if it all gets a bit much, and LOADS of glass for them to wave out of if they want to say hello to the crowds. It's also wonderfully upholstered, so their tiny highnesses will be as comfy as can be.

Princess Eugenie: Aston Martin DB10

They say your wedding day is the best day of your life - surrounded by friends, family, well wishers, food, booze, all the good stuff, basically. Some of us are lucky to get our dad's saloon with ribbons trapped under the bonnet as a matrimonial ride… Eugenie, as you'd expect, got something a little more suited to a royal. She snagged herself one of ten Aston Martin DB10s - James Bond's wheels in Spectre. If you're going to be part of one of the most televised events in the world, you may as well be there in style, right?

Advertisement - Page continues below

Princess Beatrice: Mini Cooper SE Convertible

Being a royal involves doing a lot of work abroad representing your country, flying the flag (perhaps not literally - there are people for that), and generally making people feel all warm and fuzzy about the United Kingdom of Great Britain and Northern Ireland. Beatrice was snapped keeping the UK's end up in a Mini Cooper a few years back, so we thought we'd reunite her with a refreshed version of the Brit icon, a new, electric Mini Cooper SE Convertible. She can easily be seen, but not heard in Mini's latest limited edition electric drop top.

Princess Anne: Callum Vanquish Shooting Brake

She had a Reliant Scimitar back in the day, don't ya know… Sadly for her the Scimitar is long out of production, and it's pretty hard to get into a proper shooting brake these days. Mere days before the coronation, the designer of the original Aston Martin Vanquish - Ian Callum - released a render of the 'Aston Martin Callum Vanquish 25 Shooting Brake'. Clearly, a perfect car for HRH and her love of long roof coupés. It's stunning, has a whacking great V12, and has enough room to keep her much loved equestrian gear safe and sound. Callum's latest would look incredible howling down The Mall.

Prince Harry: Lotus Eletre

Based afar but with a heart at home? Harry's ride could only really be one thing: a Lotus Eletre. The Eletre embraces modernity, and all that comes with, while still reminding us all that it's very much a Brit and is part of a grand institution. And, for some reason, people on the internet have really violent opinions about it despite having no direct experience of it. It's perky enough to make a quick getaway from snap happy paps, and has plenty of room for his family in the back. It looks pretty good in red, too.

Princess Katherine: Bentley Batur

The future queen has captivated the world since she first stepped out as Prince William's other half. She mixes brains with kindness, style, and quick wit, while representing a change for the monarchy. For her, we've chosen a Bentley Batur - a car that takes a long lineage, gives it a good 'ol shake up ready for a new age. The Batur's look previews Bentley's electric future, but comes with some old school, yet modernised touches like an interior with 3D printed gold and a massive W12 motor. Much like the Princess, it's stylish, powerful, and wears some very fine jewellery.

Advertisement - Page continues below

Prince William: Caterham 420R

Prince William's entire life is dedicated to following tradition, learning how things are supposed to be done, and ensuring that the monarchy sticks true to itself while incrementally updating things so they're suitable for the modern world that he'll eventually rule. Caterham has, by and large, the same job. The Seven has been around roughly as long as the monarchy, and can (probably… not) trace its roots back to the Magna Carta. Modern Caterham keeps things true to its past, but has made the right updates in the right places to make sure its lightweight funboxes stay relevant today. Get that monarch in a 420R and don't spare the corgis.

Queen Camilla: Rolls-Royce Spectre

Not one to let elegance fall by the wayside, Queen Camilla is often seen shaking hands, making small talk, and expertly dealing with any situation her royal status throws at her with a dignified air. We'd have her pride of place in a Rolls-Royce Spectre, a car that mixes everything you'd expect from an institution as storied as Rolls, but embraces modernity with its super smooth, more than adequately powerful electric drivetrain. Though she'd probably go for something less yellow than the one in Rolls' pictures. Maybe.

Advertisement - Page continues below

King Charles III: Aston Martin Valkyrie

The King is well known for his love of British sports cars. He's had various Aston Martins over the years, and, to keep his two loves of Brit metal and the environment entwined, has modified his DB6 to run on surplus wine, and whey leftover from making cheese (refined into bioethanol). If you're going to be the head of state of a nation, you should probably be seen in the pinnacle of its automotive industry - a car that looks at what the rest of the world produces and goes: "Us first." The Aston Martin Valkyrie (modified to run on a classy cheese and wine party's leftovers) is just the car to noisily lead the Top Gear royal procession. Let's just hope his new hat fits in the cabin.