Mavericks
Is Dallara secretly building a street-legal sports car?
They make chassis for racers. Seems like they're going for a road-going model. Excite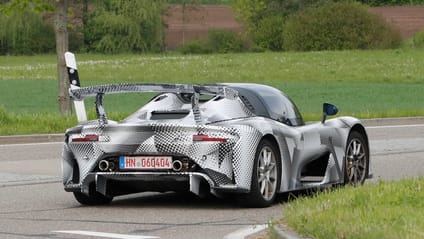 What is a 'Dallara'?

If you're a keen motorsport enthusiast, then the name will be a familiar one. It is the company founded by an Italian chap named Giampaolo Dallara.

Dallara, if you want to know, graduated in aeronautical engineering in 1959, got a job with Maserati in '61, then Lamborghini in '63, where he worked on nothing less than the Miura. He built his first racing car in 1970, and founded his eponymous firm in 1972.

Since then, his company has been involved with such luminaries as the Dallara X1/9 (Google it, it's quite magnificent), and practically built every Formula 3 car worth talking about. It's also worked on F3000 cars, Formula One, IndyCar and DTM.

Oh, Dallara also helped develop the Bugatti Veyron, the KTM X-Bow and Maserati MC12.

Advertisement - Page continues below

That is an incredible CV.

For chassis development, Dallara is right up there. Which is why we're quite excited by these spy shots of a Dallara road-going prototype. It'll be the first ever full Dallara road car.

What's it all about?

Um, to be honest we're not really sure. Nothing official has been announced, although Dallara's long-held desire to build a road-going car is long storied.

Reckon on something light – Dallara's expertise in carbon fibre will come to the fore here. It'll potentially be under a tonne, and powered by a punchy four-cylinder turbo engine, nestled into that body. Probably in the middle, just behind the driver.

Advertisement - Page continues below

Those proportions look quite punchy too.

Yep, like a baby Le Mans prototype for the road. That in itself is reason enough to get excited. You'll also spot there's quite a bit of aero going on, from the front all the way back to that giant rear wing and rather aggressive rear aero setup.

That canopy looks cool.

It does indeed, which adds to the whole racecar-for-the-road ambience. Also, the wheels aren't ginormous concept-spec ones either, refreshingly.

We'll update when we have more. For now, let us know what you think about a potential Dallara road car...