Mavericks
It's modern F1... photographed with a 104-year old camera
Joshua Paul has spent four years using a camera from 1913 to take stunning pics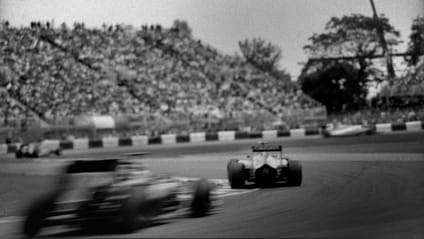 Joshua Paul is a photographer. While a student he was given a camera by his instructor James Fee, who said Joshua needed to "loosen up".

So in exchange for cleaning his darkroom and helping Fee print his editions, Paul was given a camera.

Only it was a very special kind of camera: a 1913 Grafex Auto R.B. Yes, you read that right, a camera originally built in 1913.

Pictures: Joshua Paul (find him on Instagram here, and at Lollipop GP here)

Image: Canadian GP, 2015

Advertisement - Page continues below

"After my first season [shooting in F1], it came to me that when I returned to Monaco, I should shoot it in period, to celebrate the oldest race on the calendar," Joshua told TopGear.com.

"It was very hard to use and impossible to focus, as my eyes had changed...

"I struggled, but I did get a few good shots; enough to encourage myself to continue shooting throughout the 2014 Formula One season," he added.

Image: Fernando Alonso at the 2016 Abu Dhabi GP

So in 2014, when the world of Formula One looked to the future with modern, more efficient technologies and turbocharged engines, Joshua looked to the past, to offer Formula One fans something truly, truly unique.

Image: Felipe Massa at the 2016 Abu Dhabi GP

Advertisement - Page continues below

Not that it was easy to begin with. "I didn't feel good after the first race with the camera," he confides to TG. "It just wasn't coming together and at that time, I was shooting so much that I had to question whether this was a logical decision at all, to forgo missing all the shots…"

Image: Renault F1 at the 2016 Abu Dhabi GP

The reason for this is the complicated procedure required to get a usable picture. "Every time I shoot I have to add a film plate, pull the dark slide, shoot, replace the dark slide, flip the film plate, pull back the mirror, rewind the shutter curtain, remove the dark slide and look for the next shot."

Yikes.

Image: Williams F1 at the 2014 Austrian GP

"When I look at the film from that first race now though, I'm very pleased!" Us too, Josh.

Image: Alonso in Canada, 2015

Shutter speeds? Forget about it. "I don't know my shutter speeds, but I have 'slow' and 'kind of slow'.

"I don't use a light meter because it wouldn't matter, and by now, I can kind of look at the sky and know what it should be."

Image: McLaren mechanics at the 2015 Canadian GP

Advertisement - Page continues below

"There are two apertures in the shutter curtain," he adds, "one is 1.5in and the other three-quarters of an inch. It's always a guess."

Which makes it all the more improbable when you consider he's capturing images of one of the world's fastest motorsports...

Image: Hungarian GP grid, 2014

"It's all about composition and anticipation," Josh tells us. "The success rate is very low, as sometimes the cars are just going too fast. I have a lot of too-blurry, unusable frames.

"I try to just relax and go with it. You know when you fire if it's going to be good, or bad."

Image: Mercedes-AMG, Hungarian GP, 2014

Advertisement - Page continues below

So a lot of planning goes into each and every single shot. "I have to pre-focus and also start to pan early. I can't look into the camera, because the image is in reverse, so if I look down to follow the car, I'll most likely move the camera in the wrong direction!"

Image: Monaco, 2014

The drivers must have been pretty amazed when faced with Josh wielding something a century old, though?

"As an unknown photographer, I didn't get much access, but I was given some of the Caterham drivers, which was a great start.

"Toro Ross and Red Bull gave me access three years later to Max Verstappen and Daniel Ricciardo, and they both loved the camera.

"I get an occasional head nod in the paddock," he adds.

Image: Daniel Ricciardo, Italian GP, 2015

So what's next for him and the Grafex?

"Monaco, and to test some Czech film I found in Barcelona. It might make the pictures look even older…"

Image: McLaren mechanic, Mexico GP 2016

"We'd like to expand to other motorsports," he adds, "Moto GP and sailing. I'm trying to shoot the America's Cup, as I think it would lend itself well to my camera and sensibility," he says.

Have a flick through the rest of the incredible gallery, and let us know what you'd like to see Josh photograph next with his Grafex...

Image: grid girl, Mexico GP, 2016

Felipe Nasr at the 2016 Australian GP.

Max Verstappen at the 2015 US GP.

2016 F1 world champion Nico Rosberg, pictured at last year's US GP.

Ferrari parked in the shade at last year's US GP.

Pascal Wehrlein in the USA, 2016.

Red Bull F1, winter testing, 2017.

Here's Joshua letting Kimi Raikkonen have a go on his amazing camera...

...and behind the scenes of his stunning Verstappen portrait.

What else would you like to see Josh cover with his Grafex - DTM? BTCC? IndyCar?